Pawnee Pioneer Trails Scenic Byway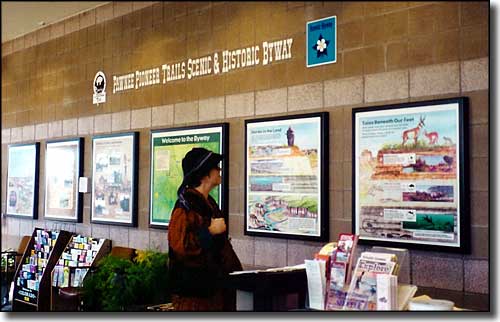 At the Pawnee Pioneer Trails Scenic Byway Visitor Center in Sterling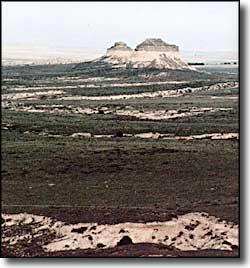 The Pawnee Pioneer Trails Scenic Byway is a 128-mile route that travels the rugged Colorado Piedmont, a wide open region anchored by the Pawnee Buttes. This is the shortgrass prairie found by frontiersman, cattle ranchers and homesteaders. Railroad towns sprang up, flourished and declined in the wind, drought and isolation. The communities that remain are as tough and resilient as the land they occupy.
The Pawnee Buttes rise about 250' above the plains, visible for miles in all directions. For many thousands of years they have acted as guideposts for traveling Native Americans, mountain men and pioneers. Today, the area around the Pawnee Buttes is prime farming and ranching land while the immediate area of the buttes is a refuge for pronghorn, coyote, prairie dogs and hundreds of different species of birds.
A lot of the roads in this area haven't changed much since the invention of the automobile. Some areas are impassable with a bit of snow on the ground. Much of the road is impassable if it's been raining or snowing for more than few minutes. It's also a long way between services.

Photo in the Pawnee Pioneer Trails Visitor Center courtesy of Sally Pearce
Upper left photo is from the "Discover Colorado" brochure of the Colorado Scenic and Historic Byways Commission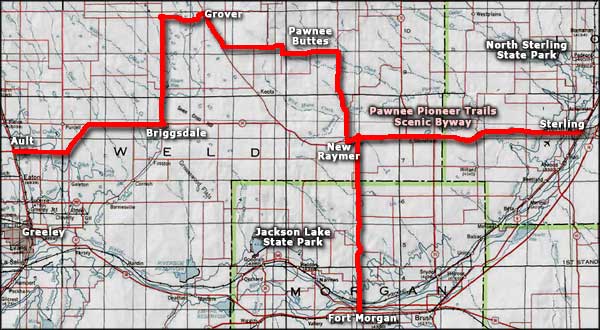 Related Pages
Map courtesy of National Geographic Topo!