Swift Trail Parkway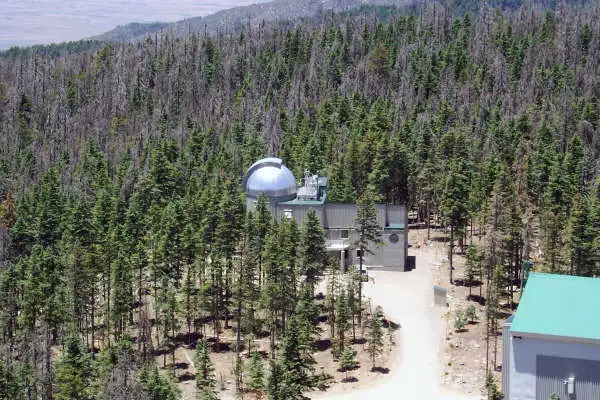 The Vatican Advanced Technology Telescope on Mount Graham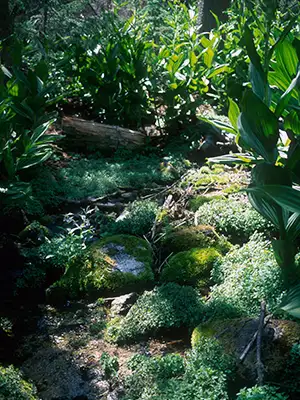 The Swift Trail Parkway is a 33-mile route that rises from about 3,200 feet at the beginning of the road to 10,717 feet at the summit of Mount Graham. This is a steep route that offers some incredible views as it climbs almost to the top of one of southern Arizona's famous (and highest) "sky islands." Temperatures at the top of the mountain are usually 20°F (or more) cooler than at the bottom.
As Mount Graham is even more isolated than Kitt Peak from the problems of "night sky light," Mount Graham has several major astronomical observatories strung out along its summit ridge.
Swift Trail Parkway is often twisted and winding as it works its way up onto the top ridge of the Pinaleno Mountains and then follows that ridge for several miles to end at Riggs Flat Lake, just below the summit of Mount Graham.
In driving the Swift Trail Parkway you'll be going from Sonoran desert scrub through desert grasslands, then through a dense zone of oak-sage chaparral and then into open stands of Ponderosa pine, Douglas fir, spruce and quaking aspen.
The road is paved, except for the last four miles into Riggs Flat Lake. That last four miles is sometimes closed in winter, too. But the route is almost entirely within Coronado National Forest and there are multiple campsites, campgrounds, picnic areas, overlooks and trail heads along the way. The area sees a lot of traffic in summer but the real busy seasons are spring and fall when more than 300 species of migratory birds make their semi-annual appearances.

Photo of the Vatican Advanced Technology Telescope courtesy of Wikipedia userid Andromeda321
Upper left photo is in the public domain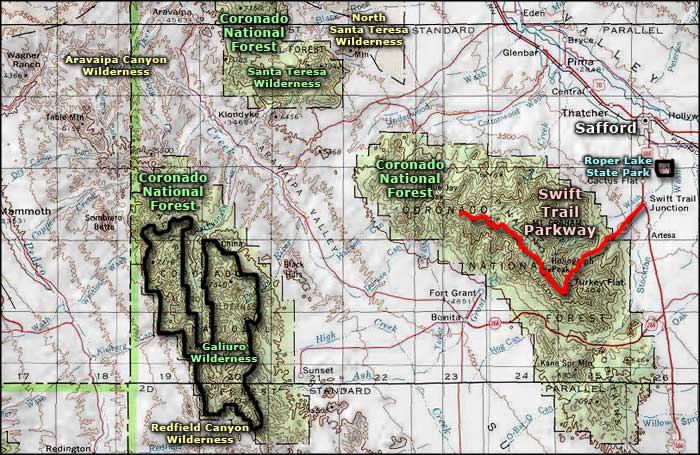 Related Pages
Map courtesy of National Geographic Topo!