Route 66 Backcountry Byway
Along the Route 66 Back Country Byway between Oatman and Kingman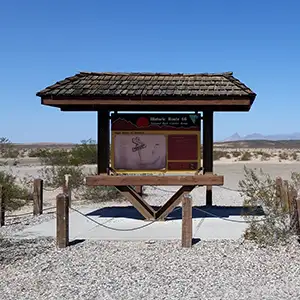 Kiosk along the Backcountry Byway
The Historic Route 66 Back Country Byway is a drive through what little remains of the real Old West. Route 66 in this area is a winding two-lane road across barren desert and over low mountains as it squeezes between Mount Nutt Wilderness and Warm Springs Wilderness. Then it crosses Sitgreaves Pass and drops down to Oatman. Oatman is a modern almost-ghost town. Obviously, it used to have a larger population but the folks still in town have dressed up some of the old stuff and done their best to keep that Old West atmosphere alive.
How the West Was Won and The Edge of Eternity were filmed in the area around Oatman. Today you can still expect to find free-roaming burros in the streets of town. You might even witness a staged gunfight or two...
The eastern end of the Historic Route 66 Back Country Byway is about 5 miles south of Kingman on Interstate 40, at the McConnico exit. The western end is the exit on Interstate 40 for Topock/Golden Shores (same exit as Havasu National Wildlife Refuge). In between is 42 miles of what Arizona was like back in the 1930's, 40's and 50's.
Passing through the mountains, the road is very narrow with no shoulders. There are some extremely tight switchbacks and more than a few steep drop-offs. While it is legal for a vehicle up to 40 feet long to drive this road, it isn't recommended for vehicles more than 30 feet long. The road is also not recommended for use by wide vehicles, especially on the stretch east of Oatman.
The best season to drive: October 1 to April 30, when it's not so hot. I drove the route from west-to-east in late September. I was surprised by the amount of traffic on the road. And parking in Oatman was at a premium as Main Street was simply packed on a beautiful, sunny Friday afternoon.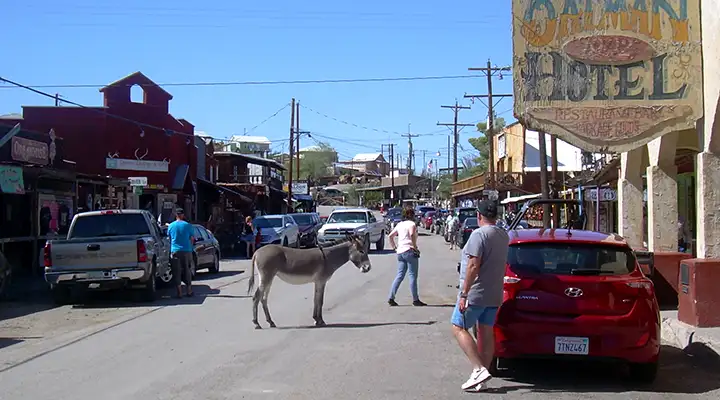 One of the resident burros in Oatman
A view of Warm Springs Wilderness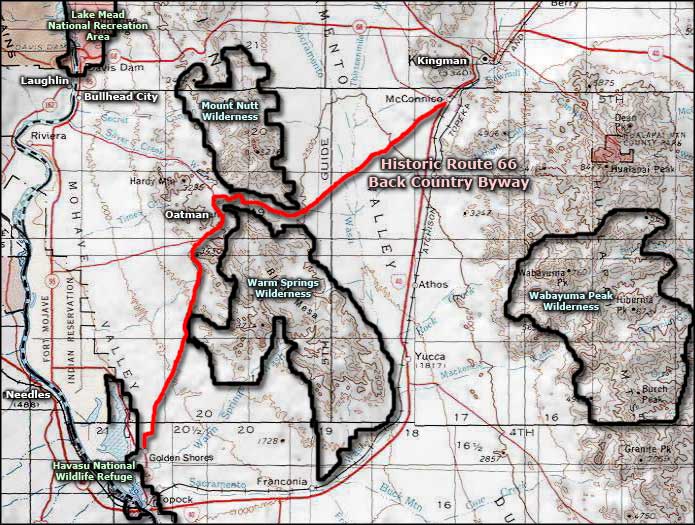 Related Pages
Map courtesy of National Geographic Topo!