Slaughter Creek Wilderness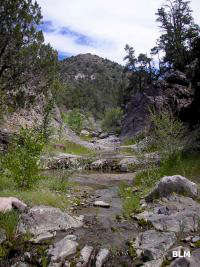 Slaughter Creek Wilderness is a 4,047-acre property in northwestern Washington County that borders Dixie National Forest. Slaughter Creek Wilderness is separated from Cougar Canyon and Docs Pass Wildernesses by designated-usable roads. The nearby section of Dixie National Forest is a large, roadless area of rugged terrain. This is an area of steep-sided canyons eroded into the general volcanic materials most of the area is composed of. Some higher points are named mountains but the higher areas are also just slightly harder, perhaps more compacted masses of lava flows, mudflow breccias and ash-fall tuffs.
Most of Slaughter Creek Wilderness is heavily vegetated with manzanita, scrub oak, pinyon pine and Utah juniper. The wilderness is mostly comprised of the drainage areas of Slaughter Creek, which crosses the wilderness northeast-to-southwest. Slaughter Creek is a perennial stream with an extensive riparian zone of willows, cottonwoods, shrubs and native grasses along nearly its entire length.
Because the surrounding area is such a large, roadless, undisturbed natural area, rumors are you'll find lots of mule deer, elk, bobcat, badger, mountain lion, black bear, kit fox, ring-tailed cat and common fox. The views are good and the opportunities to enjoy true back country adventure are excellent. This is a rugged and very remote area, you'll want to be prepared with extra food, extra water, extra clothing and maybe even an extra spare tire... the local roads are certainly not of the paved persuasion.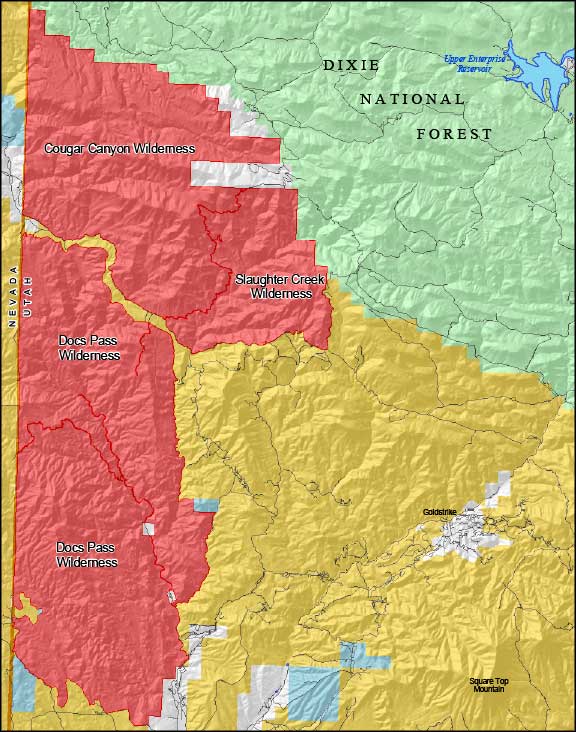 Slaughter Creek Wilderness area
Slaughter Creek Wilderness
Bureau of Land Management

- St. George Field Office
Photo and map courtesy of the Bureau of Land Management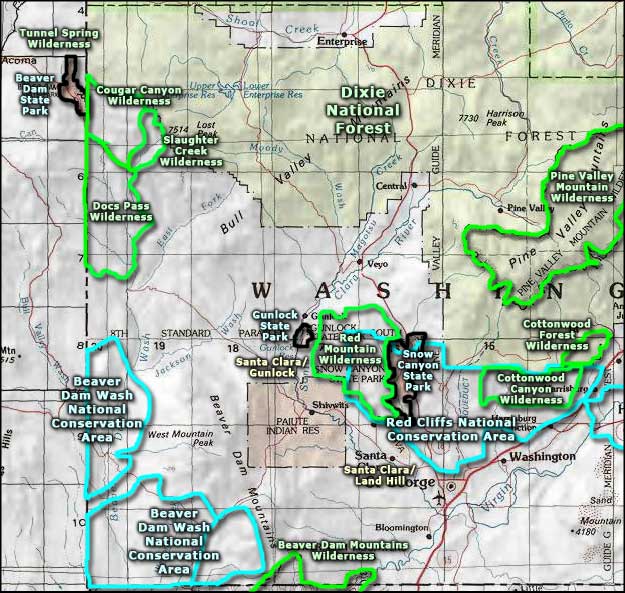 Related Pages
Map courtesy of National Geographic Topo!