Dixie National Forest

Up on the Markagunt Plateau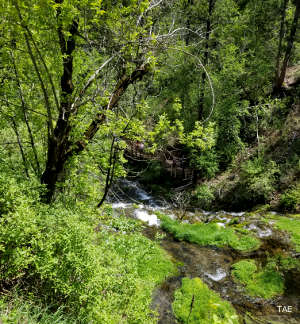 The largest single National Forest in Utah, the Dixie covers almost 2 million acres of land, stretching about 170 miles east to west as it straddles the divide between the Colorado River and the Great Basin. Elevations vary from a low of about 2,800' to a high above 10,000'. Annual precipitation varies from 10 to 40 inches and temperatures range from -30°F to more than 100°F. The vegetation varies with altitude and starts in the low with rabbitbush and sagebrush, changing to juniper and pinyon, then to aspen and Ponderosa pine, then bristlecone pine, Engelmann spruce and subalpine fir in the higher mountains.
Hiking trails range from barren slot canyons to high alpine tundra, and everything in between. There's slickrock and single track trails for mountain bikers and the Great Western Trail for ATV's.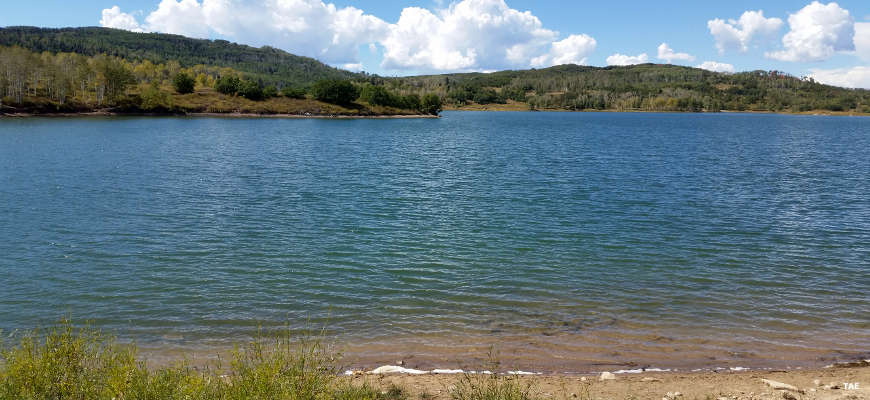 Kolob Reservoir

Dixie National Forest
US Forest Service
1789 North Wedgewood Lane

,

Cedar City

,

UT

84721-7769
435-865-3700
Most photos courtesy of TheArmchairExplorer,
CCA-by-SA 4.0 License
Other photos courtesy of the US Forest Service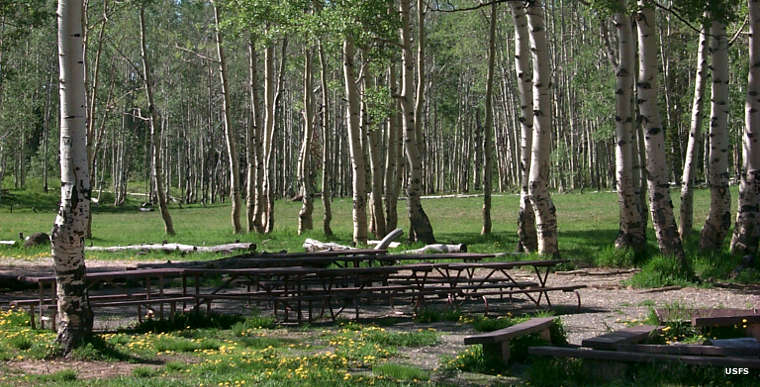 Deer Haven Group Picnic Area
Campgrounds & Recreation Areas
There are 26 campgrounds and 5 picnic areas on Dixie National Forest. In addition, there are several group picnic and group camping sites available, usually by reservation only. Several campgrounds are close to reservoirs and lakes and may offer boating and fishing opportunities. Most campgrounds are located close to trail heads for hiking, horseback riding and mountain biking purposes. Some trails and primitive roads are open to motorcycle and ATV use.
Campground or Recreation Area
Amenities
Honeycomb Rocks Campground
Equestrian Campground
Oak Grove Campground
Upper Pines Group Campground
Pine Valley Recreation Complex
Day Use Picnic Areas
Blue Springs
Juniper Park
Pines
Cedar City Ranger District
| Campground Name | Amenities |
| --- | --- |
| Cedar Canyon Campground | |
| Deer Haven Campground | |
| Duck Creek Campground | |
| Navajo Lake Campground | |
| Panguitch Lake North Campground | |
| Panguitch Lake South Campground | |
| Spruces Campground | |
| Te-ah Campground | |
| White Bridge Campground | |
| Yankee Meadows Campground | |
Escalante Ranger District
Campground or Recreation Area
Amenities
King Creek
King Creek Group Area
Red Canyon
East Fork Dispersed Camping Area
Blue Spruce Campground
Pine Lake Campground
Posy Lake Campground
Barker Recreation Area
Trails
| Trail No. | Trail Name | Miles (one way) | Allowed Uses |
| --- | --- | --- | --- |
| 001.1 | GWT - Cameron Wash Section | 15.8 | |
| 001.2 | GWT - Sweetwater Section | 9.4 | |
| 001.3 | GWT - Horse Creek Section | 7.8 | |
| 001.4 | GWT - Griffin Top Section | 5.6 | |
| 001.5 | GWT - Barker Complex Section | 4.5 | |
| 001.6 | GWT - North Creek/Pine Creek Section | 15.7 | |
| 001.7 | GWT - McGath Section | 9.5 | |
| 001.8 | GWT - Bear Creek Section | 6.4 | |
| 001.9 | GWT - Deer Creek Section | 5.3 | |
| 001A | Great Western ATV Trail | 50.7 | |
| 002 | Antimony Lake ATV Trail | 5.162 | |
| 003 | Poison Creek ATV Trail | 11 | |
| 004 | Pacer Lake ATV Trail | 5.7 | |
| 005 | Canaan Mountain Trail | 7.5 | |
| 006 | Powell Point Trail | 0.9 | |
| 007 | Burro Canyon Trail | 4 | |
| 008 | Pine Lake ATV Trail | 22 | |
| 009 | The Box Trail | 7 | |
| 010 | Death Hollow | 10.2 | |
| 011 | Coleman Trail | 3.16 | |
| 012 | Roundy Trail | 1.91 | |
| 014 | Pine Lake Trail | 0.28 | |
| 015 | Deer Creek Trail | 2 | |
| 016 | Chriss Lake Trail | 2.1 | |
| 017 | Long Neck Trail | 7.5 | |
| 019 | East Boulder Creek Trail | 6.5 | |
| 020 | Trail Point Trail | 1.8 | |
| 021 | Burr Top Trail | 5 | |
| 022 | Boulder Swale ATV Trail | 5 | |
| 023 | Rogers Peak Trail | 1.7 | |
| 024 | Jubilee Trail | 8.9 | |
| 025 | Auger Hole Trail | 3.4 | |
| 026 | West Fork Trail | 3.7 | |
| 027 | Posey Lookout Trail | 0.7 | |
| 028 | Posey Spur Trail | 1.2 | |
| 029 | Barney Griffin Trail | 4.62 | |
| 030 | Hog Ranch Trail | 1.5 | |
| 031 | Beck Hollow Trail | 3 | |
| 032 | Blue Springs Trail | 1.5 | |
| 033 | Island in the Sky Trail | 1 | |
| 034 | The Gap Trail | 2.8 | |
| 035 | Dougherty Basin Trail | 0.7 | |
| 036 | Round Willow Bottom | 0.6 | |
| 037 | Griffin Spur | 1.87 | |
| 038 | Griffin Point Trail | 9.5 | |
| 039 | Halls Creek Trail | 3.7 | |
| 040 | White Creek Trail | 1.7 | |
| 042 | Joe Lay Trail | 1.3 | |
| 043 | Flat Lake Trail | 1.5 | |
| 044 | Jubburr Spur | 0.75 | |
| 045 | Blue Lake | 0.5 | |
| 046 | Grass Lake ATV Trail | 10.7 | |
| 047 | Birch Creek ATV Trail | 3.1 | |
| 048 | Deer Creek Lake Trail | 0.5 | |
| 049 | Water Canyon Trail | 3.5 | |
| 050 | Henderson Canyon Trail | 4.8 | |
| 051 | Under the Point Trail | 4.02 | |