Cottonwood Canyon Wilderness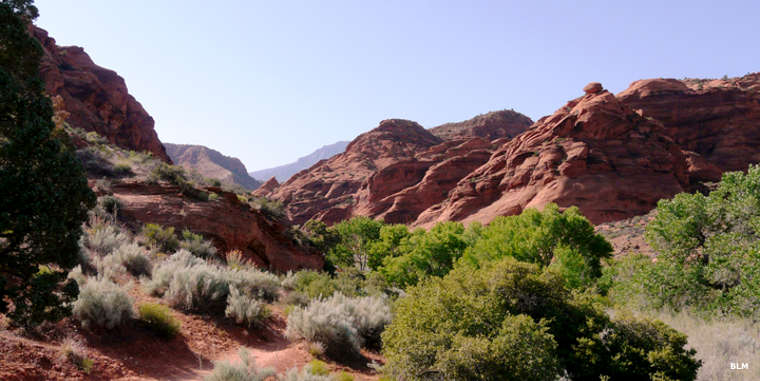 A dry wash in Cottonwood Canyon Wilderness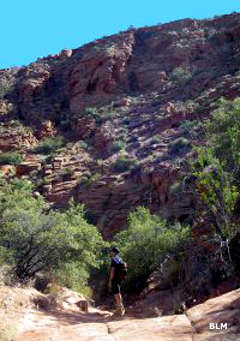 Cottonwood Canyon Wilderness is an 11,667-acre property located within the Red Cliffs National Conservation Area in the St. George, Utah area. Immediately to the northeast is Cottonwood Forest Wilderness in Dixie National Forest.
Geologically speaking, this area is on the western edge of the Colorado Plateau in an area of heavily eroded Navajo Sandstone, sandy materials emplaced back in the Jurassic age (meaning: great possibilities for dinosaur fossils, petrified wood and such) and compressed into rock over the millenia since. The countryside is a polyglot of colors spread across rounded domes and small canyons. The spectacular Pine Valley Mountains rise to the north and are snowcapped for a good part of the year (just to keep things in perspective).
The vegetation and wildlife in the lower areas are typical of the Mohave Desert (banana yucca, scrub oak, Utah agave, single-leaf ash and other desert shrubs with Gila monsters, chuckwallas and Mojave Desert tortoise wandering around). The higher elevations offer small stands of pinyon pine and Utah juniper with mule deer, kit fox, bobcat and mountain lion. For larger birds you might find peregrine falcon, bald eagle, Cooper''s hawk, western screech owl, sharp-shinned hawk, golden eagle and red-tailed hawk.
Nearby roads and parking areas make trail access easy and there are several good trails that enter and cross the wilderness. Because this is now a designated wilderness (since 2009), all access to the property itself is limited to foot and horseback.

The Pine Valley Mountains rise to the north of Cottonwood Canyon Wilderness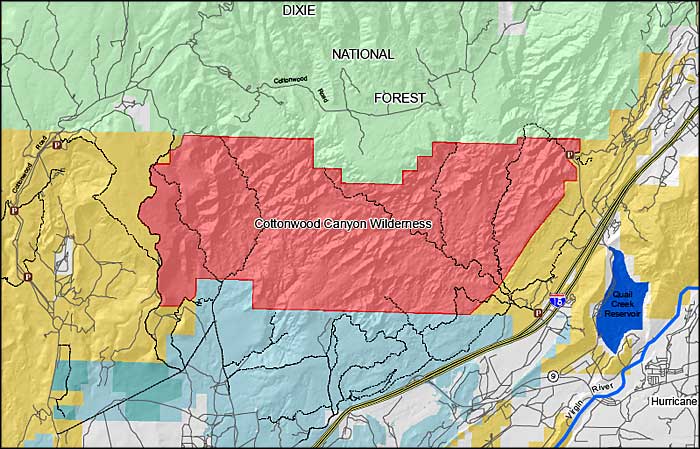 Cottonwood Canyon Wilderness area map
Cottonwood Canyon Wilderness
Bureau of Land Management

- St. George Field Office
Upper photo courtesy of Chris Barns, Bureau of Land Management
Other photos and map courtesy of the Bureau of Land Management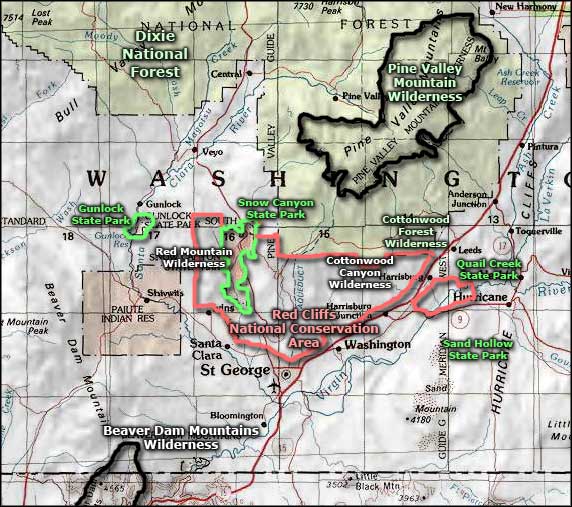 Related Pages
Map courtesy of National Geographic Topo!