Trempealeau National Wildlife Refuge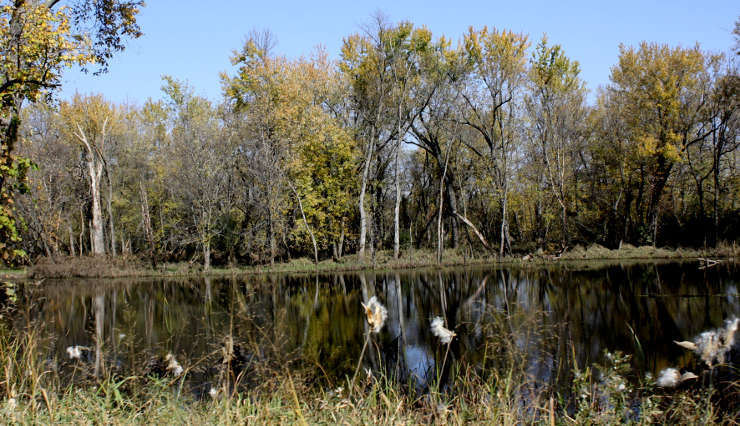 Trempealeau National Wildlife Refuge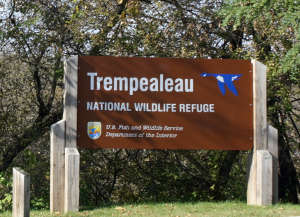 Trempealeau National Wildlife Refuge is a 6,226-acre property located along the Mississippi River in southwestern Wisconsin. The refuge has a lot of surface water, backwaters of the Trempealeau and Mississippi Rivers that are cut off from the rivers by a series of dikes and levees. This is also in the Driftless Area, an part of North America that remained glacier-free during the last Ice Age. Glacier-free it might have been but the area was strongly affected by the glacial meltwaters as the glaciers retreated: the great gorge of the Mississippi is visible from the refuge.
Trempealeau NWR was established by an Executive Order from President Franklin D. Roosevelt in 1936. The original property was only a bit more than 700 acres and for years the government tried to purchase the adjoining Delta Fish & Fur Company property but the asking price was a problem. Then Dairyland Power Cooperative bought Delta and arranged a land swap with US Fish & Wildlife: the Delta property in exchange for a piece of the Upper Mississippi River National Wildlife and Fish Refuge so they could build a rail loop for offloading coal at their power plant in Alma, Wisconsin.
About 16% of Trempealeau NWR is composed of bottomland hardwood forest. About half the property is marsh and wetlands. Some of the remainder is remnant prairie oak savanna: an area of mostly grassland but with scattered (meaning: sparse) oak coverage. Oak savanna once covered a huge area of the Midwest but in Wisconsin alone, the acreage of oak savanna is down to about 0.02% of what it was just 200 years ago. Refuge personnel work to restore more of that productive savanna landscape on the refuge.
For people, Trempealeau National Wildlife Refuge offers the 4.5-mile Prairie's Edge Tour Loop: a route for hikers, bicyclists and motor vehicles. there are also several hiking-only trails. The tops of the dikes are also available for hikers to explore and move around among the water impoundments. The visitor center (open Monday through Friday, 7:30 am to 4 pm, closed on Federal holidays) offers information, maps, guides and a bookstore. The property is day-use only, sunrise to sunset. Camping is available nearby at Perrot State Park. For bicyclists and hikers: the Great River State Trail crosses the refuge.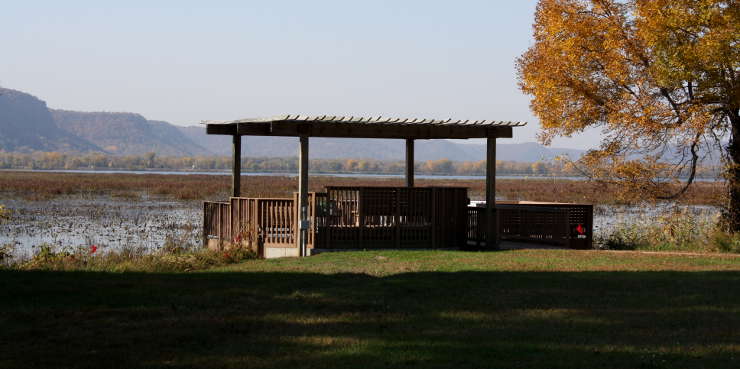 One of the refuge's observation decks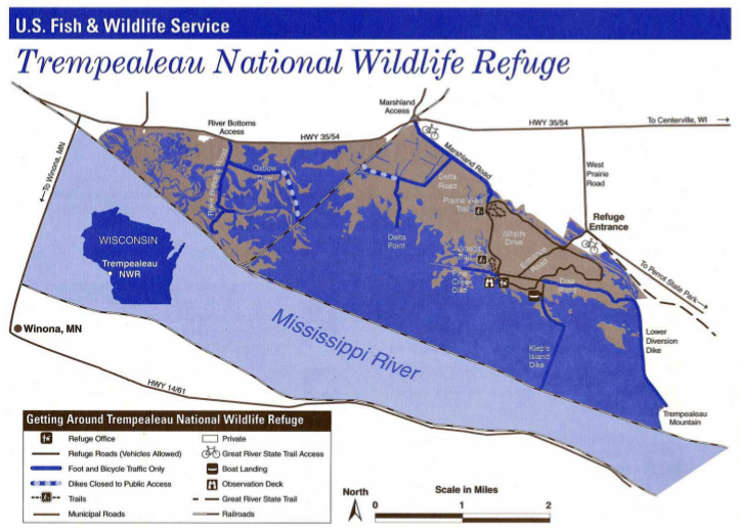 Map of Trempealeau National Wildlife Refuge
Trempealeau National Wildlife Refuge
US Fish & Wildlife Service