Upper Mississippi River National Wildlife and Fish Refuge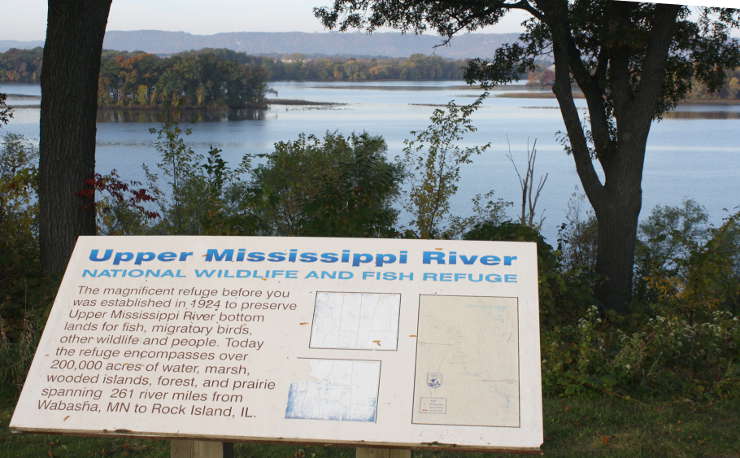 Upper Mississippi River National Wildlife and Fish Refuge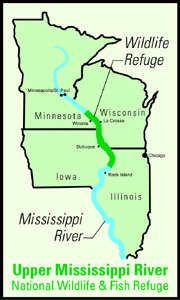 The Upper Mississippi River National Wildlife and Fish Refuge is a 240,000-acre property stretched out for about 261 miles along the Upper Mississippi River. Portions lie in four states: Wisconsin (89,637 acres), Minnesota (33,868 acres), Iowa (51,147 acres) and Illinois (33,489 acres). This is in the heart of the Mississippi flyway and offers migratory birds wooded islands, sloughs and bottomland hardwood forests. The refuge was established in 1924 as a refuge for wildlife, fish and plants and as a breeding ground for migratory birds. A large part of the refuge is bordered by steep wooded bluffs rising between 100 and 600 feet above the river. Upper Mississippi River National wildlife and Fish Refuge is a designated Globally Important Bird Area and Wetland of International Importance.
A series of locks and dams was constructed along the Upper Mississippi River in the 1930's, changing river flows and separating the river essentially into a series of pools. Each pool has a section of braided stream habitat (much like the river had been for thousands of years before the dams and locks), a central area of backwater marshes and a lower area of open water. Each of these areas offers great habitat for the refuge wildlife.
The braided stream habitat offers narrow streams and channels between its islands of floodplain forest. The backwater marshes cover land that was once plowed and hayed. Now it offers excellent opportunities for waterfowl, migratory birds and even eleven species of turtles. On some of the larger islands and adjacent to the floodplain in the southern end of the refuge are small pieces of rare prairie habitat. Near Savanna, IL is the Lost Mound Unit with a seven-mile-long sand dune next to the river and thousands of acres of oak savanna and sand prairie habitat. About 25 miles further south along the river is the Thompson Prairie area with similar sand prairie and oak savanna habitat.
Best time to visit: depends on what you're looking for. Songbird numbers peak in April and May. Great egrets and great blue herons are most prominent in summer, bald eagles in winter. Fall migration brings hundreds of thousands of canvasbacks, tundra swans, Canada geese, goldeneyes, common mergansers, mallards, shovelers, coots and blue-winged teal to visit and rest before heading further south for the winter.
Administration of the refuge is spread among four offices, each responsible for its own section of the river valley. Each also has its own visitor center (and the address listed below is of the La Crosse, WI office and visitor center). The La Crosse District Visitor Center is open Monday through Friday, 8 am to 3:30 pm year round. The visitor center is also open certain Saturdays during the winter months, especially when the spring migration is on. Other than that, the center is closed on Sundays and Federal holidays.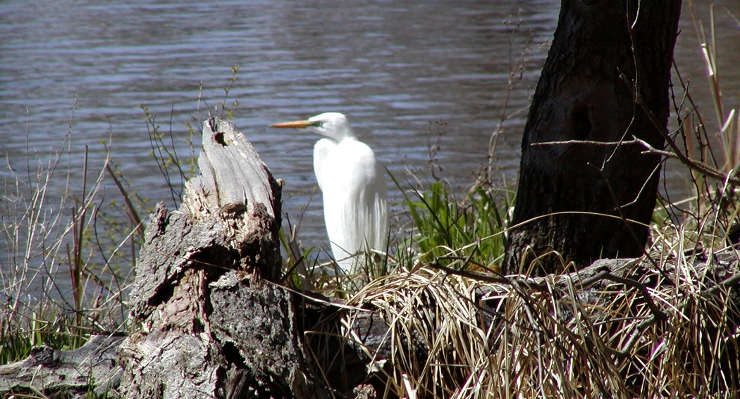 A great egret along the river
Upper Mississippi River National Wildlife and Fish Refuge
US Fish & Wildlife Service
Upper photo courtesy of Wikipedia userid Royalbroil,
CCA-by-SA 3.0 License
Bottom photo courtesy of Hailey Samples, US Fish & Wildlife Service
Map courtesy of the US Fish & Wildlife Service