Mount Baker Highway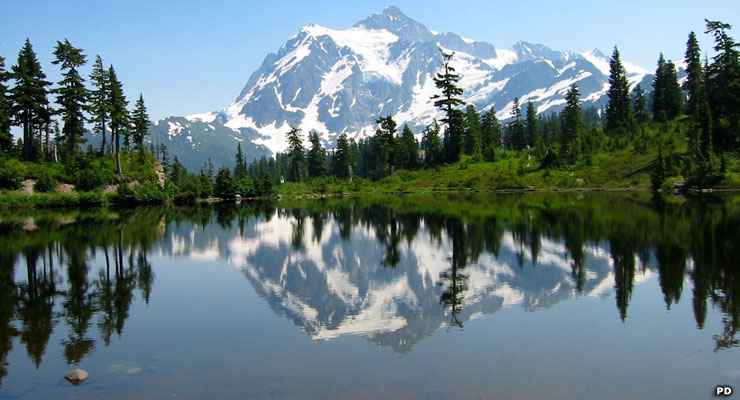 Mount Shuksan rises behind Picture Lake along the Mount Baker Highway
The Mount Baker Highway is also known as State Route 542. It's long been known as the Mount Baker Highway but got the National Forest Scenic Byway designation in 1988. This is a 57-mile route from Interstate 5 in Bellingham to Artist Point on Kulshan Ridge in Mount Baker-Snoqualmie National Forest. The route is open most of the year between Bellingham and Mount Baker Ski Area but is usually closed beyond the ski area from October into July because of the heavy snowfall. That heavy snowfall accounts for all the water flows you'll come across along the route. If you have the time, stop at the signed trailhead for Nooksack Falls and take the short hike to the overview: 125 feet of strong falling water with mists rising in summer, ice sculptures in winter.
A significant portion of Mount Baker Highway follows the Nooksack River North Fork into the foothills of the Cascades before turning south and heading for higher country. As the route approaches Mount Baker, it turns south and spectacular views of the glacier-clad peak appear. Also in the area is Picture Lake with a view of Mount Shuksan (in North Cascades National Park) that is among the most photographed mountain views on Earth.
There are multiple trailheads and campgrounds along the Mount Baker Highway in the National Forest and close to the end of the route is access to the trails of Mount Baker Wilderness. If you're wanting to ride a snowmobile in the woods, you'd be better to drive around the south side of the mountain and forest to reach the Mount Baker National Recreation Area.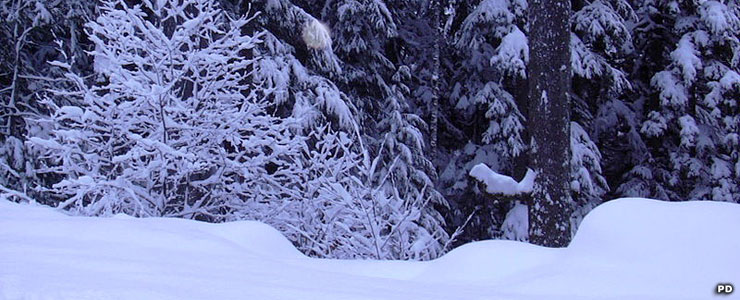 Typical view along the Mount Baker Highway in winter
Photos are in the public domain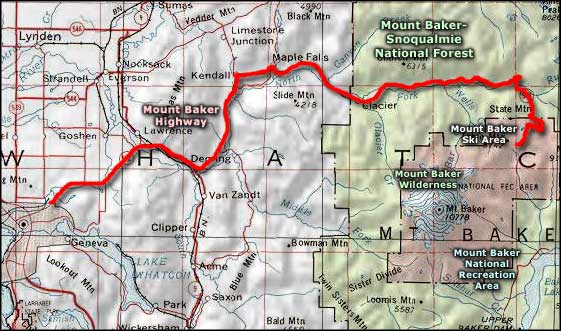 Related Pages
Map courtesy of National Geographic Topo!