Marsh-Billings-Rockefeller National Historical Park
National Park Service Sites
Marsh-Billings-Rockefeller National Historical Park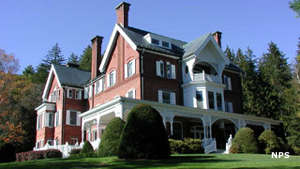 Marsh-Billings-Rockefeller Mansion
Marsh-Billings-Rockefeller National Historical Park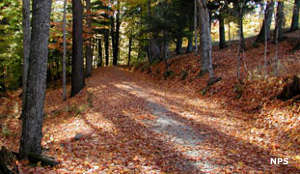 Marsh-Billings-Rockefeller National Historical Park is a 643-acre property in Woodstock, Vermont. The house is the boyhood home of one of America's first conservationists: George Perkins Marsh. Later it was the home of Frederick Billings, a man who established a progressive dairy farm and a managed forest on the property. Finally, the property was owned by Laurance and Mary French Rockefeller who transferred the property to the federal government in 1992.
The Marsh-Billings-Rockefeller National Historical Park revolves around conservation and conservation history: three active generations of conservation thought and practice. This property is also home to the Conservation Study Institute, an organization established by the National Park Service "to enhance leadership in conservation and facilitate stewardship partnerships in local communities." Visitors can tour the mansion and its surrounding gardens, then go for a hike in the managed forest or visit the conservation stewardship exhibit at the Carriage Barn Visitor Center.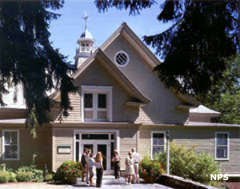 Marsh-Billings-Rockefeller National Historical Park operates in a partnership with the adjacent Billings Farm & Museum, a property owned and operated by The Woodstock Foundation, Inc. The Billings Farm is a modern, conservation-minded working dairy farm and in the museum you'll find exhibits and displays about the agricultural and rural life of present and past Vermont.
The Carriage Barn Visitor Center is open daily from 10 am to 5 pm, Memorial Day Weekend to October 31. The Billings Farm & Museum is open daily from 10 am to 5 pm, April 30 through October 31. The National Historical Park offers about 20 miles of trails and carriage roads that are open year round. The trails are available for hiking and horseback riding, unless there's snow on the ground. When the snow arrives, the trails are groomed and used only for snowshoeing and cross-country skiing. For trail passes call the Woodstock Ski Touring Center, 802-457-6674.
To get there: get off Interstate 89 at exit 1 (first exit west of the Connecticut River in Vermont) and get on Route 4 going west. Go thirteen miles through Quechee and Taftsville to Woodstock. In Woodstock, turn right on Route 12 and go north. Cross the iron bridge and bear right, go another 1/4 mile. Parking is at the Billings Farm & Museum, you'll find park rangers at the Visitor Center there.
Marsh-Billings-Rockefeller National Historical Park
National Park Service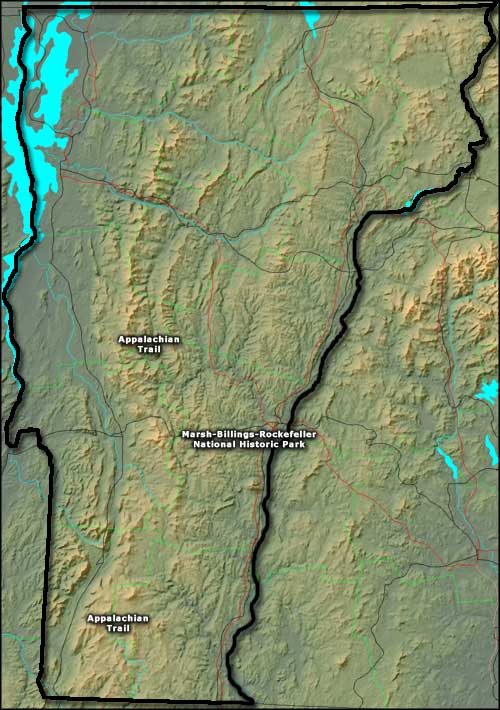 Photos courtesy of the National Park Service
Map courtesy of Cartesia MapArt US Terrain