Fort Pierre National Grassland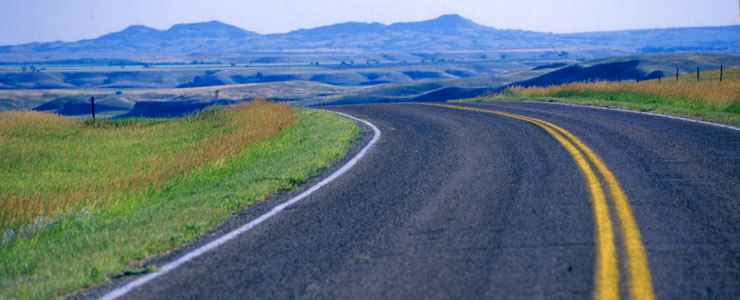 Fort Pierre National Grassland
Fort Pierre National Grassland is a 115,890-acre property in central South Dakota, between Pierre and Interstate 90. US Highway 823 between Pierre and Exit 212 on Interstate 90 bisects Fort Pierre National Grassland with about 1/3 of the grassland west of the highway and the rest to the east. There are several County and Forest Service roads that branch off US 83 to give access deeper into the grassland.
If you've ever seen the movie Dances with Wolves, you've seen some of this countryside. It's primarily wide open rolling short-grass prairie but there are several good fishing ponds and more than a few extensive prairie dog towns. Vehicular travel off the paved roads is allowed only on designated roads. And the designated roads are open from December 1 through August 31.
Most of the grassland is tied up in grazing leases. During the summer months, you'll see cattle and bison grazing in different areas of the property. Horseback riding is encouraged but riding through any livestock herds is not. And leave any gates you come to the same way you found them. If you're bringing horses, you need to also bring your own "certified weed-free" forage.
There are no developed campgrounds so all camping will be dispersed and primitive. Hikers can pitch a tent virtually anywhere but those who want to stay close to their vehicles are allowed to park up to 30 feet off any designated road on the property. Because of the dangers presented by prairie fires, no open campfires, charcoal grills or smoking outside a vehicle is allowed. Vehicles must also have some form of spark-arresting device installed. Everywhere you go, it's pack it in, pack it out.
The grassland is managed out of a shared office in Chadron, Nebraska with Buffalo Gap and Oglala National Grasslands and Samuel R. McKelvie and Nebraska National Forest as part of the Nebraska National Forests and Grasslands. There is a local district ranger office in Pierre.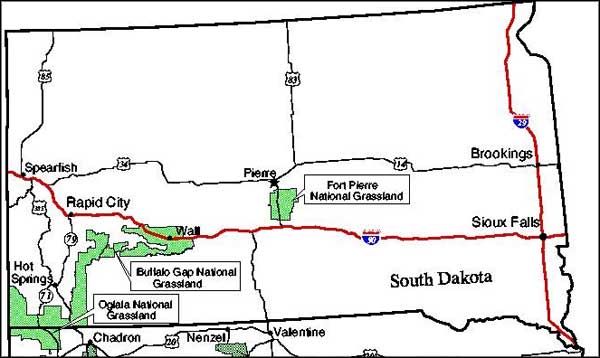 Fort Pierre National Grassland
US Forest Service

Upper photo is courtesy of the South Dakota Department of Tourism, © 2004, via Byways.org.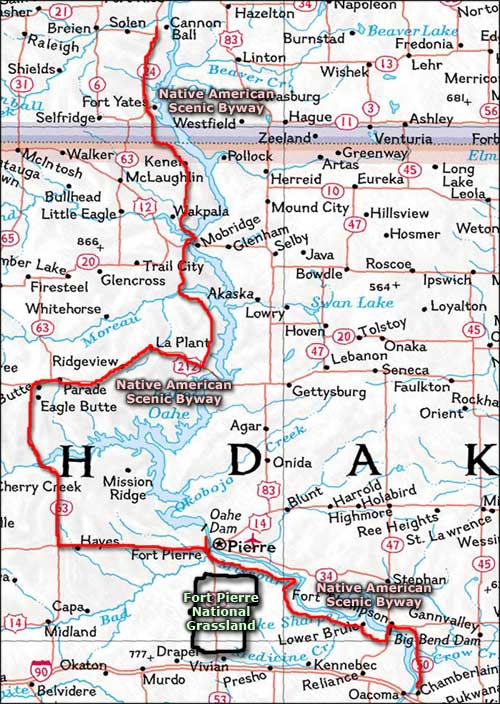 Related Pages
Area map courtesy of National Geographic Topo!