San Andres National Wildlife Refuge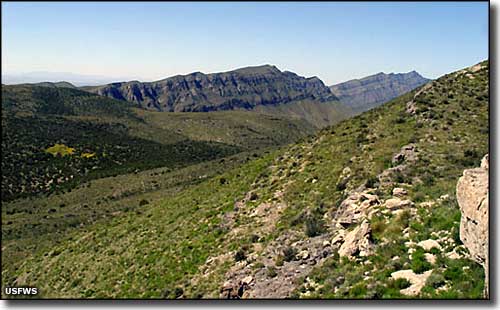 In the San Andres Mountains, San Andres National Wildlife Refuge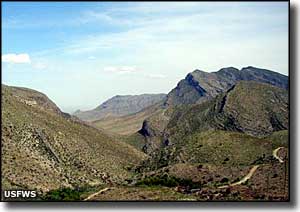 San Andres National Wildlife Refuge was established in 1941 in the southern San Andres Mountains. The property is completely surrounded by the White Sands Missile Range and is not open to the public. The refuge was originally established to preserve habitat needed for the preservation of desert bighorn sheep, a species on the New Mexico State threatened species list. In 1941 it took the first wildlife officer assigned to the refuge several months to locate a herd of desert bighorn sheep that were rumored to be on the property. By 1950 the herd had grown to about 140 sheep, then a drought set in and that number was cut in half by 1955. Fencing the surrounding White Sands Proving Grounds and extinguishing all grazing leases inside that perimeter reduced the burden on the land and allowed the sheep herd to increase again. Then scabies were discovered on five rams in 1978. Scabies are deadly to desert bighorn sheep and despite attempts to treat the disease and release new sheep into the area, by 1997 the herd was down to one lone ewe. In 1999 six new rams were released on the property, to test for the presence of scabies and to see if there were any sheep left from the previous herd. Tests several months later showed the rams and the lone ewe were not infected with the mites so plans were made to return sheep to the property. In late 2002, 51 desert bighorn sheep were brought in and released. Their descendants now number more than 100 and desert bighorn sheep have been removed from the New Mexico threatened and endangered species list.
San Andres National Wildlife Refuge contains 57,215 acres with elevations ranging from about 4,200' to a high of 8,239' at the summit of San Andres Peak. Vegetation varies from Chihuahuan desert grasslands (sideoats, blue, hairy and black grama grasses) and creosotebush (with Apache plume, mountain mahogany, yucca, sotol, ocotillo, desert willow, algerita, cactus and century plant) in the bajadas to pinyon-pine and juniper woodlands along the upper mountain ridges and peaks. Throughout the refuge seeps, springs and seasonal stream flows provide water for lush riparian zones scattered through the mountain canyons at elevations between about 4,900 feet and 6,000 feet.
Before World War II, this area was wide open and had a long history of lost gold mines and outlaw hideouts. Native American artifacts found on the property suggest they were here as early as 900 CE. Some stories say Apache Chief Geronimo frequented the area and there are records of Apache Chief Vittorio fighting skirmishes with the US Cavalry in these mountains. Everything changed during World War II when the land all around (2.2 million acres) was pre-empted to become the White Sands Testing Range.
Oryx (an antelope species from southern Africa) were released in the Tularosa Basin in 1969. Their population quickly mushroomed to more than 4,000 individuals. Over time they expanded their range and by 1997, about 50 oryx were living on the refuge. Because of their ancestral roots and their size, the oryx compete successfully with the smaller desert bighorn sheep and mule deer on the refuge. Oryx need to drink little or no water as they derive most of their bodily moisture from the vegetation they eat. Fully grown oryx are also too large to be taken down by the local carnivore population so the USFWS and New Mexico Fish & Wildlife issue hunting permits every year to try to reduce the oryx population on the property.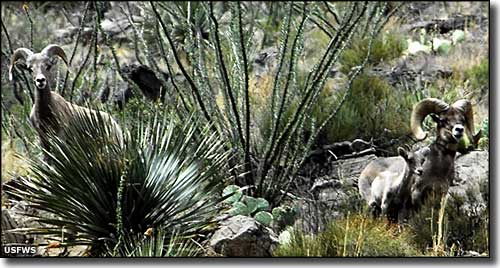 Desert bighorn sheep at San Andres National Wildlife Refuge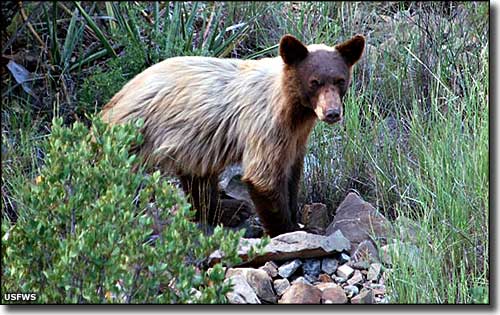 August 27, 2010: The first time ever a black bear was seen at San Andres National Wildlife Refuge
Upper and upper left photo courtesy of the US Fish & Wildlife Service
Lower photos courtesy of M. Weisenberger, US Fish & Wildlife Service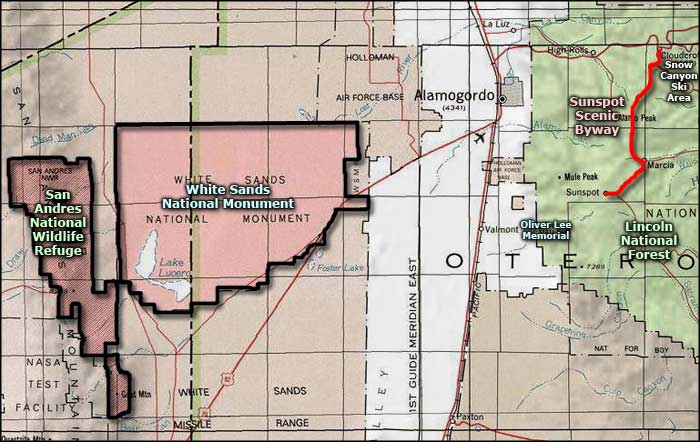 Related Pages
Map courtesy of National Geographic Topo!