Ozark Cavefish National Wildlife Refuge

Turnback Cave Creek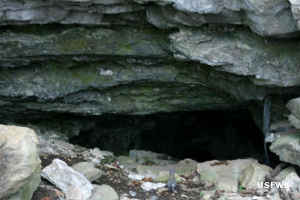 The opening of Turnback Cave
Ozark Cavefish National Wildlife Refuge is a 40-acre property west of Springfield, MO, that the US Fish & Wildlife Servive acquired in 1991 to protect the federally endangered Ozark cavefish.
Central to the refuge is Turnback Cave and Turnback Cave Creek Spring, one of two known planetary homes of the Ozark cavefish. Turnback Cave is also a refuge for the endangered gray bat and bat guano is a primary food source of the cavefish. Because of its purpose, the property is closed to all public access. Adjacent to the main refuge is the 208-acre Paris Springs Access of the Missouri Department of Conservation.
The Ozark cavefish itself is small, generally about 2.5-inches in length, pink and with no eyes: they've lived underground with no light for so long evolution bred eyes out of them. In the 1800's they were plentiful in caves, sinkholes and underground springs around the area where Arkansas, Missouri and Oklahoma meet. Early settlers would often find them in their water buckets when drawing water from a well or spring. They were a sign of clean water and were known as "well keepers" or "spring keepers." However, human-caused water pollution in the area has reduced their habitat severely and brought the species to the edge of extinction.
The other known home of the Ozark cavefish is Hearrell Spring, adjacent to the Neosho National Fish Hatchery. There's a 1.3-acre parcel of the refuge located there. That parcel is also closed to public access but there is an underwater camera installed in the springs and visitors to the fish hatchery can see a video of what's happening.
The geology is limestone from the Mississippian age of the Carboniferous period. It has hollowed out over the millenia and is full of interconnecting passages. Water quality is usually good in such areas but surface pollution (like sewage and fertilizer runoff) that gets into the groundwater will destroy that quality and kill the fish.
The refuge is closed also to protect the bat population from the spread of White-nose syndrome, a cold-loving fungus that has killed millions of bats across the country.
Ozark Cavefish National Wildlife Refuge is administered by staff at Mingo National Wildlife Refuge.

Photos courtesy of the US Fish & Wildlife Service