Wild Horse Trail Scenic Byway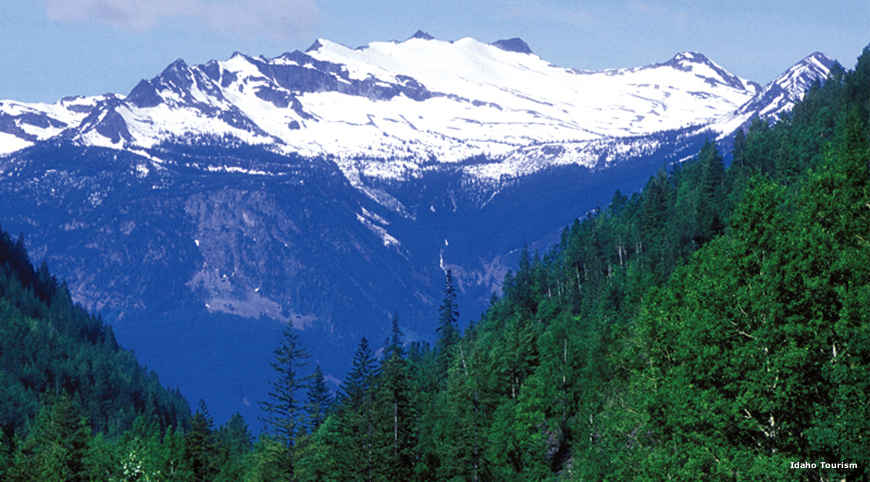 The Selkirk Mountains from the Wild Horse Trail Scenic Byway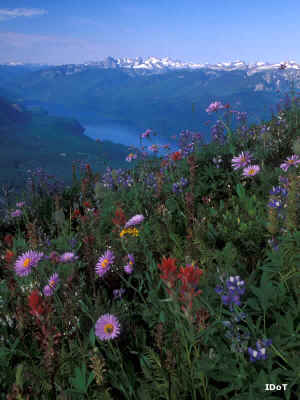 The Wild Horse Trail Scenic Byway is a 59-mile route running north from the northern shores of Lake Pend Oreille through the glacial valley between the Selkirk Mountains to the west and the Cabinet Mountains to the east. At Bonners Ferry, the Wild Horse Trail crosses the Kootenai River and continues north to Porthill (on the border with British Columbia) in the valley of the Kootenai. The Wild Horse Trail Scenic Byway is one leg of the International Selkirk Loop, a route that encircles the Selkirk Mountains by traveling through Idaho, Washington and British Columbia.
The rise and fall of the Wild Horse Trail makes it an excellent route for cyclists who like to ride in big, beautiful country. Traveling north from Sandpoint, 48 miles of the route is along US Highway 95. At the intersection with Idaho Highway 1, the scenic byway turns northwest and follows Highway 1 for the next 11 miles to Porthill and the border crossing.
The first documented Europeans to travel this route were with fur trapper/explorer/cartographer David Thompson in 1808. They were following trails made by the Kootenai Tribe over hundreds of years of annual migrations between winter and summer hunting and fishing grounds. In 1863, gold was discovered at Wild Horse Creek, in the mountains about 120 miles north of Bonners Ferry in British Columbia. Large numbers of prospective miners and their pack trains were soon making their way up the Wildhorse Trail in search of fortune.
Edwin Bonner arrived in 1864 and established his famous ferry crossing at the townsite that now bears his name. Steamers plied the Kootenai River, carrying men, freight and food supplies to the gold fields. That gold rush ended around 1880 when the mines petered out. Then a few years later, the Northern Pacific Railroad built one of their main east-west routes through the valley.
At the southern terminus of the Wild Horse Trail is Sandpoint, on the northern shore of Lake Pend Oreille. Sandpoint is also the terminus of the Pend Oreille Scenic Byway and the Panhandle Historic Rivers Passage (another leg of the International Selkirk Loop. Just west of Bonners Ferry is Kootenai National Wildlife Refuge. The Pacific Northwest National Scenic Trail crosses the Wild Horse Trail Scenic Byway near Bonner's Ferry.
A moose at sunrise along the Wild Horse Trail Scenic Byway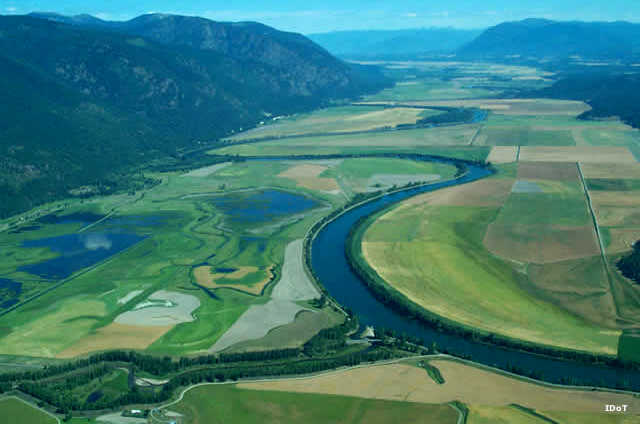 Kootenai National Wildlife Refuge, just west of Bonners Ferry
Upper photo courtesy of Idaho Tourism, upper left and bottom photos courtesy of Idaho DOT
Lower photo courtesy of the US Fish & Wildlife Service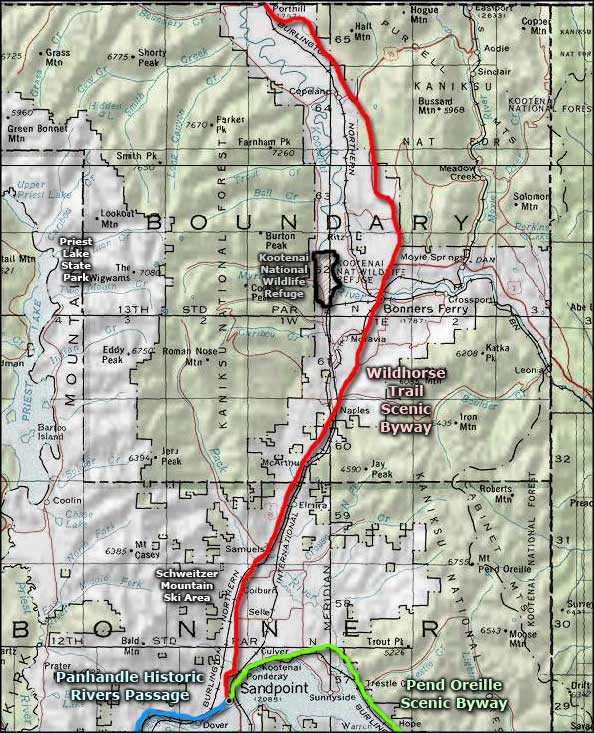 Related Pages
Map courtesy of National Geographic Topo!