Panhandle Historic Rivers Passage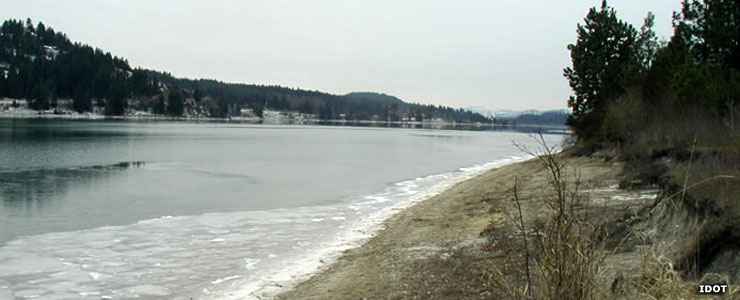 The Pend Oreille River
in the Priest River Wildlife Area, along the Panhandle Historic Rivers Passage
The Panhandle Historic Rivers Passage is a 28.5-mile route along US Highway 2 between Sandpoint and Oldtown on the Washington-Idaho State line. At the state line, the route connects with the Pend Oreille Valley Scenic Byway of Washington. At Sandpoint, the route connects with the Wildhorse Trail Scenic Byway and with the Pend Oreille Scenic Byway. Together with Wildhorse Trail, Pend Oreille Valley and the North Pend Oreille Scenic Byway, these routes make up the United States section of the International Selkirk Loop.
Leaving Sandpoint and heading west, the Panhandle Historic Rivers Passage runs near the shoreline of Lake Pend Oreille, then as the lake fades away, parallels the Pend Oreille River for the rest of the journey. The first documented European explorer to pass through this area was fur trapper/cartographer David Thompson in 1809. He was exploring for the Northwest Fur Company in search of a passage to the Columbia River and the Pacific Ocean.
Today, this route runs between the river and the surrounding forests and mountains. There are farms in the river valley but historically, most folks in this area made their living from the forests. At Priest River is a road heading north along the Priest River to Priest Lake and Priest Lake State Park. That's a gorgeous area in the heart of the Selkirk Mountains. Northwest of Priest Lake is a large roadless area that has been proposed for wilderness designation and inclusion in the Salmo-Priest Wilderness. In season, Priest Lake is well known for the size and quality of the wild berry crop.
There are at least four recreation areas along the road that give direct access to the Pend Oreille River for swimming, boating and fishing. There are also three museums. Also nearby (north of Sandpoint) is Schweitzer Mountain Ski and Summer Resort. Panhandle Historic Rivers Passage is open year-round.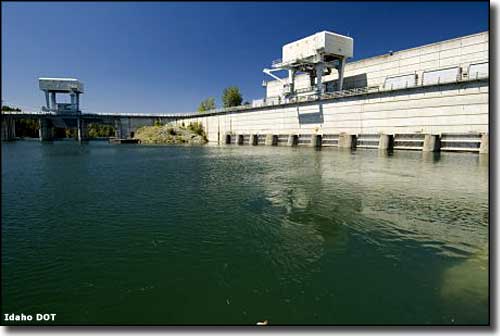 Albeni Falls Dam on the Pend Oreille River
Photos courtesy of Idaho DOT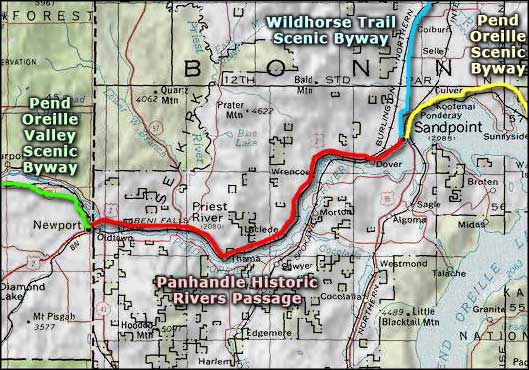 Map courtesy of National Geographic Topo!