Snake River Canyon Byway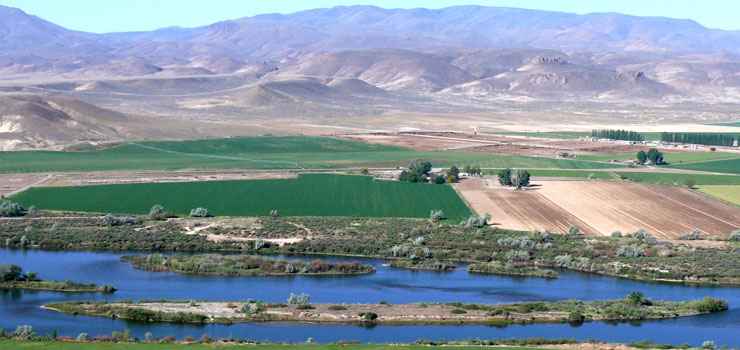 A view along the Snake River Canyon Byway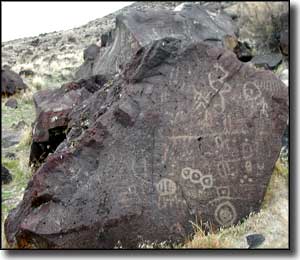 The Snake River Canyon Byway is a 50-mile route that follows Idaho Highway 45 for a good part of its distance but then follows back roads and county roads north and west until it intersects with US Highways 20/26 and terminates at the Oregon state line at the Snake River bridge in Nyssa. The southern terminus of the byway is at Walters Ferry, an old crossing of the Snake River from the days when the Owyhee country to the south was teeming with silver and gold prospectors. Once the route leaves Walters Ferry, it only gets near the actual river again a couple times along the route. But the route does snake back and forth across Idaho history and through some beautiful agricultural areas and what passes for "Wine Country" in the state.
The Snake River Canyon Scenic Byway also passes by Deer Flat National Wildlife Refuge, both the Lake Lowell section and much of the Snake River Islands section. For that matter, Walters Ferry is very close to the boundary of the Snake River Birds of Prey National Conservation Area. Other places of interest might be the Fort Boise Wildlife Management Area and what remains of Fort Boise itself. And just north of Walters Ferry is Map Rock Road, leading to Map Rock (of course): an interpretive site with examples of rock art and petroglyphs dating back up to 1,300 years.
The Snake River Canyon Scenic Byway is probably the only byway in Idaho that passes through towns on a regular basis, and some of those towns offer seasonal treats like local farmer's markets and local wine tasting opportunities. The roads are usually open year round but some of the collectors don't see as much regular maintenance as the larger roads.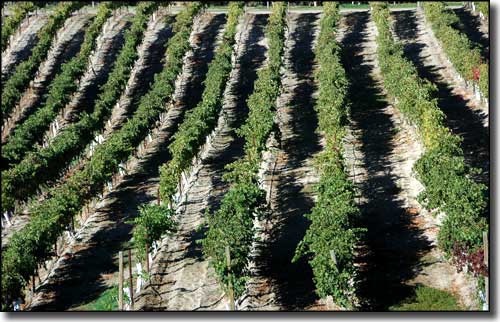 A vineyard in Idaho's wine country
Photos courtesy of Byways.org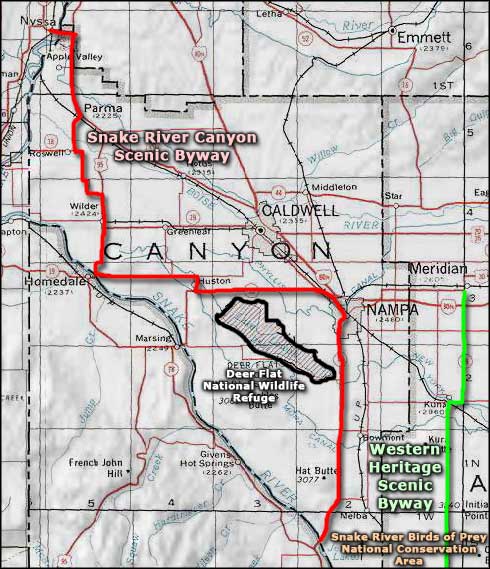 Related Pages
Map courtesy of National Geographic Topo!