Deer Flat National Wildlife Refuge
A grebe nesting on Deer Flat National Wildlife Refuge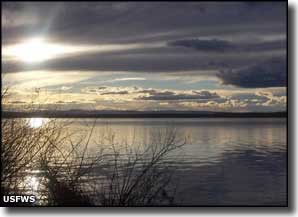 Deer Flat National Wildlife Refuge (11,388 acres) lies just outside the city of Nampa, surrounding the waters of Lake Lowell. This is a perfect resting place for migrating birds along the Pacific Flyway, including some pretty large concentrations of Canada geese and mallard ducks. The American Bird Conservancy has named Deer Flat NWR a "Globally Important Bird Area." Deer Flat NWR was established by President Theodore Roosevelt in 1909.
Deer Flat NWR is broken into two sections. One section is a serious of non-contiguous locations strung out for about 113 miles along the Snake River in Owyhee, Canyon, Washington and Payette counties in Idaho and Baker and Malheur counties in Oregon. The Snake River Islands are a mix of rocky promontories, riparian forests (with maples, cottonwoods and box elders on 101 islands covering about 800 acres in total) and mid-stream grassy knolls, some of which support heron and gull rookeries. The Snake River Islands section of Deer Lake NWR runs from the Canyon-Ada County line downstream to Farewell Bend in Oregon. The upstream islands have sagebrush and grass centers ringed with willows and similar riparian vegetation. The downstream islands have grassy centers with a heavier ring of vegetation: trees like cottonwood, willows and Russian olives. The islands tend to be between 4 and 10 feet above the river's flow level and are used often for nesting by Canada geese. To protect nesting birds, the islands are closed to the public between February 1 and May 31.
The second (and main) section of Deer Flat NWR is the sagebrush uplands and edge wetlands that surround the open water of Lake Lowell. There is a visitor center located at the 10,588-acre Lake Lowell site (the lake itself is almost 9,000 acres in size). About 240 acres around the refuge are cultivated to provide food for the large migrating bird population that Deer Flat sees during the spring and fall migration seasons. Winter can bring as many as 15,000 Canada geese and 150,000 members of various species of ducks to Lake Lowell. All those waterfowl then attract bald eagles and other raptors.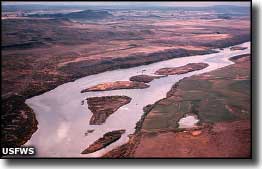 Deer Flat got its name back in the days of the early settlers. This was a low-lying area with several flowing springs that fed some pretty thick grasses. In the winter, herds of deer and elk came into the area for that easily gotten food. Folks saw that and dubbed the area "Deer Flat." Lake Lowell is an impoundment of Boise River water created by the Bureau of Reclamation (it's not a dam-created lake but an off-stream impoundment fed by the New York Canal). The lake is managed to provide irrigation water for the surrounding farm lands, so it draws down slowly in the spring and summer and refills every winter. That spring and summer change in the shoreline exposes mudflats that offer some great nesting habitat for shorebirds.
For human visitors, Deer Lake NWR offers the self-guided Lake Lowell Sector Bird Tour (a 29.5-mile loop around Lake Lowell) and the Snake River Islands Sector Bird Tour (a 46.7-mile route that includes a 10-mile section along the river that allows you to see 10 refuge islands). There's a 1/2-mile self-guided nature trail at the Visitor Center and you can hike or ride your horse on the existing trails in the South, East and North Recreation Areas (see the map below). Campfires and camping are not allowed anywhere.
The Refuge Visitor Center is just outside Nampa. To get there, get off Interstate 84 at exit 33 and go west on Karcher Road (Highway 55) for about 3.5 miles to Lake Avenue. Turn left on Lake Avenue and go about 2.5 miles to the stop sign at Roosevelt Avenue. Turn right on Roosevelt Avenue and drive up the hill. At the top of the hill is Indiana Avenue. Go left on Indiana Avenue and follow the road to the Visitor Center. The Visitor Center is open weekdays from 8 am to 4 pm and on Saturdays from 10 am to 4 pm, except on Federal holidays. Most of the refuge is open daily from sunrise to sunset but certain areas are closed year round and other areas may be closed seasonally.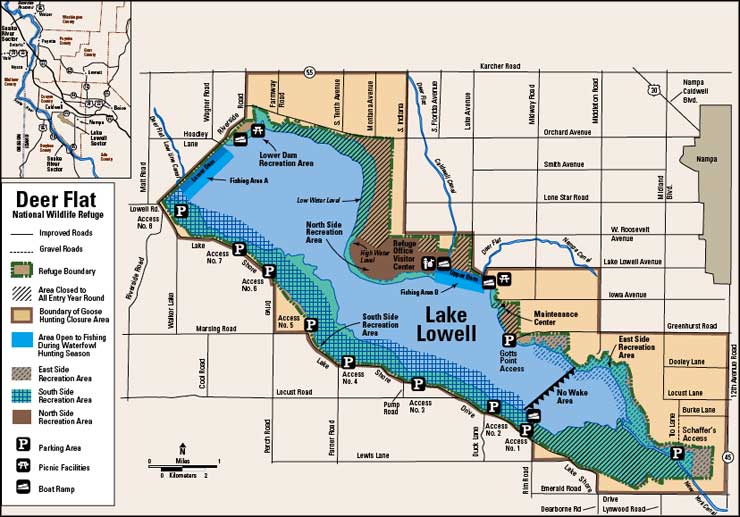 Deer Flat National Wildlife Refuge
Photos and map courtesy of the US Fish & Wildlife Service