Sawtooth Scenic Byway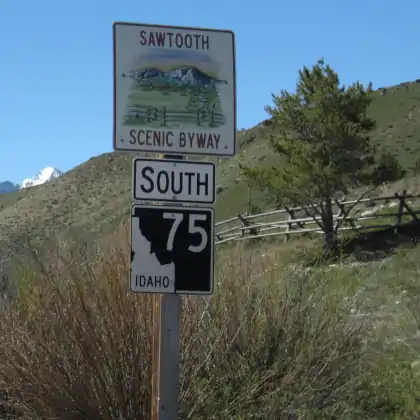 Sawtooth Scenic Byway sign in Stanley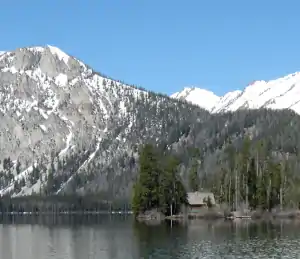 The Sawtooth Scenic Byway is a 115-mile fully paved route that connects Shoshone (on the edge of the Snake River Plain) with Stanley (in the heart of the Sawtooth National Recreation Area). This is Idaho Highway 75, a two-lane road with scattered passing lanes. The 15-mile section of road over Galena Summit is winding with grades between 5 and 6 percent.
As the Sawtooth Scenic Byway travels north from Shoshone, it passes by the Shoshone Indian Ice Caves. The caves are about three city blocks long, volcanic in origin and maintain their frigid temperature year round. Years ago they were used by the pioneers to store ice and act as the community refrigerator. From the ice caves, the Scenic Byway passes the southern end of the Peaks to Craters Scenic Byway, then crosses fertile agricultural lands until it comes into Hailey, then Ketchum-Sun Valley. Sun Valley is home to the world famous Sun Valley Ski Resort and an excellent golf course.
Above Ketchum, the road starts the climb to Galena Summit. There is a beautiful overlook atop the summit with views across Sawtooth Valley and into the Sawtooth National Recreation Area. Sawtooth National Recreation Area is a 756,000-acre National Forest and Wilderness wonderland, organized to preserve and protect an incredible slice of Idaho and keep it safe for future generations. There are streams, rivers and more than 300 alpine lakes in the recreation area, including the famous Redfish and Stanley Lakes.
From Galena Summit, the route drops down into Sawtooth Valley and winds its way through gorgeous scenery until it reaches the northern terminus in Stanley, at the same intersection where the Ponderosa Pine and Salmon River Scenic Byways also end. Stanley is famous as one of the coldest places in the 48 contiguous states and is also the headquarters of most of the whitewater rafting outfitters in central Idaho.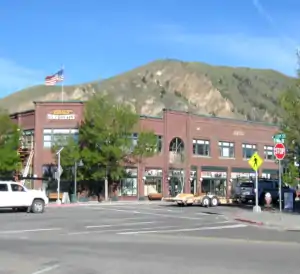 In downtown Hailey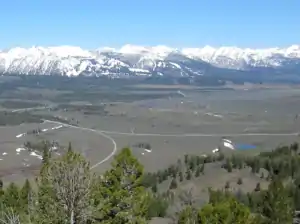 The view from Galena Overlook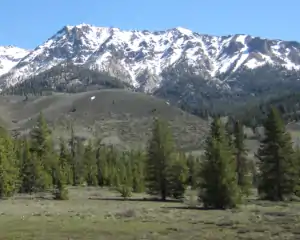 Peaks in the Sawtooth Mountains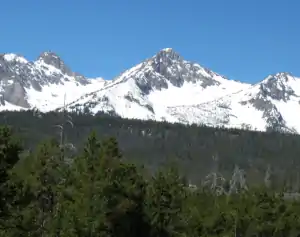 More peaks in the Sawtooth Mountains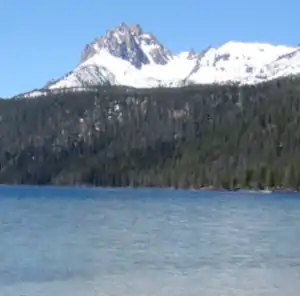 A view at Redfish Lake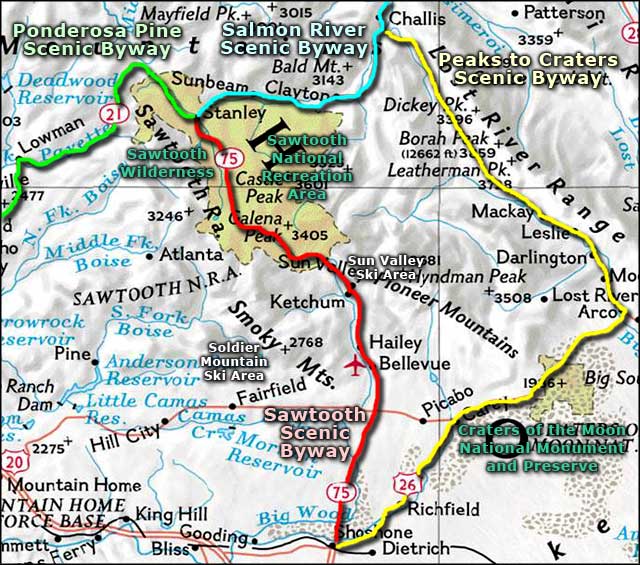 Related Pages
Map courtesy of National Geographic Topo!