Ponderosa Pine Scenic Byway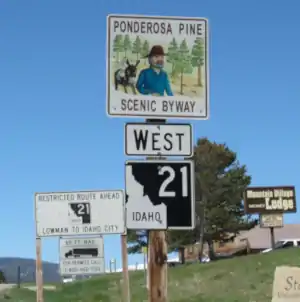 Ponderosa Pine Scenic Byway sign at Stanley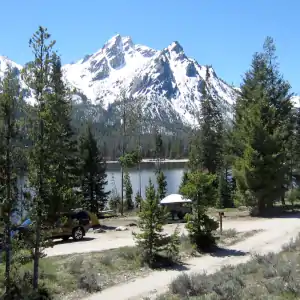 The Ponderosa Pine Scenic Byway is a 131-mile route over Idaho Highway 21 connecting Boise with Idaho City and Stanley. This is a forested mountainous route through some of Idaho's most productive historic gold-mining country. Along the way, the Ponderosa Pine Scenic Byway connects with Wildlife Canyon Scenic Byway (which follows the South Fork of the Payette River downstream to where it meets with the Payette River Scenic Byway) and it ends in Stanley at the intersection with the Sawtooth Scenic Byway and the Salmon River Scenic Byway. Between Lowman and Stanley, there are access roads leading into the forest to the south that give access to the justly famous Sawtooth Wilderness. Access roads leading north in that same area go the edge of the Frank Church River of No Return Wilderness.

Between Lowman and Stanley you'll find several areas of natural hot springs, probably the most famous one being Kirkham Hot Springs with water emerging from the ground at a steady 140°F.
The Idaho City area was the scene of intense placer mining in the 1860's as more than five million ounces of gold were removed from the gravels and stream beds of the area. Much of that gold was used by the Federal Treasury to finance the Union Army during the Civil War. These days, Boise Basin is home to more than 60 miles of hiking and horseback riding trails that become snowmobile, snowshoe and cross-country skiing trails in winter.
Near the northern terminus of the Ponderosa Pine Scenic Byway is Stanley Lake in the Sawtooth National Recreation Area. Located around Stanley Lake are three campgrounds and several developed picnic areas. There are swim beaches and boat ramps on the lake and several hiking trails that lead into the depths of the Sawtooth Mountains and Sawtooth Wilderness.
For folks looking for a beautiful day loop drive through some of the finest countryside in Idaho, take a look at driving up the Ponderosa Pine Scenic Byway to Lowman, then turn west on the Wildlife Canyon Scenic Byway and go to the end of that at the Payette River. Then turn and head south back to Boise over the Payette River Scenic Byway.
You can see from my photos that I came in late spring: Memorial Day weekend to be exact. I was looking forqward to spensding several days in the area but the snow cover was more than I expected, the ground wetter. Made it hard to get off the beaten path anywhere.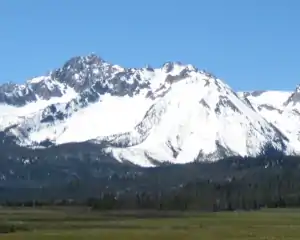 The Sawtooth Mountains from the north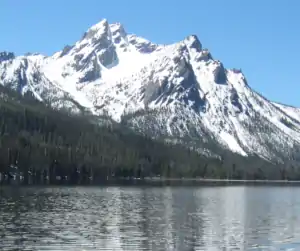 A view at Stanley Lake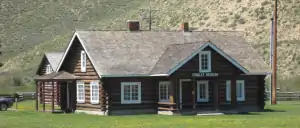 The Stanley Museum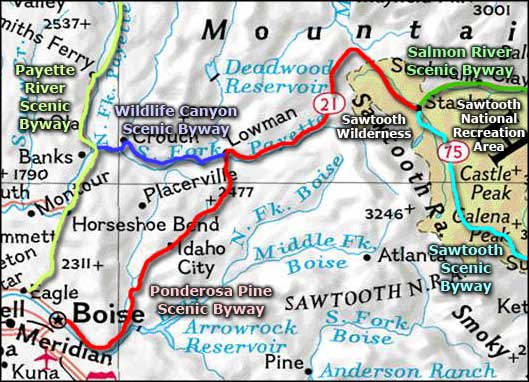 Ponderosa Pine Scenic Byway area map
Related Pages
Area map courtesy of National Geographic Topo!