Wildlife Canyon Scenic Byway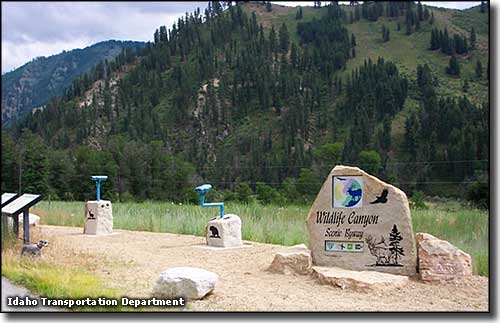 The Gallagher Flats Wildlife Viewpoint on the Wildlife Canyon Scenic Byway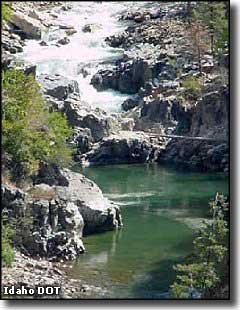 Big Falls
Wildlife Canyon Scenic Byway is a 33-mile drive through a canyon cut deep into the heart of the Idaho mountains. The route follows the old miner's supply route from Banks to Lowman alongside the churning waters of the South Fork of the Payette River. So in addition to the herds of elk and mule deer you're liable to see along the way, there's the temptation of all that exquisite whitewater right beside the road. Among the other wildlife you might see there's black bear, white-tailed deer, wild turkey, chukar, osprey, eagle, cougar and wolf. If you get tired of the sights, there are several campgrounds along the way, some of them with their own natural hot springs close by. As this route is in the heart of the Boise National Forest, you'll also find more than a few hiking and biking trails along the way. In the winter, these same trails are groomed and ready for use by snowmobilers, snowshoers and cross-country skiers. And winter is when most of the elk come to this area for the good eats and milder climate: the Danskin river access point (named for Peter Danskin, one-time manager of the nearby former stagecoach relay station) is close to the heart of the elk winter range.
At the western end of Wildlife Canyon Scenic Byway is the Payette River Scenic Byway. At the eastern end, the Ponderosa Pine Scenic Byway. In between are what remains of some of the earliest gold mining camps in Idaho.
Many folks come to the South Fork of the Payette for the whitewater adventures offered. Some of the rapids on the river are rated at Class IV so this trip is not for the inexperienced or the faint of heart. Some of the river is like Big Falls (the small photo here to the left) and can only be passed by portaging around the zone.
At Deadwood Campground (just west of Lowman) there's an informational kiosk describing archaeological excavations that have shown this area was inhabited between 534 and 731 CE, and again from 1019 to 1221 CE.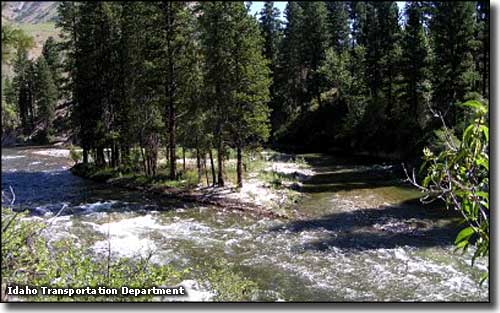 The Danskin river access point to the South Fork of the Payette
Photos are courtesy of Idaho DOT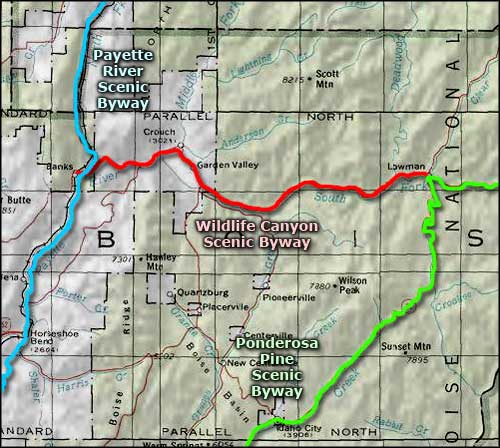 Related Pages

Map courtesy of National Geographic Topo!