Sacajawea Historic Byway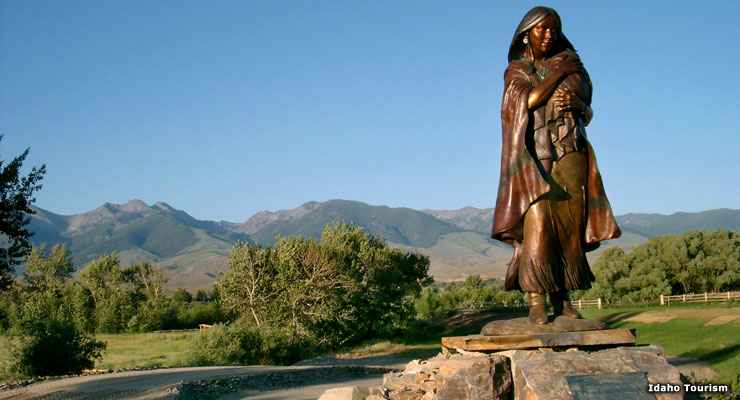 The Sacajawea Monument, at the Sacajawea Visitor Center in Salmon on the Sacajawea Historic Byway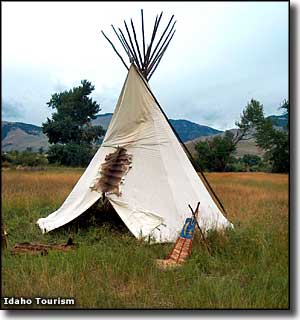 The Sacajawea Historic Byway runs southeast on Idaho Highway 28 from Salmon to the intersection with Idaho Highway 33, then follows Idaho 33 to the intersection with Interstate 15 south of Hamer. From Salmon to Gilmore Summit, the route parallels the Continental Divide through the Lemhi River Valley, then crests the pass and drops down through Birch Creek valley onto the Snake River Plain to run past Mud Lake Wildlife Management Area and Camas National Wildlife Refuge. All in all, the Sacajawea Historic Byway travels through 132 miles of some of Idaho's most beautiful countryside.
This countryside was inhabited as much as 10,000 years ago by the ancestors of today's Lemhi Shoshone. Sacajawea of Lewis & Clark Corps of Discovery fame was born in the Lemhi Valley sometime around 1788. Around 1800, she was captured during a raid on her family's camp and taken back to the Mandan villages in North Dakota by the Arikira Indians. In 1804, Lewis & Clark holed up for the winter in the Mandan village where she lived with her French trapper husband, Toussaint Charbonneau. Lewis and Clark hired Charbonneau as a guide and brought Sacajawea with them on the journey. She was pregnant and gave birth shortly after they left North Dakota. Later in 1805 she guided them across Montana and over the Bitterroots into what is now Idaho. It was then that she was reunited momentarily with her birth family, then the expedition continued on their way westward.
In the 1860's, gold was discovered in the mountains north of the town of Salmon and the Lemhi Valley saw a lot of prospectors and freight wagons passing through on their way to the gold fields. Small amounts of gold, silver and lead were discovered in small pockets along the Lemhi Valley but it never amounted to much and the mines petered out after only a few years.
Parallel to the Sacajawea Historic Byway but higher up in the mountains are sections of three national trails: the Continental Divide National Scenic Trail, the Nez Perce National Historic Trail and the Lewis & Clark National Historic Trail. The Salmon-Challis National Forest ranger station in Leodore offers exhibits with information and maps of all three. Near Tendoy is the Lewis & Clark Back Country Byway.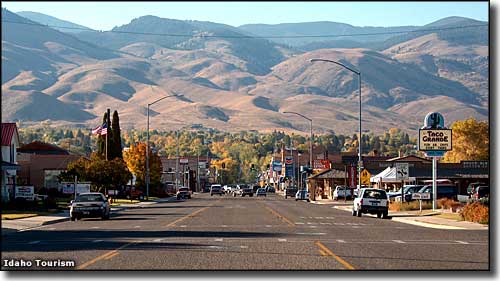 Salmon, Idaho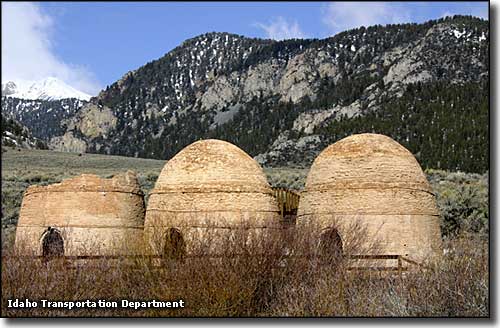 Charcoal kilns just south of Gilmore in the foothills of the Bitterroot Mountains
Photos courtesy of the Idaho Department of Tourism and Idaho DOT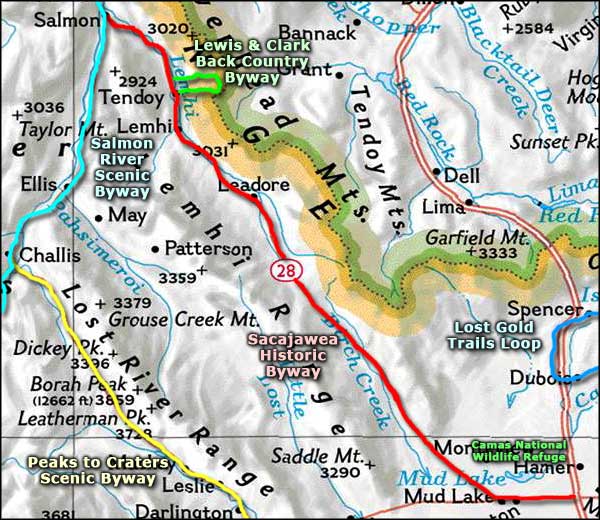 Related Pages
Area map courtesy of National Geographic Topo!