Weir Farm National Historic Site

The main house at Weir Farm National Historic Site
Weir Farm is the former home of Julian Alden Weir, an American impressionist painter and a member of the Cos Cob Art Colony. After Weir, sculptor Mahonri Young and painter Sperry Andrews lived in the house and continued that artistic tradition. The property is located in Branchville, Connecticut, although Weir and some of his friends often referred to the area as "The Land of Nod." Among the other Cos Cob Art Colony artists who have worked at the site are Albert Pinkham Ryder, Childe Hassam and John Twachtman.
J. Alden Weir bought the 60-acre property in 1882 and raised his family there. His daughter, Dorothy Weir Young, was a painter who married sculptor Mahonri Young. The Youngs carried on in the artistic tradition for many years after the death of the patriarch. Sperry Andrews was a resident in Ridgefield well before he met Mahonri Young. At their first meeting (at an art exhibit in New York) Young thought Andrews just wanted to fish in his pond but over time, they became good friends. After Young died in 1957, Andrews bought the core of the property and held it until it was turned over to the National Park Service in 1990. The Andrews family were given a life tenancy on the property and would often give tours themselves until Sperry died in 2005.
Apparently the location designation has changed with time and the actual house is now located in the Branchville neighborhood of Ridgefield with the visitor center across the street in Wilton. Admission to the property is free and the grounds are open year round from sunrise to sunset. May through October the Visitor Center is open Wednesday through Sunday from 9 am to 5 pm. November through April the Visitor Center is open Thursday through Sunday from 10 am to 4 pm. Weir Farm also offers an "Artist in Residence" program where artists are chosen to spend one month each living and working on the property.
All the various directions for getting to the property require that you find your way to State Route 102 in Ridgefield. From Route 102, turn onto Old Branchville Road (either entrance goes to the same place) and go the stop sign at Nod Hill Road. Follow Nod Hill Road for 1 mile to the top of the hill. The parking lot is on the left, the visitor center on the right. The parking lot is small and once full, it is closed. There is no room for large vehicles like RVs or buses. For that matter, any group arriving in 3 or more cars is required to call ahead and make arrangements.
Weir Farm and Saint-Gaudens in New Hampshire are the only two "visual art" National Historic Sites in the National Park Service system.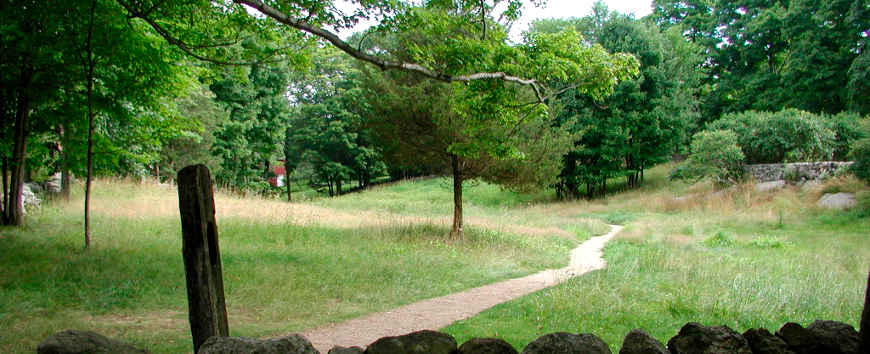 The path between studios and houses at Weir Farm
Weir Farm National Historic Site
National Park Service

Photos courtesy of the National Park Service