Saint-Gaudens National Historic Site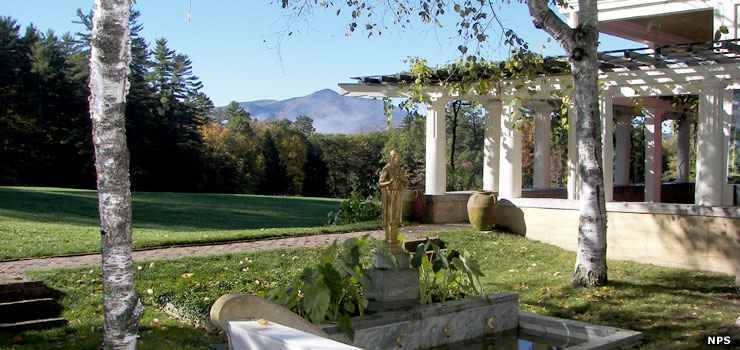 The Pan Garden at Saint-Gaudens National Historic Site
Mt. Ascutney is in the background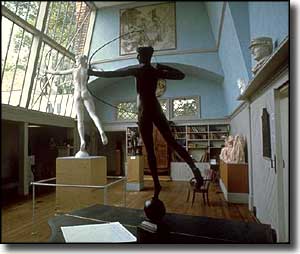 Augustus Saint-Gaudens (1848-1907) was one of America's foremost sculptors. The Saint-Gaudens National Historic Site preserves a property that was his summer residence between 1885 and 1897, then it was his permanent home from 1900 until he died in 1907.
The Cornish Artists' Colony grew up around his residence, then faded away after his death. For many of the artists involved in the extended Cornish social network of those days, this area straddling the Connecticut River was as close as they were going to get to an Italian landscape without going to Italy.
Famous names associated with the Cornish Artist Colony include Ethel Barrymore, Thomas Dewing, Marie Dressler, Isadora Duncan, Barry Faulkner, Learned Hand, Percy MacKaye, Stephen Parrish, Charles A. Platt, Frederic Remington, Louis Saint-Gaudens, Ellen Biddle Shipman, Robert Vonnoh, William Zorach and Woodrow Wilson (as President, Wilson established a "Summer White House" in Cornish and was there in 1913, 1914 and 1915).
The Saint-Gaudens National Historic Site was authorized by Congress in 1964 but wasn't in operation until 1977. The property was declared a National Historic Landmark in 1962 and was listed on the National Register of Historic Places in 1966.
The adjacent Blow-Me-Down Farm, a 42.6-acre property between the Saint-Gaudens National Historic Site and the Connecticut River (with frontage on the river) was donated to the National Park Service in April 2010. The intent is to merge the two properties together as the Saint-Gaudens National Historic Site. Blow-Me-Down Farm was originally the home of the Charles C. Beaman family. It was Charles Beaman who originally attracted Augustus Saint-Gaudens to the Cornish area with the promise of many local "Lincoln-shaped men" for the sculptor to use as models. The merger ceremony was planned for the summer of 2010 and afterward, the Blow-Me-Down Farm was opened to the public.
Saint-Gaudens National Historic Site is open daily from Memorial Day Weekend through October 31, from 9 am to 4:30 pm. There are more than 100 of Augustus Saint-Gaudens' sculptures on the property and in the buildings. Several guided tours are offered every day. The buildings are closed from November to late May but the grounds are still open - that means the parking lot may be plowed but nobody shovels most of the snow. The Visitor Center and administration building are usually open Monday through Friday all year, except on Federal holidays in the off-season.
To get there: the Saint-Gaudens National Historic Site is located beside the Connecticut River Scenic Byway, Route 12A between Cornish Mills and Lebanon, New Hampshire. At the intersection of Route 12A and Saint-Gaudens Road, turn east and go 1/2 mile.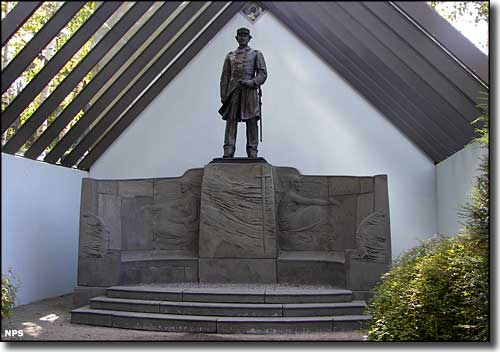 The Farragut Memorial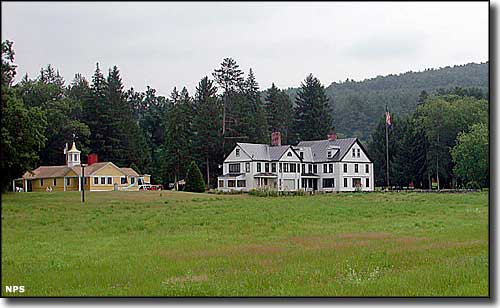 The Dance Hall and the Main House at Blow-Me-Down Farm
Saint-Gaudens National Historic Site
National Park Service
Photos courtesy of the National Park Service