Tahoe National Forest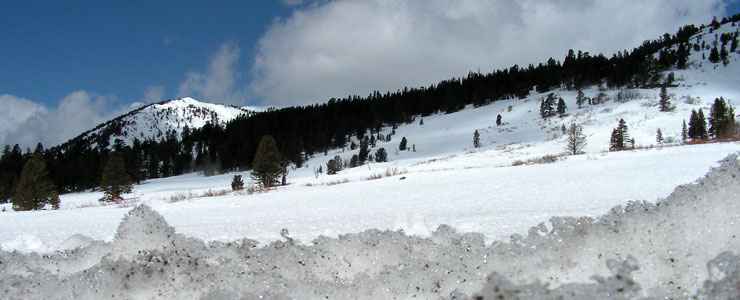 Tahoe National Forest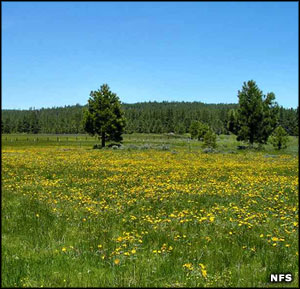 Tahoe National Forest is located in the northern Sierra Nevada mountains and extends from the western foothills across the Sierra Crest to the California state line (except for the area of the Lake Tahoe Basin Management Unit). The forest includes about 850,000 acres of public land interspersed with about 350,000 acres of private land in a checkerboard pattern. Elevations range from around 1,500 feet in the western foothills to more than 9,000 feet along the Sierra Crest. Plumas National Forest is to the north, Eldorado National Forest to the south and Humboldt-Toiyabe National Forest to the east across the state line.
Tahoe National Forest is one of the most popular national forests in the United States with several major travel corridors across the forest offering easy access to an extensive array of campgrounds, boat ramps, hiking/biking trails and picnic areas. In winter the multiple ski areas on the forest are in full swing, along with extensive snowmobile and cross-country ski trails.
The Placer Big Trees grove on Tahoe National Forest is the northernmost naturally occurring stand of Giant Sequoias in California. This designated Botanical Special Interest Area is located about 22 miles east of Foresthill and overlooks the canyon of the Middle Fork American River. It's a small grove with maybe eight large sequoias, two of which are rated as "giant."
In 1893 the federal government established the Forest Reserves and slated more than 4,000,000 acres for inclusion into the Sierra Forest Reserve. In 1905 the National Forest Service was created and the Sierra Forest Reserve became Sierra National Forest. In 1908 Sierra National Forest was divided into five units and eventually became eight units spread along the length of the Sierra Nevada Mountain Range, one of them being today's Tahoe National Forest.
During the wild times following the Comstock Lode discovery in Nevada, a large portion of Tahoe National Forest was clear cut to provide timbers for the many underground silver mines that quickly populated the landscape around Virginia City, Nevada. That has led to today's forest being homogenous in terms of the relative age of much of the tree cover: it was all cut at once and all reseeded at once. There is supposed to be still some 84,000 acres of old growth on the forest, including Coast Douglas fir, white fir, Ponderosa pine, sugar pine, California black oak, California incense cedar, lodgepole pine and red fir.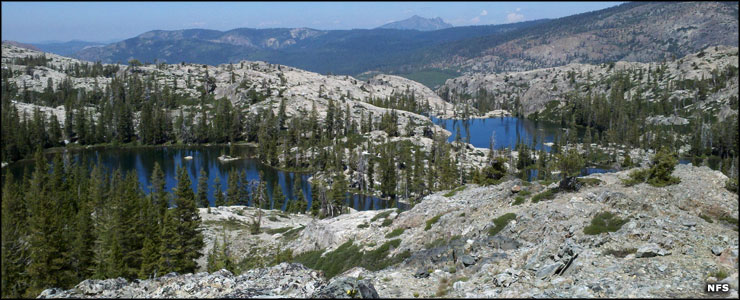 Five Lake Basin, Tahoe National Forest
Top photo courtesy of Wouter Kiel,
CCA 2.0 License
Other photos courtesy of the US Forest Service