Picacho Peak State Park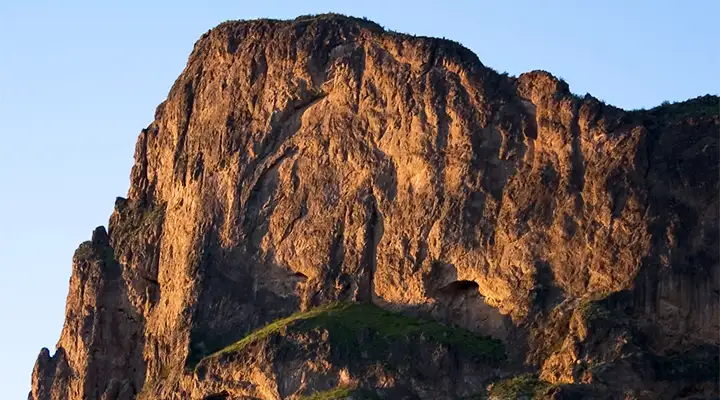 Picacho Peak itself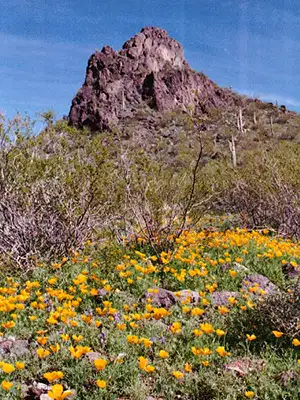 Picacho Peak (3,374') is a natural landmark that helped early explorers to orient themselves in the southwestern mountain and canyon countryside. The only Civil War battle fought in Arizona took place here at Picacho Pass.
Today, Picacho Peak State Park offers 100 campsites, some with power, some without, all on a first-come, first-served basis. The campground has picnic tables, cooking grills, restrooms, showers, and a dump station. The park also contains several hiking trails with historic markers, picnic areas, ramadas, and group use areas. There are 2 trails from the campground that reach the small flat spot on the summit of Picacho Peak. Because portions of both trails are somewhat precarious, the state has placed catwalks and cables in certain places for safety reasons...
Every year in March, 200 re-enactors come to Picacho Peak to re-live "the Civil War in the Southwest." In the battle originally fought at Picacho Pass on April 15, 1862, an advance detachment of Union forces coming from California came across a Confederate scouting party. 3 Union soldiers were killed during the 1-1/2 hour firefight that followed.
Picacho Peak State Park is located just off Interstate-10 near exit 219, about 40 miles northwest of Tucson and about 60 miles southeast of Phoenix. The park is open daily from 8:00 AM to 10:00 PM.
Upper photo of Picacho Peak courtesy of Christopher Morrison,
CCA 3.0 License
Upper left photo of Picacho Peak courtesy of Jeff Dean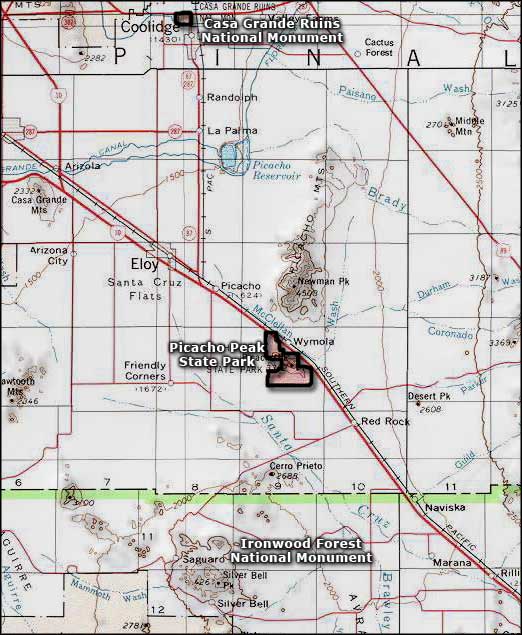 Related Pages
Map courtesy of National Geographic Topo!