Lookout Mountain Parkway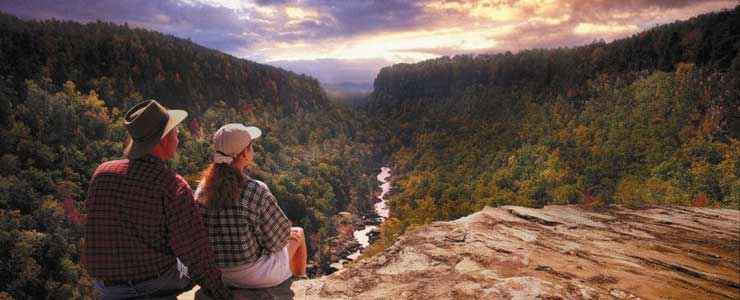 Little River Canyon
The Lookout Mountain Parkway travels 93 miles from Gadsden, Alabama to Chattanooga, Tennessee. The Alabama portion is a 50-mile route that crosses the top of the (essentially) flat Lookout Mountain between Noccalula Falls Park and the Georgia border near Mentone, Alabama. A fair bit of the route is around Little River Canyon National Preserve. This is the southern end of the Appalachian Mountains, an area that sees a full four seasons.
Noccalula Falls Park offers views of a 90-foot waterfall cascading into a beautiful ravine. Below the falls are several scenic and archaeological sites, places left by the Native Americans who lived here centuries ago. The park also offers extensive botanical gardens and a short train ride which ends at a Pioneer Village exhibit.
The easiest way to get to Noccalula Falls Park is to take exit 188 off Interstate 59 and follow Highway 211. At the entrance to Noccalula Falls Park is Tabor Road and if you turn on that, you'll soon see that it becomes Alabama Highway 176 and passes by Dogtown and then Little River Canyon. Follow the signs because the route is a bit confusing. For several miles, the Lookout Mountain Parkway is also County Road 89, and County Road 89 intersects with Alabama Highway 35 northeast of Fort Payne. Alabama Highway 35 also enters Little River Canyon National Preserve but from the northeast. County Road 89 also passes by DeSoto State Park which is alongside Little River Canyon and offers restaurants, campgrounds, cabin and A-frame rentals and access to hiking trails and several waterfalls in the area. County Road 89 continues past DeSoto State Park to the historic town of Mentone where Alabama Highway 117 takes over as the main route of the Lookout Mountain Parkway. You'll find America's southernmost ski slope between DeSoto State Park and Mentone at Cloudmont Ski and Golf Resort. The slopes offer 1,000-foot runs for beginner and intermediate skiers. Should the temperature drop below 28°F, they turn on the snow-making equipment.
The state parks and national preserve are open year round. That makes the Lookout Mountain Parkway a beautiful route to drive and explore any time of year.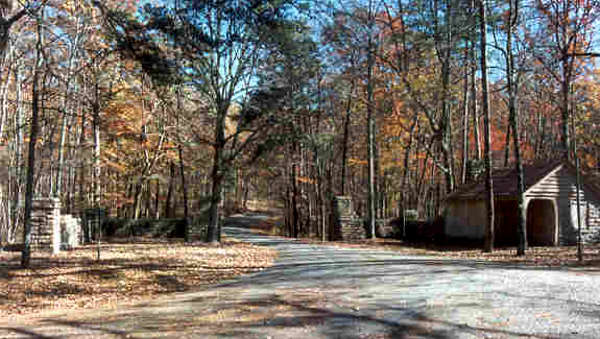 Main entrance to DeSoto State Park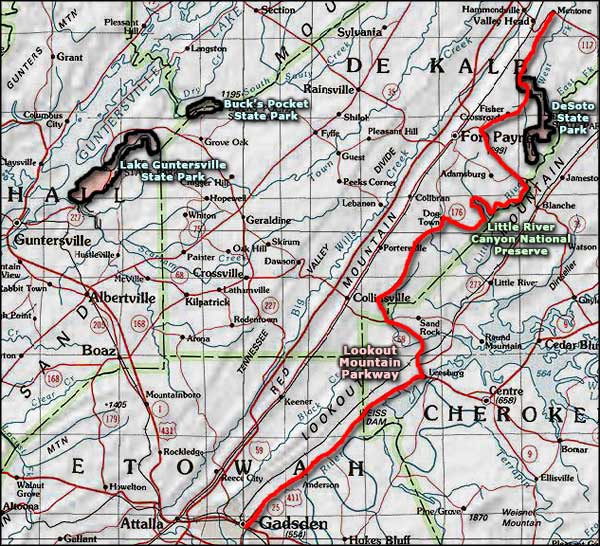 Related Pages
Area map courtesy of National Geographic Topo!