Lake Guntersville State Park

Sunset at Lake Guntersville
Lake Guntersville State Park is a 6,000+ acre property overlooking 66,500-acre Lake Guntersville. The park offers a restaurant, resort lodge and convention center complex on the summit of Taylor Mountain, right next to the 18-hole championship golf course. Down the hill along the lake you'll find lake view cottages, a developed campground a beach complex and day use area. Between the lake and the lodge you'll find several miles of hiking trails and a few chalets perched on the ridge tops.
Lake Guntersville is the first stop on the Alabama Bass Trail. That indicates a lake offering excellent fishing opportunities. More than a dozen bass fishing tournaments are on the schedule every year but bass fishing on Lake Guntersville is second to the amount of crappie caught here. The lake offers white bass, smallmouth bass, largemouth bass, bream crappie, catfish, Bluegill and sauger.
There's a picnic area on the lake shore near the campground and the swim beach complex. The large pavilion there rents for $200 per day, 8 am to 9 pm. At the Town Creek Fishing Center (on Alabama Highway 227) is another picnic area with a couple more pavilions for rent. The large one site sits up to 50 people and costs $50 for eight hours. The smaller pavilion sits up to 12 people and rents for $15 for eight hours. There are several other picnic areas (tables and grills only) at Town Creek, Short Creek, the old boat launch area and near the swim beach area.
There are about 36 miles of hiking trails at Lake Guntersville State Park. They differ in length from 1/2 mile to 3.5 miles but are looped and interconnected in a way that one could easily walk the entire 36 miles if one so wanted. Some routes parallel the Tennessee River, others lead past fields of wildflowers, some follow the ridge lines, some go to seasonal waterfalls. Trails are rated everything from easy to most difficult, depending on the terrain they cross. Some routes are shared with bicycles, some with horses...
Eagle's Nest Golf Course at Lake Guntersville State Park offers excellent mountain scenery from every tee, fairway and green. Located on the ridges atop Taylor Mountain, each hole also offers regular elevation changes to keep the game exciting. The fairways are wide, most tree-lined, all visited regularly by the local deer and other wildlife. There's a snack and beverage shop inside the pro shop/gift shop. There's also a full-service driving range and practice putting green near the pro shop. The golf course is open 7 days a week.
The Lake Guntersville State Park Lodge and Convention Center offers 99 rooms and 13 suites, none pet friendly, all non smoking. Each room has a microwave, refrigerator, coffee pot, iron and ironing board in addition to the obligatory TV and DVD player. The lodge offers a spa area (exercise room, saunas, steam bath) and game room on the lower level.
The lakeside cabins are all 2 bed (actually one King bed and two Double beds)/2 bath with a separate kitchen/dining/sitting area. The cabins are nestled in the trees just above the waters of Lake Guntersville and offer excellent views out over the lake. A 2-night minimum rental applies year-round but that becomes a 3-night minimum on holiday weekends. 2 cabins are designated pet friendly (for an extra charge per dog per night to a maximum of 2 dogs).
The 20 chalets are up the hill above the lake, on the ridge tops where the views are exquisite. The chalets are all 2 bedroom/1 bath with a separate kitchen/dining/sitting area. 2 of the chalets are designated dog friendly, two are ADA accessible. 2 night minimum rentals apply year-round, except when that becomes a 3-night minimum on holiday weekends.
The campground is laid out in loops along the lake shore. There are 321 campsites with electric and water hookups, some also have sewer hookups. All campsites have fire rings, barbecue grills and picnic tables. The primitive camping area is nearby, close enough that folks should have no problem getting to the bathhouses, playground, recreation area and camp store. 3-night minimum on major holiday weekends applies but normally, you can camp for only 1 night if you want. Reservations require a one-night deposit. Cancellations require three days notice or the deposit is forfeit.
It doesn't matter what prices I quote here, you know it's going to be more when you get there.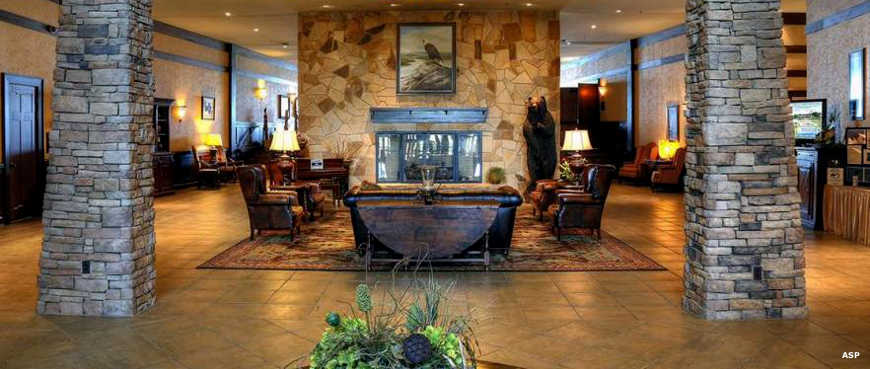 Inside the Lodge at Lake Guntersville State Park
Lake Guntersville State Park
Lower photo courtesy of Bob Blankenship
All photos courtesy of Alabama Department of Conservation and Natural Resources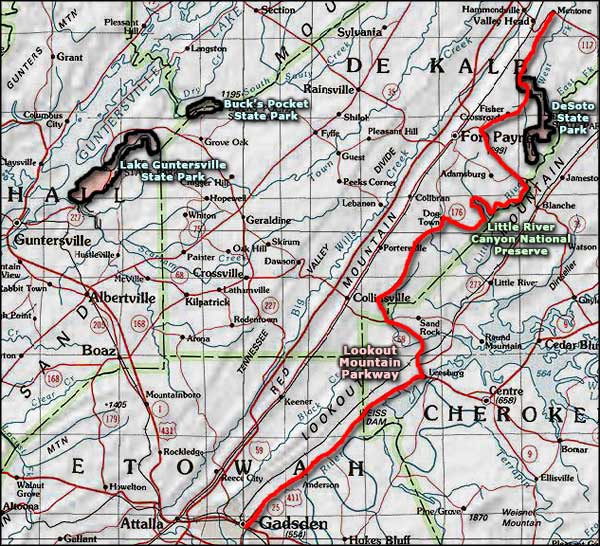 Related Pages
Area map courtesy of National Geographic Topo!