Kolob Creek Wild and Scenic River

At the edge of the basalt, Lava Point Overlook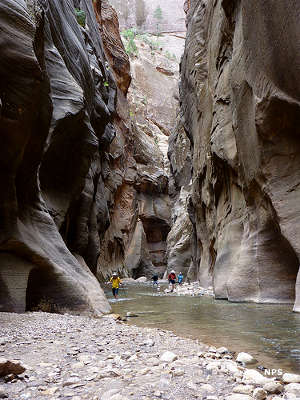 In the Kolob Creek Canyon Narrows
Kolob Creek begins it's journey on the slopes of Kanarra Mountain, north of Kolob Reservoir. The creek flows across open meadowland for several miles, then through the reservoir, across a basalt plateau and then drops into Kolob Creek Canyon before joining with Deep Creek Canyon and the North Fork of the Virgin River Canyon to form Zion Canyon. Of the three creeks in the area, Kolob Creek offers the most slot canyon for the slot canyon hiking enthusiast.
6.31 miles of Kolob Creek have earned the Wild & Scenic River Classification (with an emphasis on Wild), 2.04 miles on BLM land just north of Zion National Park (where the streambed crosses the southwestern corner of Deep Creek Wilderness) and 4.27 miles within the park to the point where Kolob Creek meets with the North Fork of the Virgin River.
Geologically, the landform is on the western edge of the Colorado Plateau, a large chunk of Jurassic-period sandstone laid down as part of the world's largest sand dune desert in the heart of what was once the supercontinent Rodinia. The mountains to the north are younger and volcanic in nature. Basaltic lava flows extend south from the mountains across the relatively flat plateau to the edge of Zion National Park, where the water erosion of the last so many millions of years has cut deep into the softer layers of Navajo sandstone below to create a maze of the world's highest sandstone cliffs and deepest slot canyons.

Looking upstream of Kolob Reservoir to Kanarra Mountain

Kolob Reservoir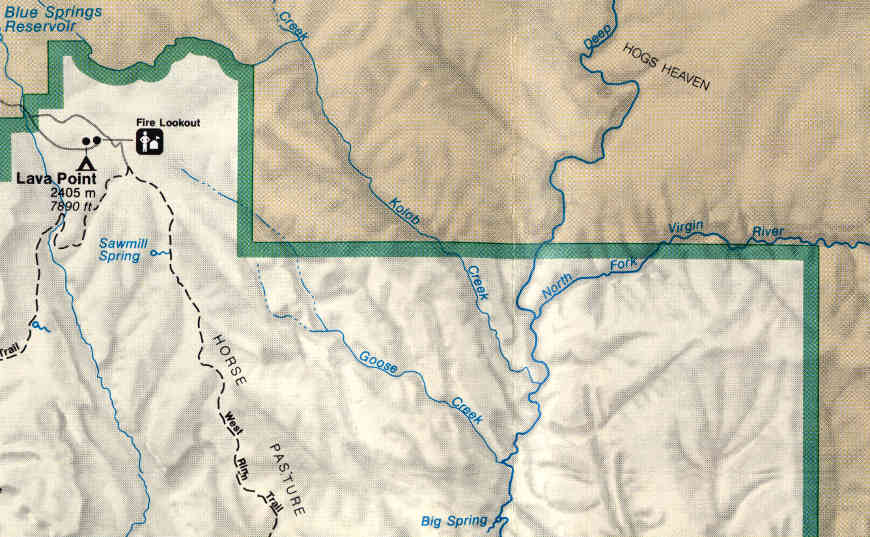 Kolob Creek Canyon map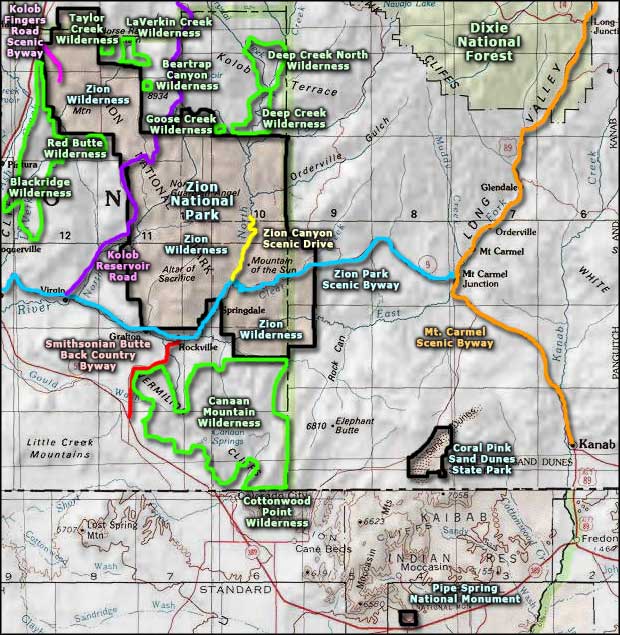 Related Pages
Map courtesy of National Geographic Topo!