Cottonwood Point Wilderness

Cottonwood Point Wilderness rises above Colorado City
Cottonwood Point Wilderness is a 6,860-acre property just east of Colorado City, right against the Utah-Arizona State line. To the north is Canaan Mountain Wilderness.
The centerpiece of Cottonwood Point Wilderness is the long line of 400-to-1,000-foot-high multi-colored Navajo sandstone cliffs that represent the Vermilion Cliffs in this part of Arizona. Cottonwood Canyon cuts back into the row of cliffs with two "peninsulas" of high country on either side. Cottonwood Point itself (6,322') is on the southern end of the western peninsula.
The row of cliffs are cut with small wooded canyons that offer a few riparian zones in areas of seasonal stream flow. Most of the wilderness that is not solid rock is covered with a mix of pinon and juniper woodlands interspersed with sagebrush chaparral. In the wetter canyons you''ll find stands of willow and cottonwood. For wildlife you might come across coyote, bobcat, mountain lion, mule deer and the usual assortment of Arizona desert reptiles, snakes, arachnids and insects.
Access to the property is difficult and there are no established trails if you do get there. Human visitation is almost non-existent. Probably the easiest way to access the main part of Cottonwood Point Wilderness (the part above the cliffs) would be to enter from Canaan Mountain Wilderness.
To get there: most access is available off Arizona Highway 389 which passes close to the western side of Cottonwood Point Wilderness. Mohave County Road 237 (also off SR 389) runs around the south and east sides of Cottonwood Point. Be aware that significant amounts of the property abutting Cottonwood Point Wilderness is private property and access is not allowed without getting permission first. That permission might be hard to obtain as a large portion of the private land to the south and west of the wilderness area is owned by members of the Fundamentalist Church of Latter Day Saints, an increasingly famous group of Mormon polygamists who do everything they can to discourage non-sect-members from visiting or spending time in the area.
7.5-Minute Topo Maps: Moccasin, Colorado City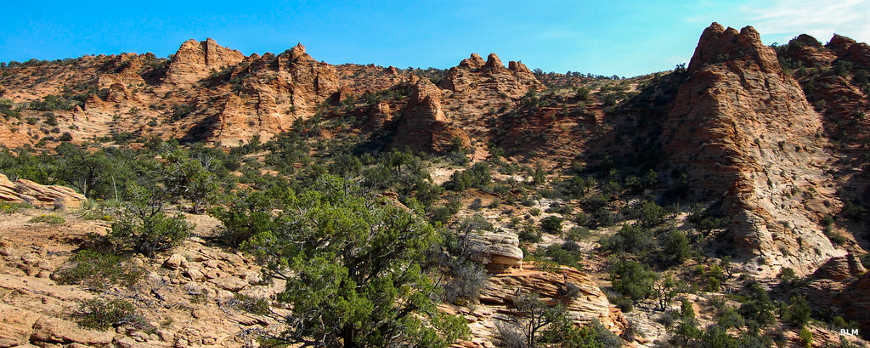 In the higher areas of Cottonwood Point Wilderness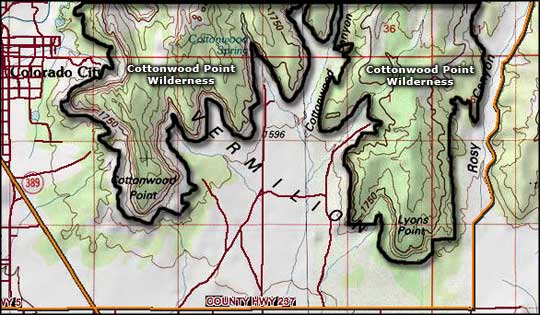 Cottonwood Point Wilderness
Bureau of Land Management

- Arizona Strip Field Office
Upper photo courtesy of TheArmchairExplorer,
CCA-by-SA 4.0 License
Lower photo courtesy of the Bureau of Land Management
Map courtesy of National Geographic Topo!