Kendrick Mountain Wilderness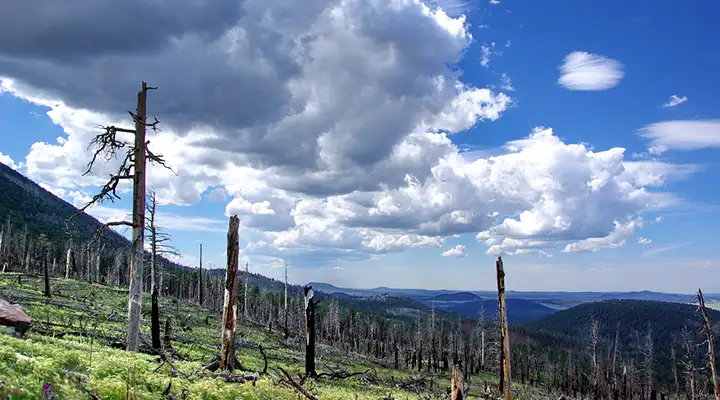 In the burned area on Kendrick Mountain Wilderness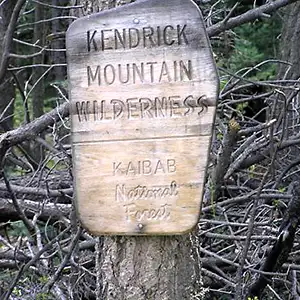 Kendrick Mountain Wilderness is a 6,510-acre property that surrounds Kendrick Mountain, one of the highest peaks in the San Francisco volcanic field on the Coconino Plateau. The Wilderness straddles the boundary between Coconino and Kaibab National Forests.
Long ago the USDA Forest Service established a fire lookout on the summit of Kendrick Peak (10,418 feet) but that didn't help much when virtually the entire mountain burned during the summer of 2000. Some sections of the forest were severely burned, others just singed. The more heavily burned areas have seen significant erosion of the volcanic soils and will take many years to fully stabilize again. At the same time, that fire activated dormant aspen seeds in the ground and there is now the beginnings of a good stand of aspens where previously, everything on the mountain had been pine and fir. The areas of the wilderness most impacted are on the east, north and west sides of Kendrick Mountain.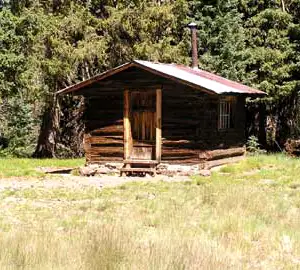 There are three established trails (for a total of 14 miles) in Kendrick Mountain Wilderness. All three lead to the summit of the mountain. The trails were all in reasonable shape before the fire but since... Erosion and the on-going tree fall have made route-finding significantly more difficult. The severe elevation gain made hiking the trails strenuous before, now it's bordering on ridiculous. Whatever you might try to do in Kendrick Mountain Wilderness, make sure you bring plenty of your own water: there isn't any on the mountain.
To get there: Follow US Highway 180 (the San Francisco Peaks Scenic Road) northwest out of Flagstaff to Forest Road 245 (at milepost 230) and take the left. Go about three miles to the end of the road, then turn right on Forest Road 171 and follow the signs to the trail heads (about three more miles). The Forest Service roads are packed volcanic dirt and when wet, turn into a quagmire. Even good 4WD isn't enough to guarantee motion when there's snow on the ground.
The fire lookout is still in use during the summer months.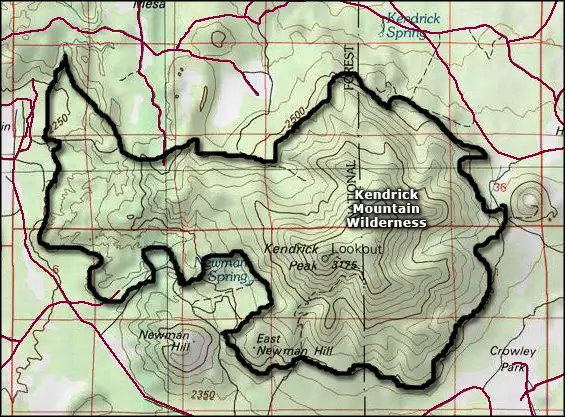 Kendrick Mountain Wilderness
Kendrick Mountain Wilderness
Coconino National Forest -

US Forest Service
1824 South Thompson Street

,

Flagstaff

,

AZ

86001
928-527-3600

Photos courtesy of the US Forest Service
Map courtesy of National Geographic Topo!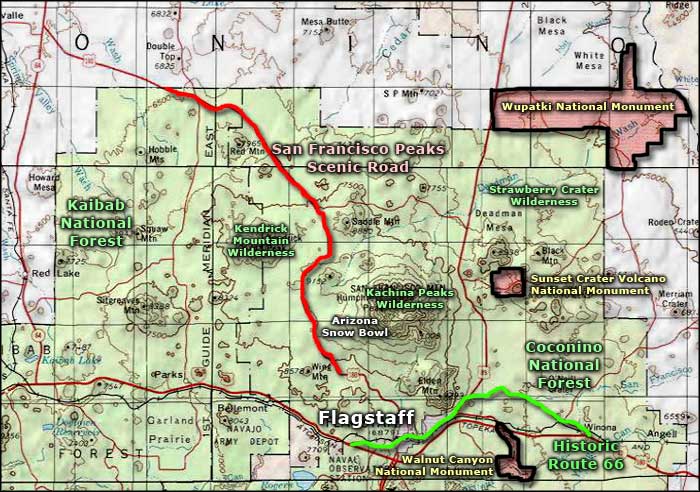 Related Pages
Map courtesy of National Geographic Topo!