Historic Route 66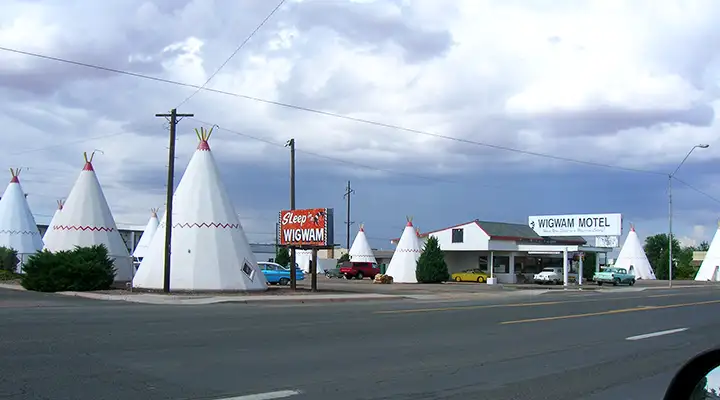 The Wigwam Motel, Holbrook, Historic Route 66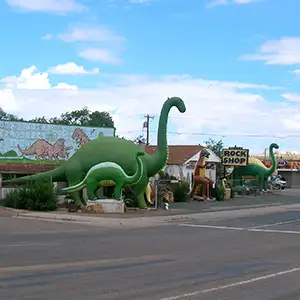 I've lost count of how many times I've traveled all or portions of Historic Route 66. I don't even remember how many times I've traveled Interstate 40 that parallels Historic Route 66. But I do still remember waking up in the back seat of the car as a kid and looking up to see dinosaurs staring down at me while we were parked at a gas station in Holbrook...
Even today, to travel Historic Route 66 is to travel across America in the 1950's and 60's. Interstates may have taken the burden of most of the heavy traffic off the old road, and in many places have simply replaced the old road, but there's still nothing like the magic of that trip into yesteryear and the chance to explore what was once America's "Mother Road."
In some places Historic Route 66 is now a city street, in Petrified Forest National Park it's part of the Painted Desert access road, northwest of Kingman it's now an official Backcountry Byway. But everywhere along the old route you're going to find attractions, overlooks, viewpoints and places to stop and get the feel of what it was like to drive across America in the days of the two-lane highways that were the lifeblood connecting little tiny towns with each other all across this wide open and topographically varied landscape.
The towns and cities are filled with historic buildings. Some of the stops in the countryside offer hikes through human structures built more than a thousand years ago. At Petrified Forest National Park you can walk through history made up to 200 million years ago. There are Indian Reservations, dormant volcanos, meteor impact craters, ghost towns, the sites of Wild West shootouts and miles and miles of just plain arid, desert scenery. And if the desert is too much for you, there's the Flagstaff-Williams area where you'll mostly be driving through Ponderosa pine forests... and be offered some reasonably easy access to some excellent winter skiing. Grand Canyon National Park is to the north, the Mogollon Rim to the south. At the west end of the historic and scenic byway is the Colorado River (at the site of a ghost town and the edge of Havasu National Wildlife Refuge).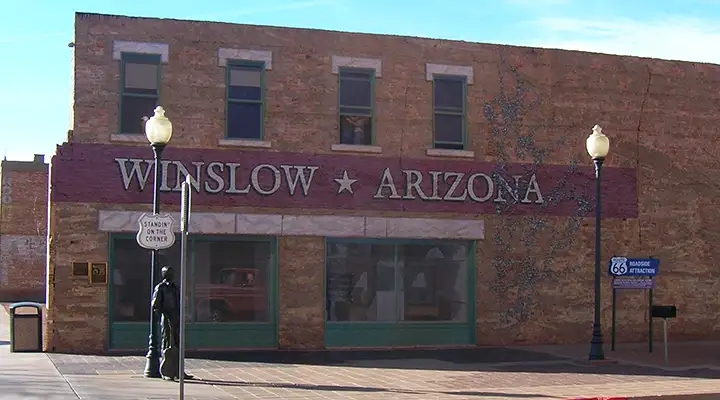 "Standing on the Corner" Park in Winslow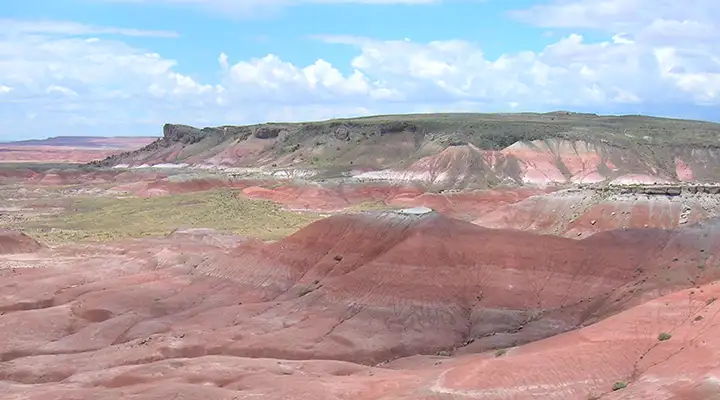 A typical view in the Painted Desert along Historic Route 66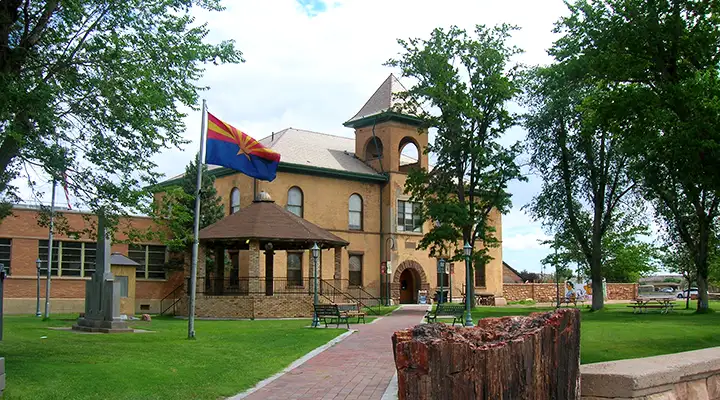 The former Navajo County Courthouse in Holbrook, now a museum