Fossil Butte National Monument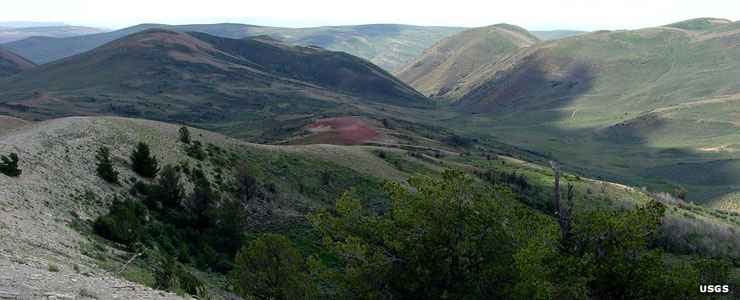 Fossil Butte National Monument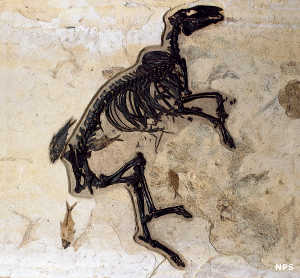 During the Eocene age, this 8,198-acre property that is now about 15 miles east of Sage Junction and 13 miles west Kemerrer was at the bottom of a sub-tropical lake. These days, the property is high in the air (the lowest point is at 6,620' above sea level), sees between 9 and 12 inches of precipitation in a normal year and has an average frost-free summer of only 59 days. So the ecosystem has gone from lush, sub-tropical forest and lake/wetlands teeming with fish, reptiles, birds, mammals, insects and plants (kinda like today's Florida) to high, dry, sagebrush-covered desert populated by jackrabbits, coyote, mule deer, elk, moose and pronghorn antelope over the last 50 million years.
The original Fossil Lake varied in size considerably over its two million years of existence but is thought to have generally been about 20 miles across (east-to-west) and 40-50 miles long (north-to-south). Together with ancient Lakes Uinta and Gosiute, it made up what is now called the "Green River Lake System." Fossil Butte National Monument contains about 13 square miles of what was once a 900-square-mile lake.
The big draw at Fossil Butte National Monument is a rock layer called the Green River Formation, a stratum of pink, lavender, dull red, yellow, purple and gray rock exposed on the steep slopes of Cundick Ridge, Fossil Butte and Ruby Point in the Fossil Basin. The Green River Formation is densely packed with a large variety of fossils. Next to it is the Wasatch Formation, another rock stratum that is packed with the fossilized teeth and bones of many different terrestrial animals of the Eocene age. Between the fossils contained in the two formations, scientists get a reasonably complete picture of what kind of animals, insects and plants were living on land and under water in those days. More than 100 species of animals have been identified in the fossil record, only carnivores and large ungulates are missing.
The fossils of the Green River Formation were first discovered by workers on the transcontinental railroad in the late 1860's. As they passed through the Green River, Wyoming area, they passed across what was once the bottom of Lake Gosiute and were finding all kinds of strange things pictured in the rock.
Commercial fossil collecting still goes on in the area (as Fossil Butte National Monument only protects less than 1.5% of the resources) and hundreds of thousands of fossilized fish and reptiles from the area newly appear on the market every year. It's hard to walk into any fossil museum in the world and not find specimens dug up in western Wyoming.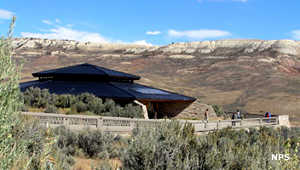 Fossil Butte National Monument offers a couple of hiking trails, a scenic drive (7.5 miles long, 4 miles of which is gravel) and a picnic area with tables, potable water, charcoal grills and restrooms. Camping on the property is not allowed.
The Fossil Butte National Monument Visitor Center is open daily from 9 am to 5:30 pm from May 1 through September 30. From October through the end of April the Visitor Center is open from 8 am to 4:30 pm daily except Federal holidays. The Monument itself is open daily from sunrise to sunset, although the entrance gate is sometimes closed during severe winter storms. The National Monument doesn't plow snow so most of the roads are closed by snow from about November 1 into late May. There are no fees charged but donations are welcome.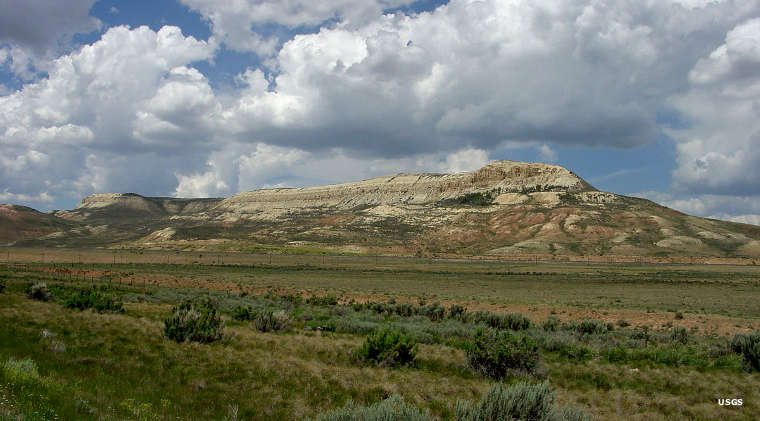 Fossil Butte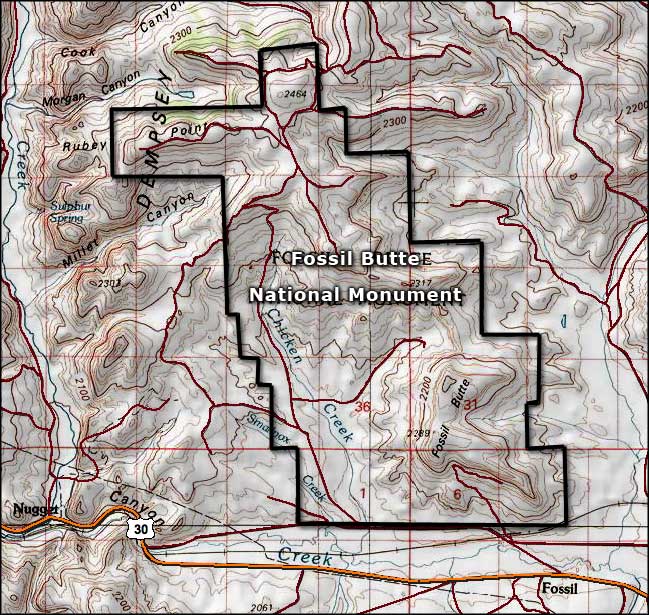 Fossil Butte National Monument
National Park Service
Large photos are courtesy of the United States Geological Survey
Smaller photos are courtesy of the National Park Service
Map courtesy of National Geographic Topo!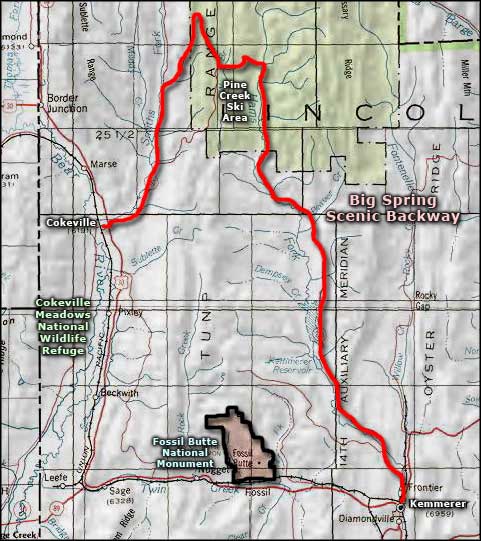 Related Pages
Map courtesy of National Geographic Topo!