Big Spring Scenic Backway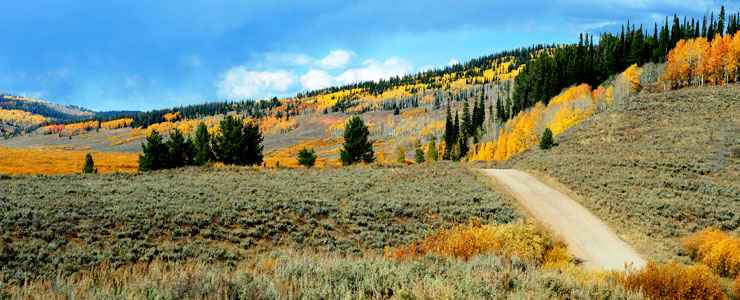 Along the Big Spring Scenic Backway in the fall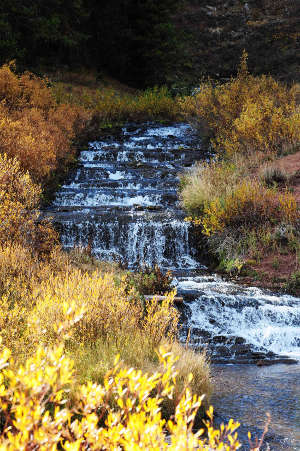 The Big Spring Scenic Backway is a 68-mile route across the Sublette and Demsey Cutoff routes from the Oregon Trail days (1841-1868). In some areas you can still see the tracks and ruts left by wagon wheels. Heading north out of Kemmerer, the route follows Wyoming Highway 233, paralleling the Hams Fork River. About 20 miles in, just past Lake Viva Naughton you'll cross the trail of Demsey Cutoff and the pavement ends. From there the road starts to rise and shortly, you'll enter Bridger-Teton National Forest. This is the area of the Tunp Mountains and Pine Creek Ski Area is right around the corner, literally. The Big Spring Scenic Backway makes a wide, horseshoe-shaped turn around Pine Creek and then heads south again to Cokeville. In the deepest part of the forest, you'll be driving along the route of the old Lander Cutoff. Not far from the National Forest boundary you'll find pavement again.
Travel services are found at either end of the backway: Kemmerer, Diamondville and Cokeville. The National Forest Service recommends that only high clearance vehicles (with good tires) use the route through the forest, especially beyond the access road to Pine Creek Ski Area.
All along this route is the evidence left over from a hundred years of homesteaders trying to settle the American West: old fences, barns, cabins... At one time, the Cokeville area was the Sheep Capital of the World and you'll still see thousands of sheep in the area. You might also come across deer, elk, moose, black bear, coyote, bobcat and mountain lion.
Kemmerer is the original home of JC Penney: the "Golden Rule Store" is still doing business there. Just west of Kemmerer is Fossil Butte National Monument. About 57 million years ago, the area around Fossil Butte was much more like today's Florida Everglades, as evidenced by the aquatic fossils left behind. Just south of Cokeville is Cokeville Meadows National Wildlife Refuge, one of the US Fish & Wildlife Service's newest refuges. There isn't much for human-oriented amenities yet but there is a pullout at an overlook along US Highway 30.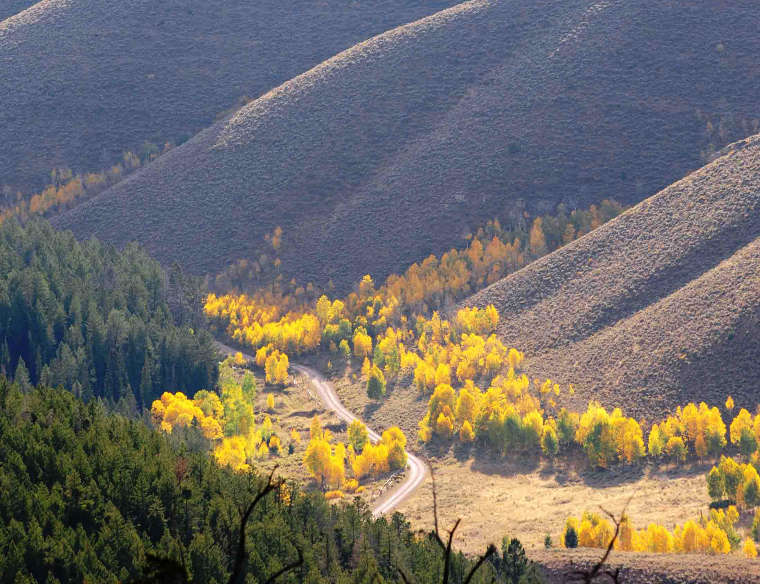 Looking back along the route of the Big Spring Scenic Backway
Photos courtesy of Talbot Hauffe, Wyoming DOT, via Byways.org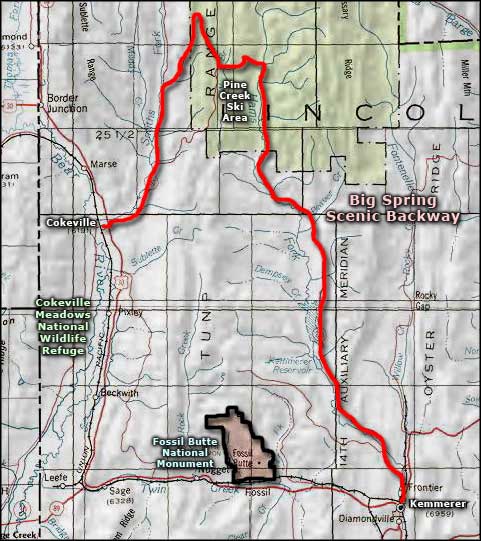 Related Pages
Map courtesy of National Geographic Topo!