Beartooth Highway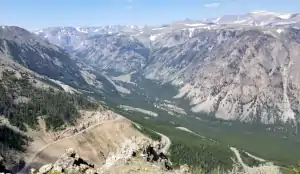 Rock Creek Canyon, still in Montana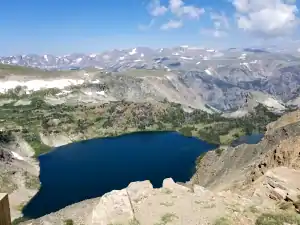 The Beartooth Highway runs along US Highway 212 for almost 69 miles between Red Lodge and Cooke City at the northeast entrance to Yellowstone National Park. This is one of the highest elevation roads in the northern Rocky Mountains (topping out at 10,947' in Beartooth Pass) and most of it is closed due to snow levels in the winter. About 47 miles of the route is in Wyoming, the rest in Montana.
The Beartooth Highway crosses the Beartooth Mountains in Montana and Wyoming. The Absaroka-Beartooth Wilderness is to the north, the North Absaroka Wilderness to the south as the highway travels through the Custer, Gallatin and Shoshone National Forests. Charles Kuralt called this "the most beautiful drive in America." At either end you'll find lush green forests but in between are large expanses of barren rock and alpine tundra surrounded by mountain peaks above 12,000' high, most with glaciers on their northern slopes.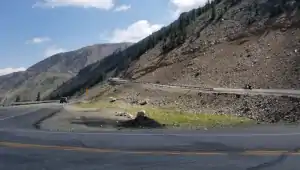 One of many hairpin turns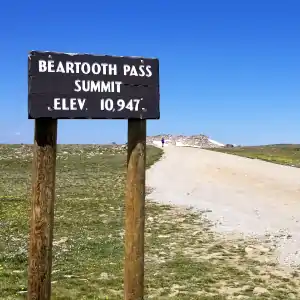 At the top of the pass
There are streams, waterfalls and lakes everywhere, all teeming with brown, brook, cutthroat and rainbow trout. The woods are full of deer, elk, moose, black bear and grizzly bear. This route is a simply beautiful journey through incredible scenery to the heart of the Greater Yellowstone Ecosystem: one of the largest relatively undisturbed and undeveloped natural ecosystems remaining on Planet Earth.
The Beartooth Highway was opened for travel in 1936. Construction had started in 1931, financed under the Park Approaches Act. The route follows the Sheridan Trail, built by General Phil Sheridan when he was the US Army commander stationed at Yellowstone National Park in 1882. The highway has been nominated for inclusion in the National Register of Historic Places.
Coming from the south, the Beartooth Highway can be accessed via the Chief Joseph Scenic Byway, which comes up to the west of the spectacular vistas of the Beartooth Pass area. But the Beartooth Highway west of that junction is open in the winter, as is the road across Yellowstone from Cooke City to Mammoth Hot Springs to Gardiner. The road east of there is one of America's snowmobile hot spots... all the way to the ski slopes outside Red Lodge.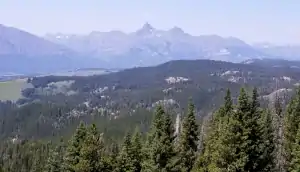 First view of Pilot and Index Peaks in the North Absaroka Wilderness