Necedah National Wildlife Refuge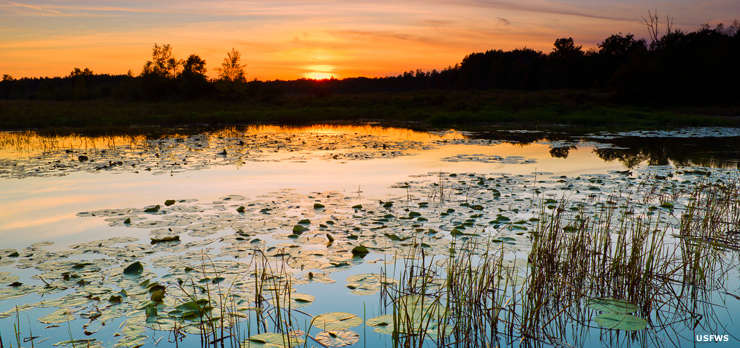 Necedah National Wildlife Refuge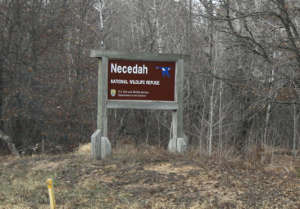 Necedah National Wildlife Refuge is a 46,696-acre property located in the area of the Great Central Wisconsin Swamp, the largest wetland bog in Wisconsin.
Necedah NWR is probably most famous as that place where US Fish & Wildlife and the Whooping Crane Eastern Partnership have been successful at re-introducing a flock of whooping cranes to the eastern flyways. The part of this that caught the public's eye is that part where volunteers used ultra-light aircraft to guide the first few whooping cranes to their winter home at Chassahowitzka National Wildlife Refuge in Florida. The flock has grown from only a few birds to more than 105 birds making the bi-annual migration, a number of whooping cranes that hasn't been seen in the eastern United States in more than 100 years.
Other endangered and threatened species that make their homes at Necedah National Wildlife Refuge are massasauga rattlesnake, gray wolf, Blanding's turtle and the Karner blue butterfly. Since its establishment in 1939, Necedah National wildlife Refuge has been the site of successful reintroductions of Canada geese (1939), wild turkey (1952), mallard ducks (1960's), trumpeter swans (1994) and whooping cranes (2001).
The countryside at Necedah National Wildlife Refuge offers extensive forests of pine, oak and aspen with significant acreage covered by rare oak barrens habitat. There are also growing open areas of sedge meadow, savanna and tall-grass prairie. Research in the sedge meadows has revealed that the peat bogs are more than six feet deep and have been building up for more than 11,000 years. A species inventory on Necedah NWR lists more than 110 species of migratory birds, 3 species of amphibians, 14 species of reptiles and more than 44 species of butterflies.
Refuge operations are funded mostly through sales of timber on the property. The Refuge offers six hiking trails, a couple auto-tour routes and extensive opportunities for wildlife viewing and photography. The visitor center is open from 9 am to 4 pm, Monday through Saturday except for federal holidays, Christmas Eve and New Year's Eve. Visitors are advised to be wearing sturdy shoes and have some industrial-strength bug repellent handy. Binoculars and field guides are available for loan at the visitor center.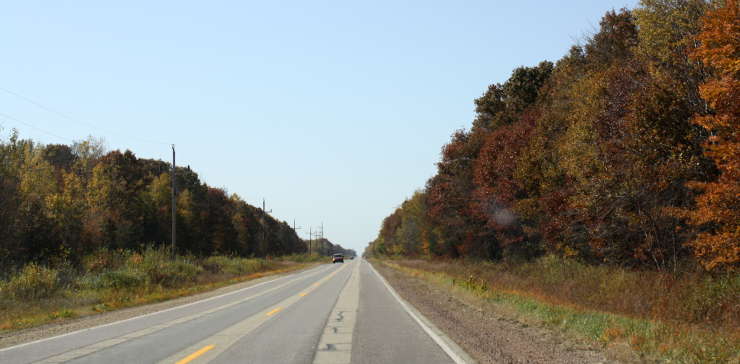 Driving across Necedah National Wildlife Refuge
Necedah National Wildlife Refuge
US Fish & Wildlife Service
Upper photo courtesy of the US Fish & Wildlife Service
Other photos courtesy of Wikipedia userid Royalbroil,
CCA-by-SA 3.0 License