Ice Age National Scenic Trail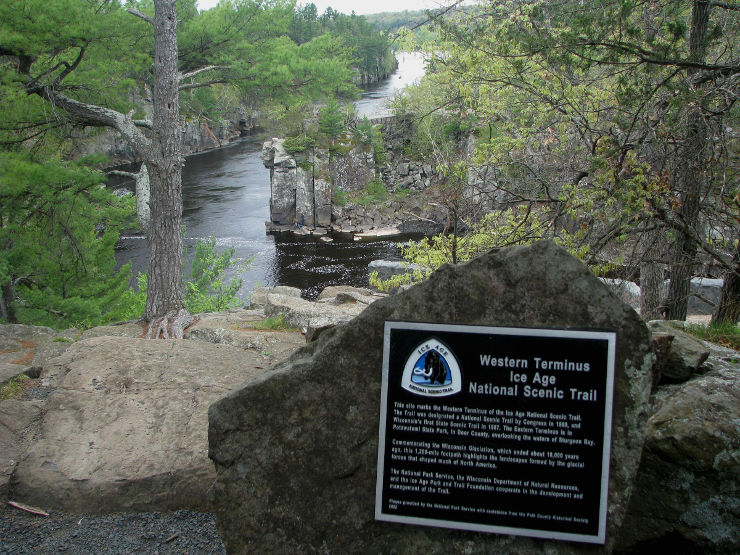 Western Terminus of the Ice Age National Scenic Trail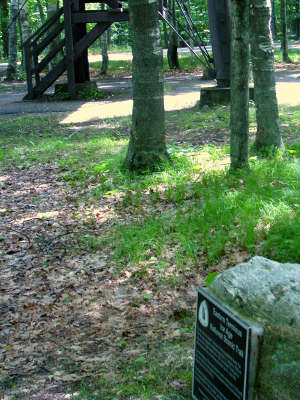 Eastern Terminus of the Ice Age
National Scenic Trail
The Ice Age National Scenic Trail crosses Wisconsin from Interstate State Park in St. Croix Falls on the west to Potawatomi State Park on Lake Michigan to the east. The trail follows the debris trail left at the southern edge of the glaciers of the Wisconsin Glaciation, a period that began about 110,000 years ago and ended about 10,000 years ago. That makes for a wandering route almost 1100 miles in length (final plans include adding another 100 miles to the trail). The trail was established by an Act of Congress in 1980, following more than 20 years of growing public sentiment and interest as virtually all of Wisconsin's landscape has been dramatically shaped by those years of extensive glaciation.
As the Ice Age Trail essentially follows the almost unbroken line of terminal moraine across the state, hikers will find themselves potentially exposed to glacial potholes, kames, kettles, drumlins, eskers, moraines and other geological elements known as "glacial erratics." To construct the trail, many already existing trails were included in the mix. Significant sections of the route lie across state, county and local parks, state forest, wildlife and natural areas, and Chequamegon-Nicolet National Forest.
Along the route of the Ice Age Trail are several of the nine sites that comprise the Ice Age National Scientific Reserve. These nine sites (about 32,500 acres in total) are also under the jurisdiction of the Wisconsin Division of Natural Resources as most are state parks or other state properties. Each site preserves significant evidence of glaciation. Congress established the Reserve in 1964 as a cooperative reserve to be managed in conjunction with Wisconsin DNR.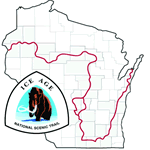 The major part of the Ice Age National Scenic Trail is open primarily for hikers (and cross country skiers) but in those areas where the route coincides with previously existing trails, other activities (mountain biking and snowmobiling) are allowed. Nowhere along the trail are ATVs or other mechanized off-road vehicles allowed. A large part of the route has been constructed and is maintained by volunteer organizations like the Ice Age Trail Alliance.
The National Park Service bought the former Wilkie Farm (157 acres) in Cross Plains to build an interpretive center for the Ice Age National Scenic Trail and the Ice Age National Scientific Reserve.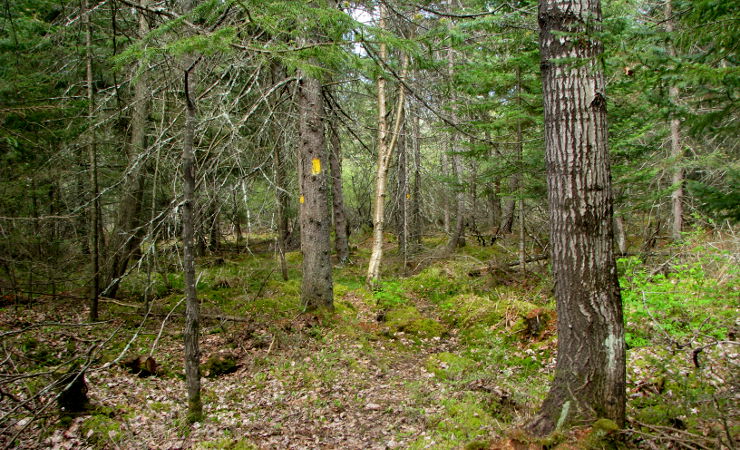 The Ice Age Trail across New Wood State Wildlife Area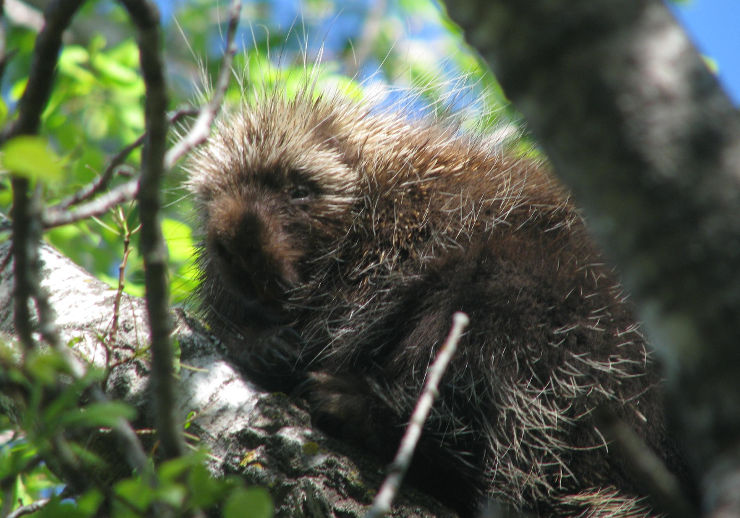 A porcupine up a tree along the route of the trail
Ice Age National Scenic Trail
700 Rayovac Drive, Suite 100

,

Madison

,

WI

53711
608-441-5610
Photos courtesy of MDuchek (public domain)
Map/logo courtesy of the National Park Service