Green Bay National Wildlife Refuge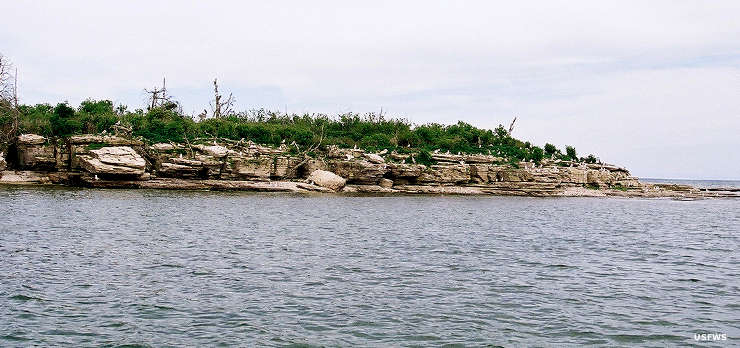 Green Bay National Wildlife Refuge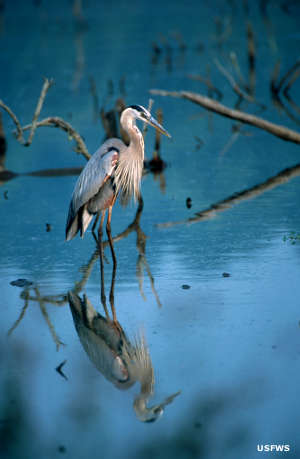 Green Bay National Wildlife Refuge consists of three islands in Lake Michigan near Washington Island: Hog Island (2 acres, and the third part of Wisconsin Islands Wilderness), Plum Island (325 acres) and Pilot Island (3.7 acres).
For many years, Hog Island was the only piece of land in the Green Bay National wildlife Refuge as both Plum and Pilot Islands were in the hands of the US Coast Guard and were used to support lighthouse facilities. The two islands were added to the National Wildlife Refuge in 2007 but their lighthouses are still in use. Over the years, the other evidences of human habitation have fallen into decay and the islands have reclaimed much of their glory from before the Euro-Americans arrived in the area.
Plum Island sports a thick forest of basswood and sugar maple with groves of white cedar along the coast. White cedar primarily grows in areas where dolomite is close to the surface. Plum Island is also home to the threatened Dwarf Lake Iris. Hog Island had a thick mat of Canada yew until deer arrived on the island. Their browsing has almost eradicated it from the island. Pilot Island is barren rock.
Green Bay National Wildlife Refuge is managed by staff at Horicon National Wildlife Refuge. There were plans to open Plum Island for human use in the summer of 2014 but Hog and Pilot Islands will remain closed to the public in order to not disturb nesting birds. That closure extends to one-quarter mile offshore of the islands.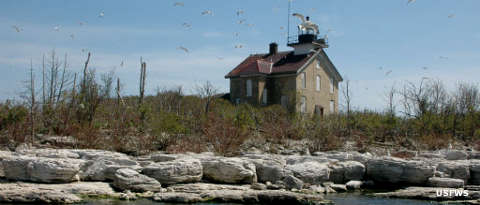 The lighthouse on Plum Island
Green Bay National Wildlife Refuge
US Fish & Wildlife Service
Upper photo courtesy of Sadie O'Dell, US Fish & Wildlife Service
Other photos courtesy of the US Fish & Wildlife Service