Fox River National Wildlife Refuge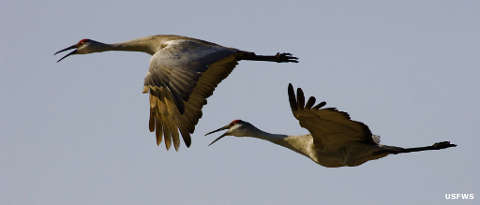 Greater sandhill cranes flying above Fox River National Wildlife Refuge
Fox River National Wildlife Refuge is a 1,054-acre property on the Fox River in Wisconsin. The land was acquired by the US Fish & Wildlife Service in 1979 to provide protected habitat for the greater sandhill crane. Except for licensed deer hunters during deer gun and archery hunting seasons, the property is closed to the public.
The landscape at Fox River NWR is a mix of upland deciduous forest habitat dominated by white, black and burr oak, oak savanna and upland dry prairie, and wet prairie, sedge meadow and shallow marsh wetlands. This landscape harbors many of Wisconsin's listed threatened and endangered plants.
About 50 sandhill cranes nest on the refuge but hundreds stop by in spring and fall during the great migrations.
Fox River National Wildlife Refuge is managed by staff at Horicon National Wildlife Refuge.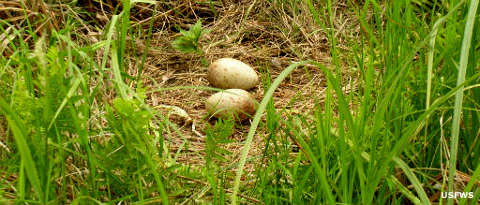 Sandhill crane eggs
Fox River National Wildlife Refuge
US Fish & Wildlife Service
Photos courtesy of the US Fish & Wildlife Service