Harpers Ferry National Historical Park

A view of Harpers Ferry and Harpers Ferry National Historical Park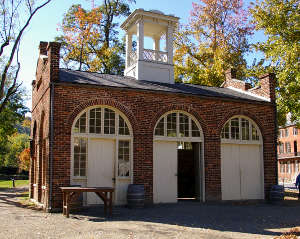 John Brown's Fort
Harpers Ferry National Historical Park is a 3,660-acre property that includes the historic sections of Harpers Ferry, West Virginia and adjacent sites in Virginia and Maryland. Harpers Ferry achieved prominence during the years after the Revolutionary War when the federal government constructed an armory there to be powered by the adjacent river flows. Meriwether Lewis came to Harpers Ferry in 1803 to procure weaponry and related hardware for the expedition to the Pacific. Blacksmiths at Harpers Ferry also built a collapsible iron boat frame for Lewis to take with him.
Between 1820 and 1840 John Hall worked to perfect the manufacturing of interchangeable parts at the armory. He used precision molds and jigs to manufacture pieces that could be used in any of thousands of weapons produced at the armory. Subsequently James Burton developed the modern bullet and it replaced the round lead slug that was used previously. Between 1801 and 1860 it is estimated the Harpers Ferry Armory produced more than one-half million muskets and rifles.
Harpers Ferry got more famous in 1859 when John Brown led a group of abolitionists on a raid to take the armory and arm the slaves. He took the armory but was then captured by a force of US Marines under the command of Colonel Robert E. Lee. Brown was shortly tried, convicted and hanged, but not before correctly predicting the outbreak of the Civil War. When the Civil War broke out, West Virginia was still part of Virginia and Harpers Ferry was on the boundary between slave and free states: The town changed hands between Union and Confederate eight times during the war.
Storer College was built in Harpers Ferry in 1865 as one of the very first integrated schools in America. Frederick Douglass served as a trustee for many years. A conference about peacefully fighting legalized discrimination and segregation happened at Storer in 1906. When the Supreme Court finally ended school segregation in 1954 Storer College closed in 1955. What remains of the college campus now is administered by the National Park Service as part of the Harpers Ferry National Historical Park, Harpers Ferry Center and Stephen T. Mather Training Center.
Harpers Ferry National Historical Park is open every day of the year except Christmas, New Year's and Thanksgiving Days. The visitor center is open daily from 9 am to 5 pm and the last shuttle bus departs Lower Town at 5:15 pm. The Train Station is open during regular park hours.
The Appalachian National Scenic Trail passes through the park and crosses the river just downstream of Harpers Ferry itself. Just north of the park across the Potomac River is the Chesapeake and Ohio Canal National Historical Park.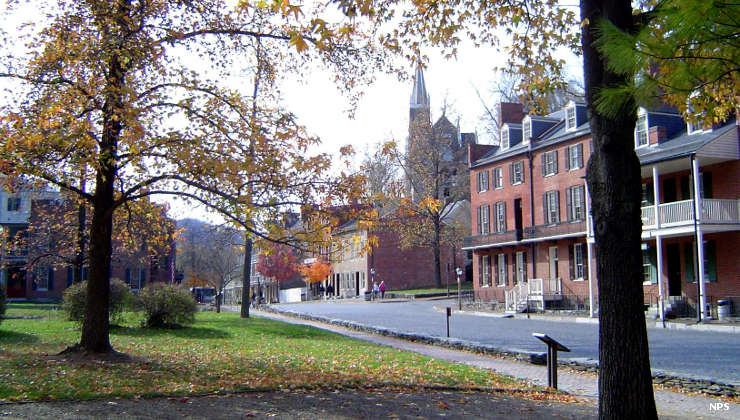 Downtown in Harpers Ferry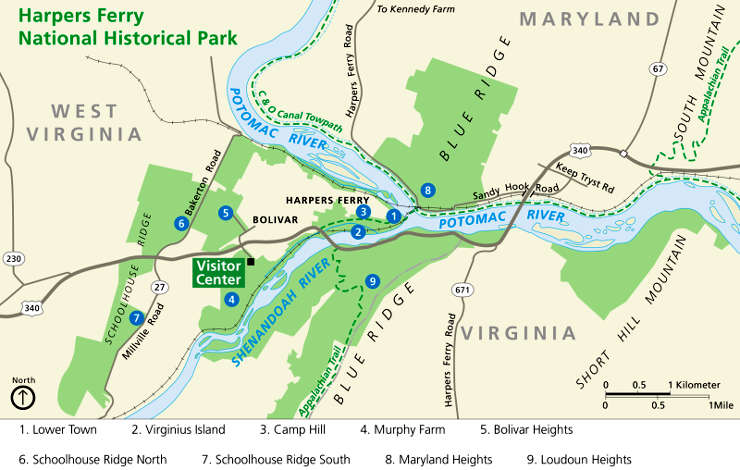 Harpers Ferry National Historical Park map
Harpers Ferry National Historical Park
National Park Service
Upper and lower photos and map courtesy of the National Park Service
Upper left photo courtesy of Joy Schoenberger,
CCA-by-SA 3.0 License