Living Desert Zoo and Gardens State Park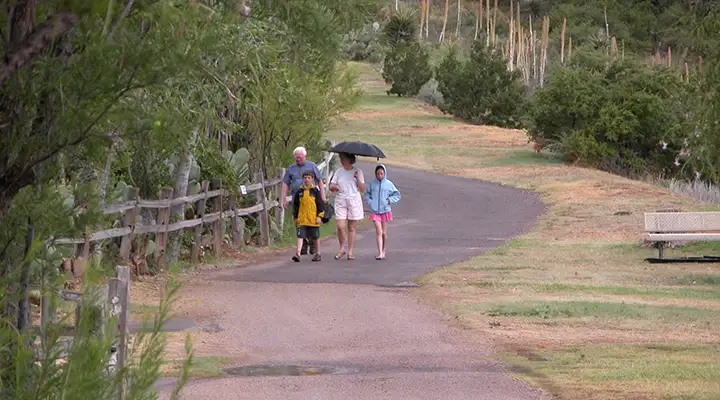 A family on a foot path at Living Desert Zoo and Gardens State Park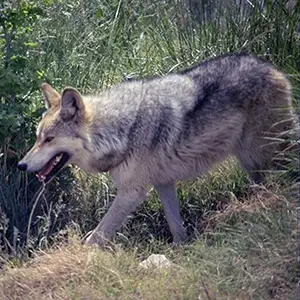 Accredited by the Association of Zoos and Aquariums, the Living Desert Zoo & Gardens State Park is an active participant in science, education, recreation and species conservation programs revolving around the plants and animals of the Chihuahuan Desert ecosystem. The plants and animals found at Living Desert Zoo & Gardens are typical of those found in most areas of the Chihuahuan Desert. The State Park is an indoor/outdoor living museum with hundreds of succulent plants from around the world and more than forty native animal species represented on the property. Central to the Living Desert Zoo & Gardens is the 1.3-mile self-guided tour that shows visitors many of the faces of the Chihuahuan Desert: from the desert floor to the pygmy forest to the sand dunes. The park contains about 1,500 acres of land, most of it used as display space.
Living Desert Zoo & Gardens offers a walk-through aviary with birds ranging from eagles, hawks, turkeys and owls to small songbirds. Also hidden around the property are bobcats, mountain lions, badgers, kit foxes, pronghorns, mule deer, bison and elk. The park is also a participant in the Mexican gray wolf Species Survival Program and exchanges their wolves with other zoological facilities to help broaden the genetic pool and ensure the survival of this endangered species. There is also a greenhouse on the property where hundreds of species of cacti and succulents from around the world are on display.
To get there: Living Desert Zoo & Gardens is located off US Highway 285 at the northwest edge of the City of Carlsbad. The park offers a visitor center, group picnic shelter, gift shop, restrooms and interpretive exhibits. Activities available include hiking, wildlife watching and educational programs. Staff also offer a zoo camp, star-watching parties and a xeriscape conference where they discuss the benefits of Chihuahuan Desert natural landscaping.
Living Desert Zoo & Gardens is open Labor Day to Memorial Day from 9 am to 5 pm every day except Christmas. From Memorial Day to Labor Day the park is open from 8 am to 5 pm. Gift shop hours are 10-4 in the winter, 9-4 in the summer. Best time to visit: in the cooler morning hours when the animals are more active.
Living Desert Zoo & Gardens is not in any way associated with "The Living Desert" of Palm Desert, California.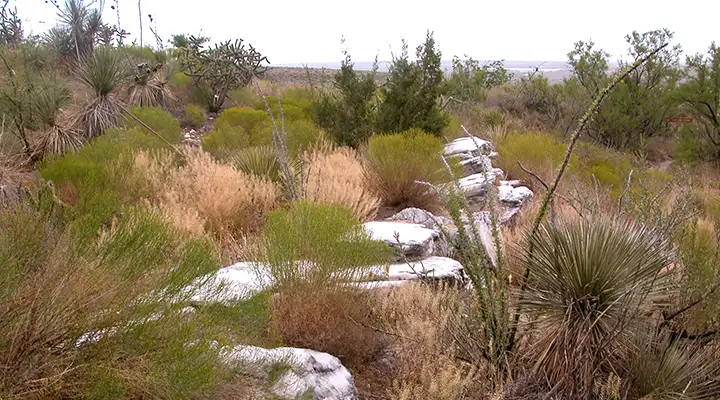 The Gypsum Hills Habitat at Living Desert Zoo & Gardens State Park
Living Desert Zoo & Gardens
Photos courtesy of Erica Asmus-Otero, New Mexico State Parks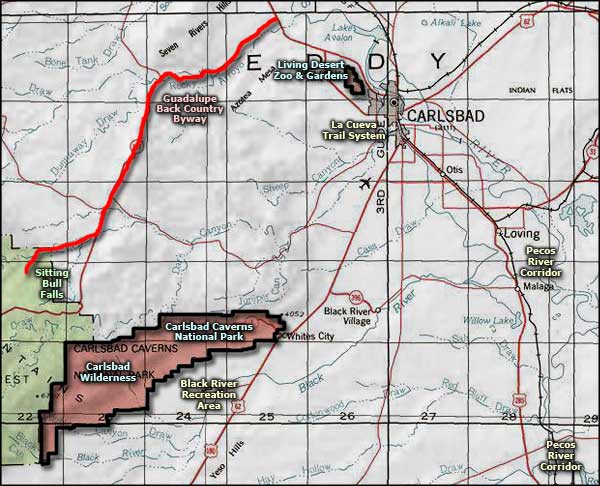 Related Pages
Map courtesy of National Geographic Topo!