Bluewater Lake State Park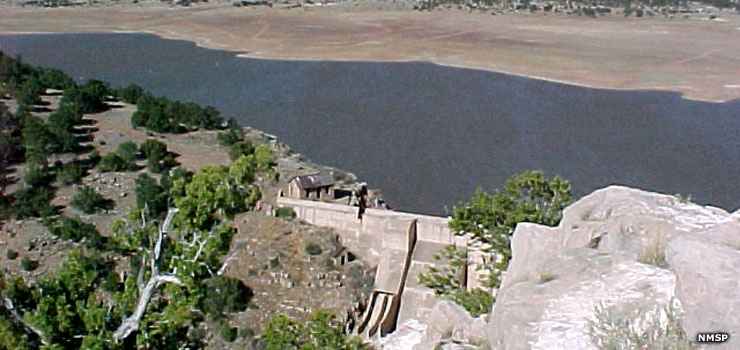 The dam that makes Bluewater Lake State Park possible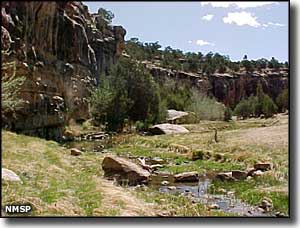 Bluewater Lake covers about 1,200 acres. Bluewater Lake State Park is in separate parcels around the lake and is about 3,000 acres in size. The park is about 28 miles west of Grants via Interstate 40 and New Mexico Highway 412. Bluewater Lake is located in the Las Tusas Basin on the north side of the Zuni Mountains at an elevation of about 7,400 feet.
The biggest draw to Bluewater Lake State Park is the fishing: the lake and the creek that feeds it are regularly stocked with catfish and rainbow, cutthroat and native trout by New Mexico Fish & Game. Some of the trout fished out of the lake weigh up to nine pounds. The park has made it easy to get to many good fishing spots with a car. Depending on the season, you might see up to 68 different species of birds, too.
Bluewater Lake State Park offers a visitor center, two group picnic shelters and 149 developed campsites spread across five separate campgrounds. 14 of the campsites have electric hookups. Each camping area has showers and restrooms. There is a separately located RV dump station and a separate playground. Folks who don't come just for the fishing and camping sometimes enjoy the hiking, picnicking, water skiing, sailing, wildlife watching and geology exploration: the valley the lake sits in is eroded into layers of shale and limestone, some layers of which contain fossils of ancient snails and brachiopods.
The entry gate at Bluewater Lake State Park is open from 6 am to 9 pm, May 1 through October 31 and from 7 am to 5 pm November 1 through April 31.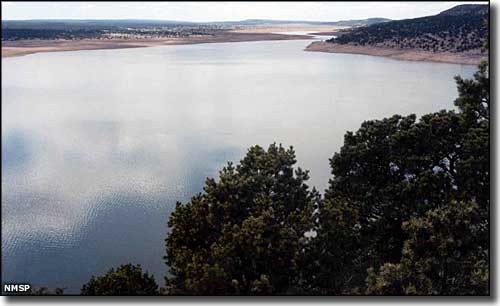 Bluewater Lake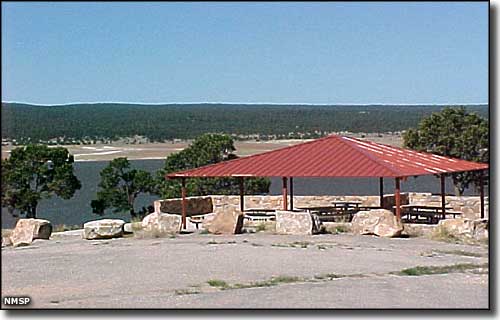 One of the group picnic shelters at Bluewater Lake State Park
Bluewater Lake State Park
Photos are courtesy of New Mexico State Parks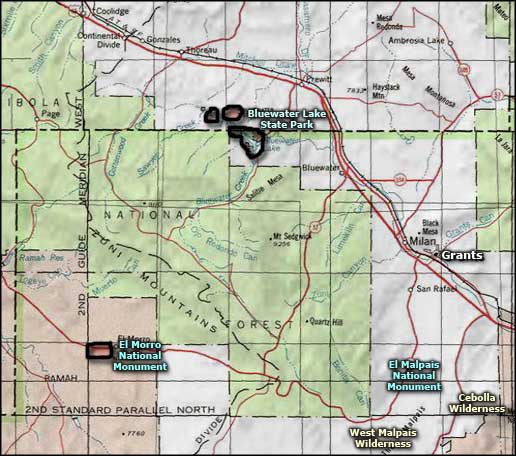 Related Pages
Map courtesy of National Geographic Topo!