Bitter Lake National Wildlife Refuge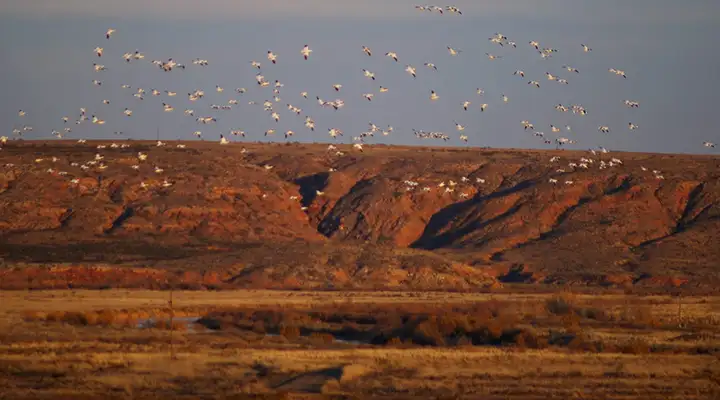 Birds flying near the headquarters at Bitter Lake National Wildlife Refuge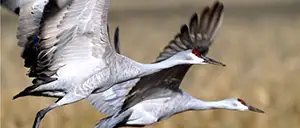 Bitter Lake National Wildlife Refuge was established in 1937 in an effort to preserve habitat for some of New Mexico's rarest birds. Back in those days, there were thousands of migrating sandhill cranes and waterfowl using the property's diverse flora and habitats. After World War II, the population of sandhill cranes plummeted but once DDT (a pesticide in very wide use in those days) was out of the food chain, bird populations began to stabilize and are now coming back.
There is an assortment of water habitats available at Bitter Lake National Wildlife Refuge, all fed by the Pecos River that flows across the property. Geologically speaking, the area has an abundance of gypsum karst topography which makes for the creation of many isolated-and-water-filled sinkholes. In that water live more of New Mexico's rarest wildlife: Roswell spring snail, Pecos pupfish, Noel's amphipod and the green throat darter. Bitter Lake NWR also grows more than eighty species of dragonflies.
Bitter Lake NWR sits at the boundary between the Chihuahuan Desert and the Great Plains. The water habitats are surrounded by a harsh, dry, almost desertic environment: sand dunes, native grasslands, densely overgrown bottoms and red-rimmed plateaus. In the drier areas you'll find horned lizards, scaled quail and the famous roadrunner. Today, Bitter Lake National Wildlife Refuge is separated into three land units with a total of 24,536 acres among them. The northern unit is where you'll find the Salt Creek Wilderness.
Water impoundments at Bitter Lake are manipulated to fill during fall and winter to provide nesting habitat for migratory waterfowl. Then the water levels are allowed to drop in spring and summer to provide both forage space and nesting habitat for threatened species of shorebirds like least terns, avocets and snowy plovers. Some areas are flooded off and on to irrigate vegetation so that waterfowl arriving in the fall have food to eat. More than 350 species of birds, 50 species of amphibians and reptiles, at least 59 species of mammals and 24 species of fish have been documented on the property.
To get there: the Headquarters of Bitter Lake NWR is about 10 miles east of Roswell. Take Second Street (US Highway 380) east out of town for about three miles. You'll see a refuge sign at Red Bridge Road, turn and follow the signs. Or you could head north out of Roswell on Main Street (US Highway 285) to Pine Lodge Road. Turn east there and go about 7 miles. Follow the signs.
Bitter Lake National Wildlife Refuge offers an 8-mile graveled auto tour of the property. The refuge is open to visitors every day of the year from sunrise to sunset. There are no fees to use the property. The Joseph R. Skeen Visitor Center is open Monday through Friday from 8 am to 4 pm. There are restrooms at the visitor center and along the wildlife drive. There are six developed hiking trails either next to Headquarters or along the auto tour. In addition, the entire north tract (12,160 acres) is open to hiking and horseback riding (including the Salt Creek Wilderness). Bike riding is restricted to the wildlife drive and to the four-mile (round trip) paved bike trail. Fishing is not allowed on the property in order to protect small populations of rare native fish.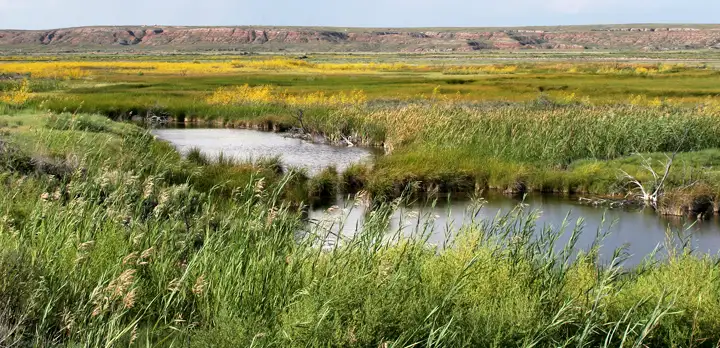 Wetlands at Bitter Lake NWR
Bitter Lake National Wildlife Refuge
US Fish & Wildlife Service
Upper photo courtesy of J Dykstra, other photos courtesy of the US Fish & Wildlife Service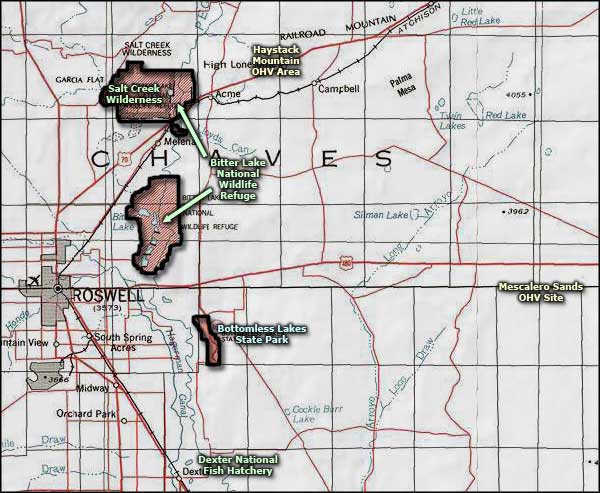 Related Pages
Map courtesy of National Geographic Topo!