Lewis & Clark Scenic Byway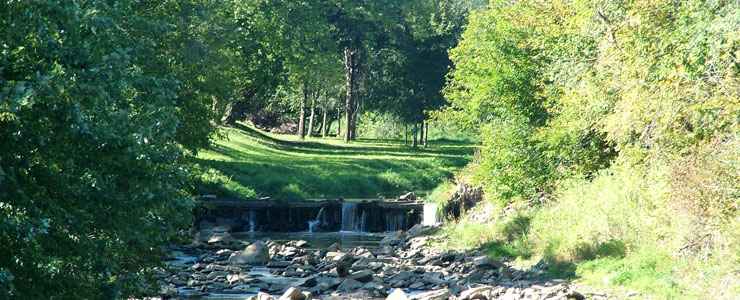 View along the Lewis and Clark Scenic Byway in Decatur, Nebraska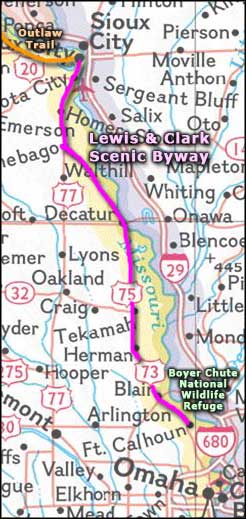 The Lewis & Clark Scenic Byway follows US Highway 75 north from Fort Calhoun for 67 miles, to South Sioux City. Along the way, you'll pass through settlements like Decatur, South Sioux City and Fort Atkinson, all among the earliest settlements in Nebraska. The route parallels the Missouri River and offers some of the most scenic countryside in Nebraska. This area is also home to the reservations of the Omaha and Winnebago Nations. If it's colors you're looking for when the trees start changing in the fall, this is the route to take...
Lewis & Clark, with their Corps of Discovery, first passed by here in 1804 on their way to find the Pacific Ocean. After them came thousands of trappers, mountain men, explorers, miners, farmers and traders. For many years the Missouri was also home to paddle-wheel steamers hauling passengers, freight and livestock up and down the river. Many of these also doubled as floating bars and casinos.
The Missouri still sees a lot of freight moving up and down but the river has been tamed a bit these days: the Army Corps of Engineers has spent millions since the 1930's working the channels to try to make the whole thing safer and easier to run freight on. Then comes a snowfall like in the winter of 2010-2011 and the river rises enough to wipe out everything in its path...
At the south end of the Lewis and Clark Scenic Byway you'll find Boyer Chute National Wildlife Refuge. At the north end is the eastern terminus of the Outlaw Trail Scenic Byway, another Nebraska Scenic Byway that parallels the Nebraska/South Dakota state line for a couple hundred miles as it connects South Sioux City with Valentine.
The Lewis and Clark Scenic Byway makes nearly its entire journey in the lush fertile farmland and wooded bluffs that define the Missouri River floodplain.
Near Fort Calhoun you'll find Fort Atkinson State Historic Park, site of the first US military post west of the Missouri.
Near Winnebago you'll usually find a large herd of bison roaming the grassy plains. The bison herd is owned and maintained by the Winnebago tribe and they plan to develop a visitor's center with interpretive exhibits focused on explaining the importance of the bison to Plains Native American culture. Depending on the season, you might be able to enjoy a traditional Native American powwow featuring tribal dances, too.
Other sites along the route
Black Elk-Neihardt Park
Fort Atkinson State Historical Park
John G. Neihardt State Historic Site
Omaha Indian Tribe of Nebraska and Iowa
Ponca State Park
Sergeant Floyd Monument Park
Tekamah
Winnebago Indian Reservation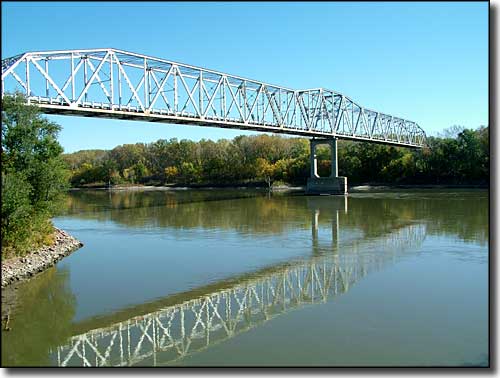 Bridge across the Missouri River at Decatur, Nebraska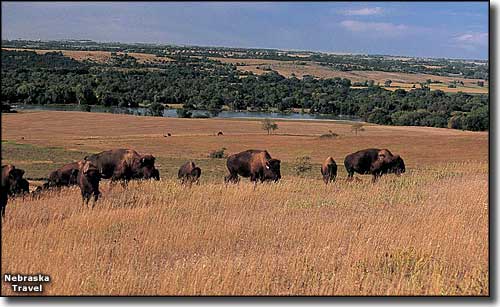 Bison on an elk ranch along the Lewis & Clark Scenic Byway
Upper photos courtesy of Guillermo J. Rosas © 2004, via Byways.org
Lower photo courtesy of J. Nabb, Nebraska Travel & Tourism
Area map courtesy of National Geographic Topo!