Outlaw Trail Scenic Byway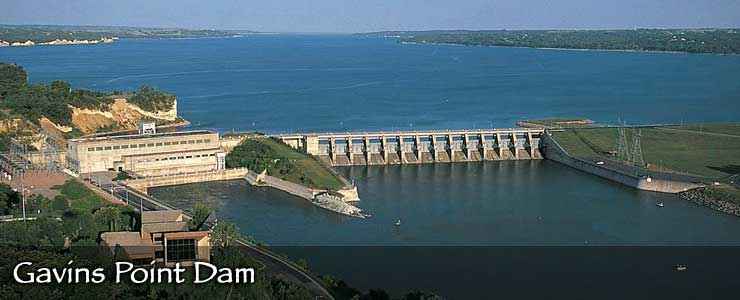 Gavin's Point Dam on the Missouri River, along the Outlaw Trail Scenic Byway
The Outlaw Trail Scenic Byway follows Nebraska Highway 12 for 231 miles parallel to the northern border of the state. The route also parallels the Missouri and Niobrara Rivers for the entire distance. The Lewis and Clark Expedition first navigated up the Missouri River in this area in 1804. They continued following the Missouri that year, spending the winter at the Mandan villages in North Dakota. When they arrived in the Mandan area, there were French fur trappers already there (Sacajawea's husband was a French trapper and translator, and Sacajawea herself had been kidnapped from her Shoshone family in what is now Idaho several years before).
The name "The Outlaw Trail" seems obvious for this route, given that Devil's Nest (an area of deep canyons and heavy tree cover that made hiding out relatively easy) is along the way. Probably the most famous residents of Devil's Nest were the Jesse and Frank James Gang but there were numerous other folks of similar intent in the area in those days, including Doc Middleton and James Jameson.
As the Outlaw Trail heads west, it slowly climbs out of the lush, verdant valley of the Missouri and into the Sandhills District, a large region of wide open spaces characterized by rolling countryside made up of grass-stabilized sand dunes. Back in the day, this was prime bison breeding and hunting countryside. These days it's one of the premier cattle ranching landscapes on Earth.
The Outlaw Trail leaves South Sioux Falls and heads west past Ponca State Park and Lewis & Clark Lake State Recreation Area before crossing the Santee Indian Reservation. Just past the reservation is the entrance to Niobrara State Park, then the road begins to follow alongside the Niobrara National Scenic River. Before reaching the Fort Niobrara National Wildlife Refuge you'll come to the side road leading to Smith Falls State Park. That's where you'll find the highest waterfall in Nebraska.
The scenic byway comes to an end in the old ranching community of Valentine, right at the intersection where the Bridges to Buttes Scenic Byway begins. Parallel to both the Outlaw Trail and the Bridges to Buttes Scenic Byways is the Cowboy Trail: a 320-mile-long hiking and biking trail that follows abandoned railroad beds from Norfolk to Chadron.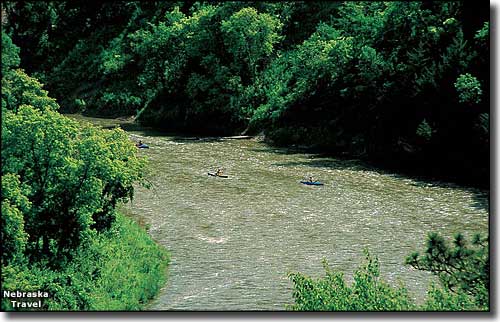 Kayakers on the Niobrara National Scenic River

Upper photo courtesy of J. Nabb, Nebraska Travel & Tourism
Photo of the kayakers on the Niobrara courtesy of D. Curran, Nebraska Travel & Tourism
Area map courtesy of National Geographic Topo!