Heritage Highway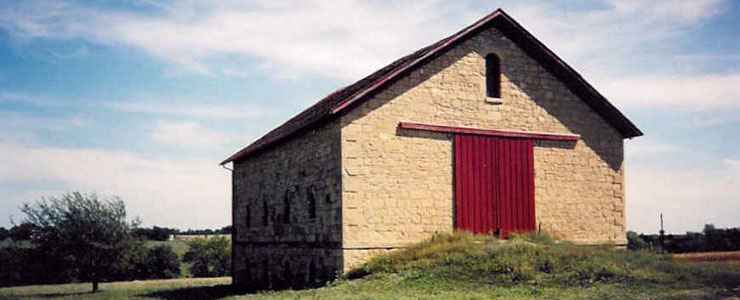 A historic stone barn found along the Heritage Highway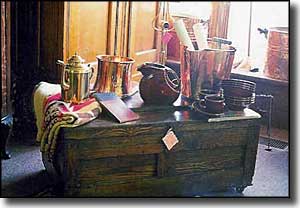 The Heritage Highway runs for 238 miles across the varied landscapes and ecosystems of southeastern Nebraska, from the wooded, hilly areas along the Missouri River to the grasslands and prairie lakes region in the heart of the state (traveling just south of the Rainwater Basin Wetland Management District). Along the Heritage Highway you'll find museums, craft fairs, cultural sites, festivals and theatrical presentations (in season, of course).
The route follows US Highway 136 across the landscape made famous by Pulitzer Prize-winning author Willa Cather in her stories of life on the Nebraska plains. Along the way you can stop and visit the Willa Cather State Historic Site in Red Cloud (listed in the book "1,000 Places to See in the USA & Canada Before You Die"). Or maybe the Homestead National Monument of America and its new Heritage Center near Beatrice (at the site of the very first homestead claim filed under the Homestead Act of 1862 that opened up the western states to millions of ordinary people with its promise of free land).
In the old days, trail routes followed streams and riverbeds as they headed west. The Heritage Highway does the same with its eastern terminus in historic Brownville beside the mighty Missouri River and western terminus in the high plains/prairie lakes region. The first thing a lot of folks do in Brownville is book a tour on the Spirit of Brownville, an old-style paddle-wheel steamer that offers tours, dinner and entertainment cruises on the river. As you travel west from Brownville on the Heritage Highway, you'll come to Harlan County Lake (Nebraska's third largest lake with plenty of fishing and boating opportunities), Rockford Lake and Burchard Lake. Hiking and biking enthusiasts will enjoy the various trails along the route. Some short trails lead to hidden gems, longer ones (like the Steamboat Trace) take longer courses cross-country and allow for a more general feel of what makes Nebraska Nebraska.
As you travel westward on the Heritage Highway, the landscape changes from timber-covered river bottoms to grassy high desert plains. That makes for great diversity in the wildlife and birds you'll encounter. This is an area of many small towns with friendly local people... It's also where you'll find the majority of Nebraska's vineyards and wineries.
A dedicated driver could probably drive the entire Heritage Highway in about four hours... but then what? He'd have missed the Oregon Trail exhibits, the Pony Express stations, the restored Victorian homes, the Native American historical sites...
Other sites along the route
Historic Beatrice
Brownville State Recreation Area
Harlan County Lake
Indian Cave State Park
Republican River
Red Cloud
Superior
Willa Cather State Historical Site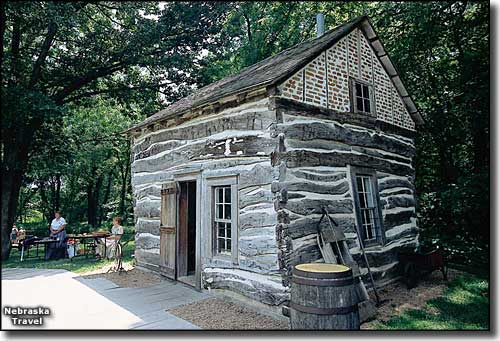 One of the exhibits at Homestead National Monument of America
Upper photos courtesy of Micheal Collins © 2001, via Byways.org
Lower photo courtesy of J. Nabb, Nebraska Travel & Tourism