Rock Creek Station State Historical Park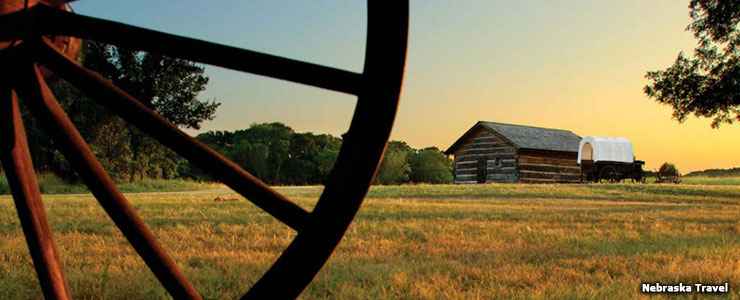 Rock Creek Station State Historical Park
Rock Creek Station State Historical Park is a 353-acre property developed by the Nebraska Game and Parks Commission. For a brief period in the early 1860's, Rock Creek Station served as a Pony Express Station. The site is directly on top a series of deep wagon ruts, carved into the fertile ground by the passage of thousands of covered wagons traveling the Oregon and California Trails. As a Pony Express Station, the property gained notoriety as the place where James Butler Hickok killed David McCanles in July, 1861. Except for that fact, the property would most likely have disintegrated back into the earth it came from without anyone noticing.
Archaeologists excavated the sites of two ranches on the property and buildings and corrals on both the East and West ranches have been reconstructed. On an adjoining tract of land you'll find the Visitor's Center with interpretive exhibits, picnic areas and access to hiking and nature trails. There is also a modern campground in that area.
The State Historical Park offers drinking water, modern restrooms, showers and an RV dump station. There are also about four miles of multi-use trails (hiking, mountain biking and horseback riding).
The Visitor Center is open from mid-April to the end of October, however, it is only open daily from the third week of April to the third week of September, 9 am to 5 pm. The other open times are weekends only, 1 pm to 5 pm.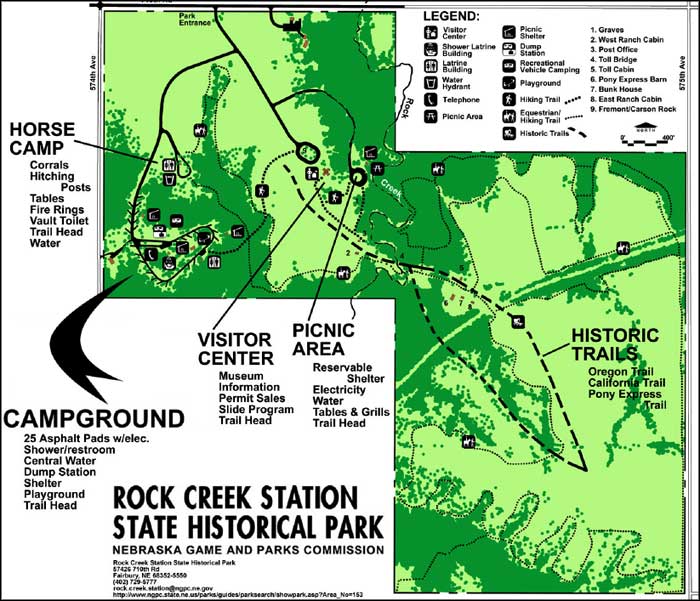 Rock Creek Station State Historical Park map
Rock Creek Station State Historical Park
Upper photo courtesy of R. Neibel, Nebraska Travel & Tourism
Map courtesy of Nebraska Game and Parks Commission