Jefferson National Expansion Memorial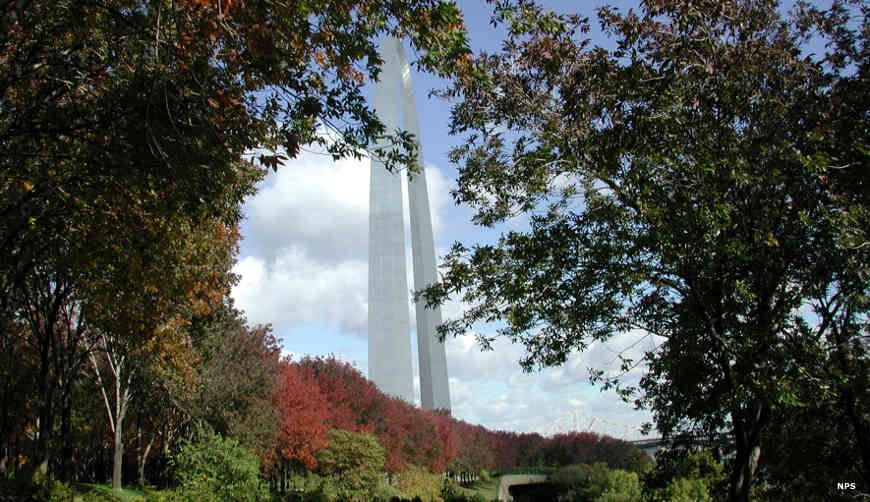 Jefferson National Expansion Memorial: the Gateway Arch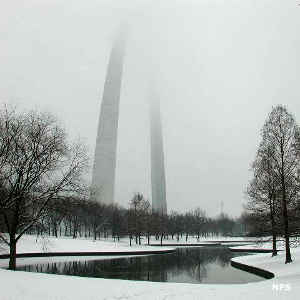 The Jefferson National Expansion Memorial is a 192.83-acre property located mostly along the waterfront in St. Louis. The centerpiece of the property is the Gateway Arch, at 603-feet high, the tallest structure in Missouri. The arch has a tram system inside that carries passengers back and forth to an observation booth at the top of the arch. On the grounds below the Arch are the Old Courthouse (where the famous Dred Scott case had its beginnings) and the Museum of Westward Expansion.
The idea for the Memorial started in the mid-1930's. The City of St. Louis acquired the land in 1935 and the Federal government acquired the buildings on the land in 1936. A lot of the process was fought bitterly in the courts, then came World War II to stop everything. The project picked up again in 1946 and a nationwide design competition was held in 1947 with architect Eero Saarinen the winner. His design incorporated a stainless steel triangular form in an arch that was thinner at the top than the bottom. The land for the Memorial was formally dedicated in 1950 but construction plans were put on hold when the Korean War broke out.
Excavation finally began at the site in 1961 and Saarinen died shortly after. The first stainless steel triangles didn't arrive until February 1963. The arch was finished in October 1965 and dedicated in May 1968.
The Old Courthouse is generally open from 8 am to 5 pm with extended hours in the summer. The Gateway Arch is generally open from 9 am to 6 pm with extended hours in the summer. Everything indoors is closed on Thanksgiving, Christmas and New Year's Days but the grounds are always open. This is a day-use only park. Visitors 16 and over pay a $3 (subject to change) per person entry fee, 15 and younger get in free. There are other fees for the tram to the top of the Arch and for sightseeing cruises on the Mississippi River.
Staff at Jefferson National Expansion Memorial manage the Ulysses S. Grant National Historic Site.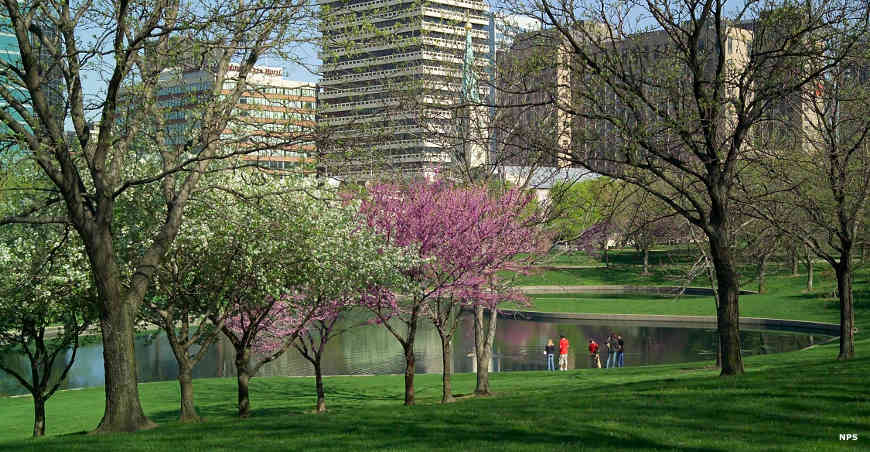 Spring on the grounds of the Gateway Arch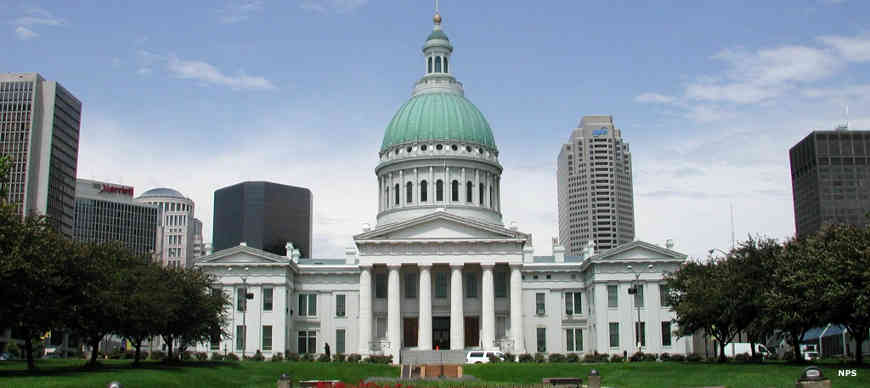 The Old Courthouse
Jefferson National Expansion Memorial interactive map

Photos and map courtesy of the National Park Service