Harry S. Truman National Historic Site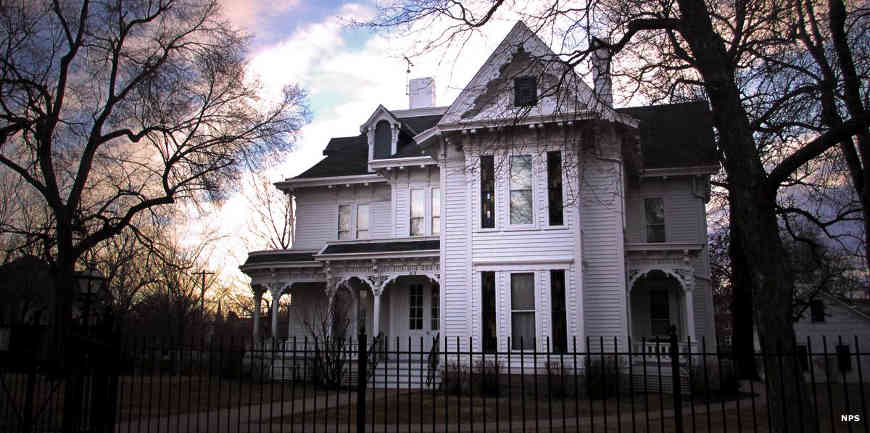 Harry S. Truman National Historic Site: The Truman Home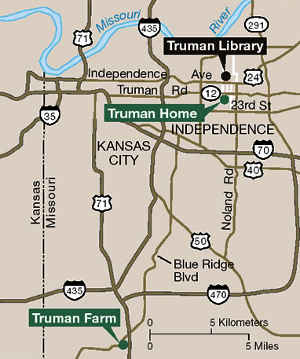 Map showing locations of the two sites
The Harry S. Truman National Historic Site is a 10.49-acre set of properties in the Kansas City Metropolitan Area that comprise the major settings for the life of the 33rd President of the United States: the Farm Home where he grew up in Grandview and the Truman Home in Independence where he lived after marrying Bess. Included on the properties are the homes of Bess Truman's brothers, George and Frank Wallace, and the Noland home of Truman's favorite aunt and cousins.
The Truman Farm Home was built on the family's 600-acre farm by Harry Truman's maternal grandfather in 1894. Harry grew up there, working on the farm himself from 1906 to 1917. Today's Truman Farm Home piece of the National Historic Site is a 5.25-acre remnant of that original farm. Returning to Missouri after vacating the presidency, Harry had sold the rest of the farm in pieces to support his family. It was after he died almost penniless that Congress passed a bill giving the President a pension.
The Truman Home in Independence was built by Bess Truman's maternal grandfather, George Porterfield Gates, over the years from 1867 to 1885. When Bess's father commited suicide in 1903 her mother moved the rest of the family into her parents' home and Bess grew up in the company of her grandparents. When Harry married Bess in 1919 he moved into the house, too. When he married Bess he'd been starting a new business, a haberdashery, in downtown Kansas city. But that failed in 1922 and he spent the next several years paying off his debts and getting into politics. In 1935 he was elected to the Senate and for the next 18 years he lived in Washington DC. When he retired from politics he bought the Truman Home from the Wallace estate and it served as his residence and personal office until the Truman Library was opened in 1957.
Bess lived in the home until she died in 1982. She bequeathed the property to the National Park Service in her will. She left a caveat in that will: the second floor was not to be opened to the public until her daughter, Margaret, died. Margaret died in 2008 but the second floor has remained closed as that has been determined to be the best way to preserve the materials there.
There is no visitor center at the Farm Home but the grounds are open for a walk-through daily. The Truman Home in Independence offers a visitor center in an old fire house, open daily from 8:30 am to 5 pm. Tickets for the Truman Home guided tour are available in the visitor center. The Noland home is open daily from 9 am to 4:30 pm for self-guided tours.
The site is open daily, from sunrise to sunset. The only fees involved are for the guided tours, entrance is free.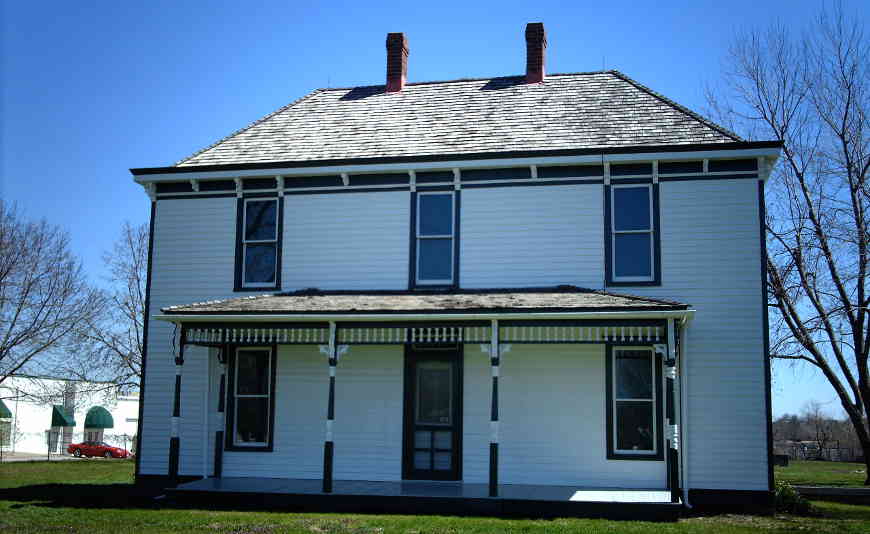 The Truman Farm Home in Grandview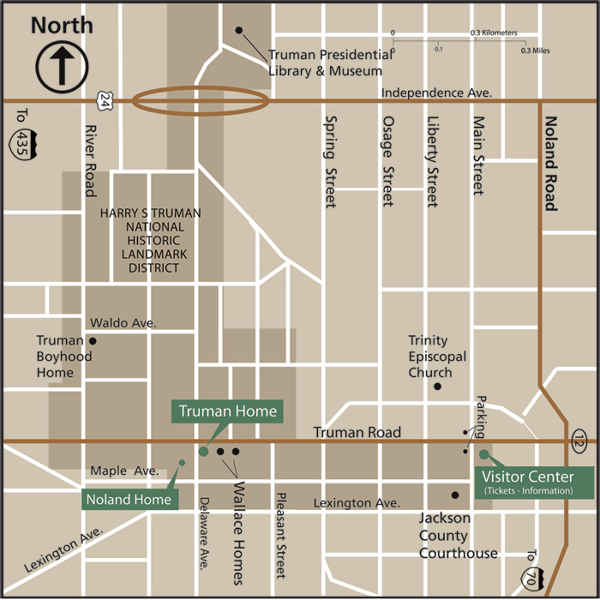 Lower photo courtesy of Wikipedia userid Nationalparks,
CCA-by-SA 2.5 License
Other photos and maps courtesy of the National Park Service