Big Muddy National Fish and Wildlife Refuge

The Missouri River at Big Muddy National Fish and Wildlife Refuge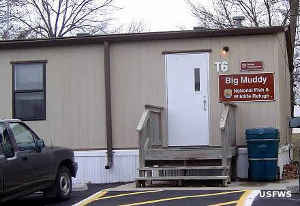 Big Muddy National Fish and Wildlife Refuge is an 18,000-acre string of pearls along the Missouri River between Kansas City and St. Louis. If willing sellers should step forward, the Refuge is slated to grow to include about 60,000 acres.
In the days of Lewis and Clark, the Missouri was usually a shallow, slow and lazy river that snaked its braided way across a large floodplain. Regular inundations of the floodplain made it a haven for huge forests and massive numbers of wildlife. The arrival of the Euro-Americans was a slow-moving disaster for the Missouri floodplain.
Over the years the river was channelized and controlled by a variety of containment structures. That forced the river to run faster and deeper. It also destroyed the benefits the floodplain enjoyed when the river was slow and lazy: the trees and the wildlife are mostly gone now.
Today's Big Muddy is an effort by the US Fish & Wildlife Service to return long stretches of the Missouri to as close to its natural state as possible. Levees were cut and side channels dredged to allow the river to reenter parts of its historic floodplain. The regrowth of floodplain vegetation was encouraged, too. Many areas of today's refuge are covered with impenetrable thickets of brush but as that regrowth matures, the ability of the land and water to support wildlife again will mature, too. The process may take decades...
Big Muddy is composed of 15 units stretched out along the Missouri River. All are open to the public and most have at least one parking facility and informational kiosk. Some units offer scour lakes for fishing while others offer hiking trails. All units are open for licensed hunting and fishing. There are no fees involved, the refuge is day-use only, open from sunrise to sunset every day of the year.

Mud flats along the river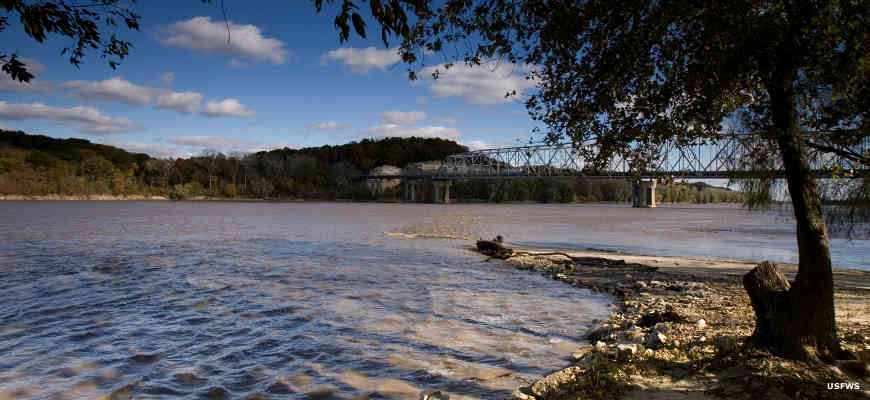 Another view of the Missouri River


Upper photo courtesy of Steve Hillebrand, USFWS
Other photos and map courtesy of the US Fish & Wildlife Service