Muscatatuck National Wildlife Refuge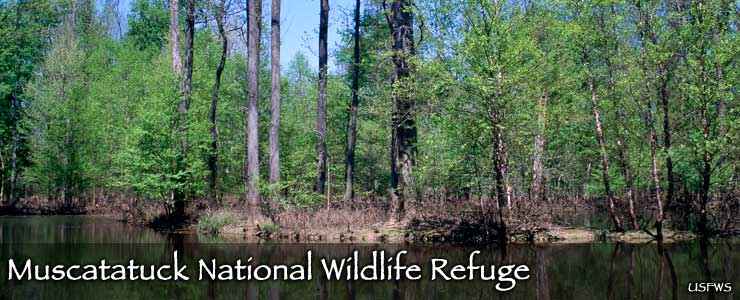 Wetlands at Muscatatuck National Wildlife Refuge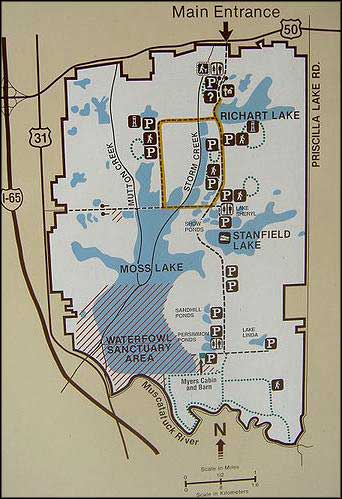 Muscatatuck National Wildlife Refuge contains 7,802 acres of wetlands, forested uplands, grasslands and converted farm lands near Seymour, Indiana. Near Bloomington, Indiana is a separate 78-acre parcel known as the Restle Unit. This is a very wet area with flood-prone creeks, natural springs, moist soils and low open areas surrounded by dikes that get flooded in the fall and drained in the spring. This type of water manipulation helps to provide feeding and nesting areas for waterfowl and shorebirds. It also helps to create permanent marshes of lush vegetation interspersed with areas of shallow open water, ideal for nesting ducks, geese and other waterfowl.
Muscatatuck National Wildlife Refuge is recognized as a Continentally Important Bird Area and usually sees more than 280 species of birds on the property through the year. In addition to the nine miles of refuge roads on the property there are eight maintained hiking trails leading to different wildlife observation points. The property features a visitor center with interpretive exhibits and a Conservation Learning Center, often used by visiting local school students for environmental and wildlife education purposes.
To get there: the entrance to Muscatatuck NWR is three miles east of the US Highway 50 exit off Interstate 65 in Seymour, Indiana. The main entrance is well signed on US Highway 50. The property is about an hour's drive south of Indianapolis, an hour's drive north of Louisville and maybe 90 minutes northwest of Cincinnati. This is a day-use only refuge, open from sunrise to sunset every day of the year (although during refuge deer season the hours are from 6 am to 6 pm). Camping and campfires are not allowed anywhere on the property. In an average year, about 185,000 human visitors stop by to enjoy the wildlife and watch the birds.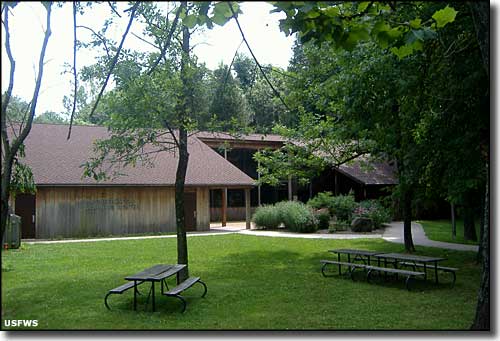 The Visitor Center
Muscatatuck National Wildlife Refuge

Photo of pond at Muscatatuck NWR courtesy of Phyllis Cooper, US Fish & Wildlife Service
Photo of the Muscatatuck NWR Visitor Center courtesy of C. Bedford Crenshaw © 2008
Map courtesy of the US Fish and Wildlife Service